Dollar dominance 'coming to an end'
Jim Rogers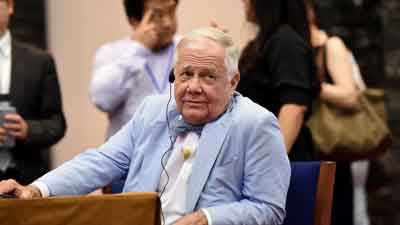 US policies and mounting concerns over creditworthiness are dragging down the greenback, the investor says
The US dollar is starting to lose its leading position across the globe, as Washington has become the world's largest debtor, famed investor Jim Rogers told Sputnik news agency on Wednesday.
The co-founder of the Quantum Fund noted that more and more countries are growing hesitant about the greenback, as deep reliance on its use can lead to various problems.
"Many friends of America are moving, trying to find something to compete with and ultimately replace the US dollar," Rogers said in an interview with the Russian outlet.
According to the investor, an international currency should have an absolutely neutral status, and the lack of neutrality demonstrated by the White House, along with growing concerns over US creditworthiness, have deprived the greenback of that quality.
"Many people are starting to say: wait a minute, I don't know if we want to use that money, because it will have a problem someday," he said. "But also, the world's international currency is supposed to be completely neutral. Anybody can use it for anything you want. But now Washington is changing the rules. And if they get angry at you, they cut you off."
Rogers explained that a growing number of countries are now seeking an alternative to the greenback, adding that the Chinese yuan could replace the US currency as the most common means for conducting international settlements.
Russia has been boosting economic ties with China over the past few years, adopting the yuan in international trade. In early April, the Chinese currency replaced the dollar as the most-traded foreign currency in Russia. Moreover, the yuan continues to penetrate a number of other markets around the world.
"It will happen. It has always happened. And America's time is coming to an end. The American dollar this time is coming to an end," Rogers concluded. "No currency has been on top more than 150 years. Nobody has always been on top, so it's always happened."




James Beeland Rogers Jr. is an American investor and financial commentator based in Singapore. Rogers is the chairman of Beeland Interests, Inc. He was the co-founder of the Quantum Fund and Soros Fund Management. He was also the creator of the Rogers International Commodities Index.