The future is not something we enter. It is something we create.

Thank you for caring enough about the future of the Silver Bear Cafe to be reading this.
The Silver Bear Cafe has gone quasi-private. "The Bear" has embarked on several missions for its members. From an overview standpoint, we intend to provide a multi faceted "road map" which will help you navigate the difficult and precarious times directly ahead of us. This road map will not only include information about investing and protecting your savings, but will also keep you apprised of national, regional and even local situations that warrant your attention. It is my intent to focus on "exit strategies" the most important one being "timing".
In the Vault (our private diningroom), we will concentrate on known, irrefutable threats to our economic well being, that are being posed by various banksters, federal agencies and corrupt politicians (the Darkside). The safety of our tax deferred accounts is in question.
The over-riding point of the Vault is to constantly keep you aware of every threat we can identify and provide strategies, remedies, and solutions to cope with those threats.
Whether we are discussing your savings, or your investments, or your preparations, we want to be sure that you are aware of every situation.
Lots of readers have asked how and where they will be able to liquidate their precious metals when the time comes. How would you like to have a debit card that allowed you to spend your precious metals on anything at any time?
What if you could convert you tax deferred accounts into precious metals, maintain the tax deferred status, and keep your precious metals in your home ?
How about a credit card with a very low APR like four or five percent?
What would you do if you knew that the price of gasoline or diesel was about to spike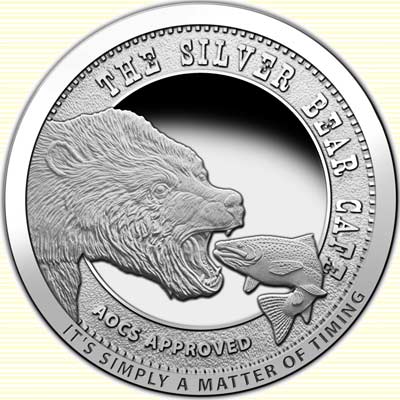 If diesel did spike, what effect would that have on daily food delivery to your neighborhood grocery stores?
These questions and many more will be discussed and explored in "the Vault".
The pictures to the left and below, of the new Silver Bear Medallions (obverse and reverse) are currently in the hands of the die maker. The new coins will be available, at wholesale prices, in both satin and proof finishes, around the first of February.
Through membership you will also be privy to an entire catalog of bullion products, as well as plans and ideas for creating and preserving your wealth.
I believe that 2013 will be a pivotal year for everyone, everywhere. The morons that have got us in our present situation show no signs of letting up. By this time next year, everything will be much different. Actually, by this time two weeks from now, everything will be much different. It is time to pay attention to what is really going on and try to be less distracted by what the MSM would have you believe. The sheeple are being set up for slaughter.
Please bear with me as I work through the development of the private member section. Although my plate is over filled, I am determined to continue to do everything in my power to make the Silver Bear Cafe an even more valuable resource in these very scary times.
The graphic below is a screen shot of the entry page of the Vault.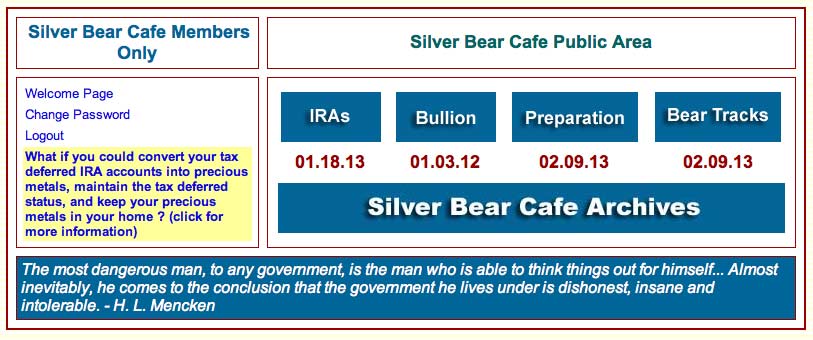 (Editors Note: It is now the 11th of February and the "Vault" (our private dining room) is close to completion. We are planning to include an RSS feed. We will also be including a catalog of bullion products (the new Silver Bears will be available for order today) as well as other capital preservation financial products in the very near future. - JSB)
The condition for registration is to simply use our merchant service form below and opt to send us either $30 up front or sign up for the $5 recurring donation. Either form of support will result in your access to the "members only section".
When you donate you will be provided a link so that you can create a password and gain private access to the Silver Bear Cafe's Private Dining Room.
If you have ever read anything on "The Bear" that enriched you mentally, financially, or helped you prepare you and yours for an uncertain future, please join up. Your generosity will help enable us to continue to provide information that is not readily available from the mainstream media. It will allow me the opportunity to keep on ranting and raving. If we helped wake you up, even a little bit, help us wake up others. Every little bit helps us to shed a little more light on what is really happening in these extremely scary times..

Its not what you don't know that will screw you up, it's what you know that is wrong. The spin you hear from the mainstream media is intended to mislead you. Open your eyes and face the future. If you leave your head in the sand and ignore it, you are only leaving your butt exposed for the world to kick. This all may sound like gloom and doom, but when you get a handle on what is going to happen, you will have a future filled with opportunity. Fortune favors the Informed.
Allow me to extend a "heart-felt thank you" for your support.

Kenny Parsons aka Johnny Silver Bear
Chief Cook and Bottle Washer
The Silver Bear Cafe

email: johnny@silverbearcafe.com

Please send checks and correspondence to:

Silver Bear Cafe
7324 Gaston Avenue
#124-385
Dallas, Texas 75214
Recurring Membership Payment ($60 per year)
(your credit card will be charged monthly)

Membership

Amount $5 per month
Pre Registration Yearly Membership Pledge
| | | | |
| --- | --- | --- | --- |
| | Membership | $30 | |
One-Time Contribution Levels
Platinum

$250

Palladium

$100

Silver

$50

Supporter

$25

Helper

$10

Other Amount



Recurring Monthly Contribution Levels
(your credit card will be charged monthly)

Gold

$50/mo

Platinum

$25/mo

Palladium

$10/mo

Silver

$5/mo

Other Amount



Contributions to the Silver Bear Cafe are not deductible as charitable contributions for federal income tax purposes.