Medvedev: "World teetering on brink of World War III . . . Nuclear Catastrophe"

Hal Turner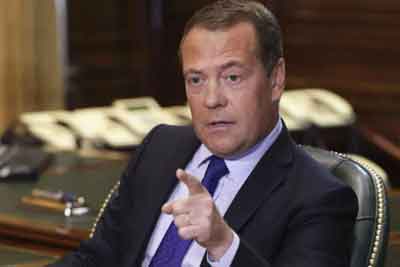 Russia's former president and current deputy chair of the Security Council Dmitry Medvedev wrote a lengthy article for Rossiyskaya Gazeta newspaper, in which he summarized his thoughts on how the year 2022 has changed the world order forever.
"The only thing that stops our enemies today is the understanding that Russia will be guided by [the doctrine] on nuclear deterrence. And if there is a real threat, we will act," Medvedev wrote in his article published on Sunday night – noting that in such a grim scenario there will be nobody left to argue about whether that was "a retaliatory strike or a preventive one."

"Therefore, the Western world is balancing between a burning desire to maximally humiliate, dismember and destroy Russia, on the one hand, and the desire to avoid a nuclear apocalypse, on the other," he explained.

Until Russia receives the security guarantees it has demanded, the world "will continue to teeter on the brink of World War III and nuclear catastrophe," Medvedev wrote, noting that Moscow is doing and will continue to do "everything we can to prevent it."

Last December, Russia presented a list of security proposals to the US and NATO, among other things urging the West to impose a ban on Ukraine entering the military bloc, while insisting that NATO should retreat to its borders of 1997, before it began to expand.

After the US and NATO flatly refused, saying they would only be interested in limited strategic arms control talks, it became obvious that Moscow has "no one to talk to and nothing to negotiate about" with the West, Medvedev argued. And when in February "Ukrainian junkies announced their desire to revive their nuclear arsenal," Moscow had no other choice but to act, he added.

"Our world has changed, forever. And the main question remains… what kind of future begins today?" Medvedev wrote.

"New disarmament agreements are currently unrealistic and unnecessary," the Russian official reiterated. "The sooner the guarantees of maximum security that suit our country are received, the sooner the situation will normalize."

Earlier this month, Russian Deputy Foreign Minister Sergey Ryabkov said that Moscow is willing to discuss the subject of security guarantees again, if the West is serious about it, but until then, Russia will continue to respond appropriately to any further NATO expansion. Since the conflict in Ukraine escalated in February, the bloc has moved to welcome Sweden and Finland into its ranks, though the expansion has yet to be finalized.





Hal Turner is the ONLY living American media member IMPRISONED for writing a news Editorial the Obama Regime didn't like. 

The ONLY other American media member EVER imprisoned for an Editorial was Benjamin Franklin-Bache, grandson of Benjamin Franklin in the year 1798, which talked about the Alien and Sedition Act.  He died of Yellow Fever while awaiting trial. 

Thus, you should pay very close attention to what Hal says because the federal government is so fearful of his words, you just KNOW he's telling the truth!

24 Hours a day, seven days a week, the Hal Turner Radio Show web site brings breaking news to readers around the world.   From local, to state, national and international topics, readers get breaking news fast and accurate.

Monday through Friday from 9:00-10:00 eastern US time, (GMT -0400), Hal Turner brings American talk-radio to more than 70 countries around the world, live.

Through the facilities of global,  High-Frequency (HF) International stations WBCQ (50,000 watts) and WRMI (100,000 watts) his show is heard in all of North America, entire continental US and eastern Alaska, ALL of: CANADA, Greenland, Iceland, much of the UK, all of Mexico, central and South America, sometimes in Japan and Australia, New Zealand, the entire Caribbean and often in Western Europe; UK, France, Spain, Germany, Norway, Sweden and Finland! 

HF is such that the signal coverage is affected by the ionosphere in our upper atmosphere, so while coverage of North America is virtually guaranteed, the other nations mentioned may have sporadic reception. 

The show is also heard on regular AM news-radio via KYAH 540-AM "Utah's Talk Authority"