Santa Claus Accused Of Quid Pro Quo For Giving Children Gifts
In Exchange For Good Behavior
Payton McNabb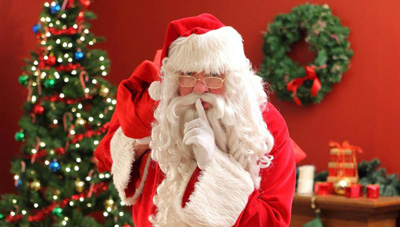 Legislators have begun to hold hearings on impeaching Santa Claus after an overheard conversation seemed to imply he was offering a quid pro quo: gifts in exchange for good behavior.
FBI agents spied on Claus at various malls as he repeatedly said things like, "Sure, I'll get you a pony. But first, I need you to do something for me... be a good little boy!" The FBI was able to obtain a FISA warrant to spy on Claus, because it's easier to get a FISA warrant than to get a Costco membership.
"Ho ho noooooo!" Santa Claus cried as investigators leaped out and cuffed him at a Dayton, OH mall. "Not good! Sad!"
"It was a perfect conversation," Claus said, defending himself in a series of fiery tweets.
"Absolutely perfect. I was simply talking to little Billy and asked him to keep tabs on his sister, Sally, who has been involved in some corruption. Who doesn't want to stop corruption? Did I offer Billy a new Nintendo Switch in exchange for his good behavior? Possibly. Am I planning on giving Sally coal because she's a little punk? Maybe. Where's my lawyer?"
Unfortunately, he was assigned a public defender, who turned out to be Rudy Giuliani.
 

The Babylon Bee is the world's best satire site, totally inerrant in all its truth claims. We write satire about Christian stuff, political stuff, and everyday life.

The Babylon Bee was created ex nihilo on the eighth day of the creation week, exactly 6,000 years ago. We have been the premier news source through every major world event, from the Tower of Babel and the Exodus to the Reformation and the War of 1812. We focus on just the facts, leaving spin and bias to other news sites like CNN and Fox News.

If you would like to complain about something on our site, take it up with God.

Unlike other satire sites, everything we post is 100% verified by Snopes.com.