Could Iraq Be The Next OPEC Member To Exit?
Tim Daiss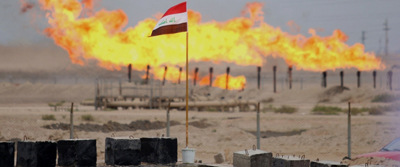 Even more cracks may be forming within OPEC, even as market pundits continue to analyze Qatar's decision two days ago to withdraw from the oil producing cartel. Michael Cohen, head of energy markets research at Barclays bank, told CNBC on Tuesday that Iraq, OPEC's second largest producer, could be the next member to withdraw from OPEC.
"I think in terms of all the OPEC countries, to me the one that stands out over the last six to eight months is Iraq," he said. "Iraq has been out of line with its target frequently... so if restrictions to cut were too stringent, Iraq might feel it in its best interest to no longer be a member of the organization."
Last month, Iraq's oil exports dropped to their lowest level in seven months due to bad weather at its southern ports. According to a statement from Iraq's oil ministry, and reported  by global commodities data provider S&P Global Platts, Iraq's federal exports in November averaged 3.372 million bpd, the lowest level since April this year.
Impending oil output cuts
Additionally, Cohen is referring to recent remarks by Saudi Arabia that it could cut output to put support under global oil prices that have tumbled around 30 percent from multi-year highs in early October. Growing concerns over an impending supply overhang in global oil markets is making the de facto OPEC leader nervous and comes amid a record setting oil production level in Saudi Arabia of 11 million bpd, in addition to Russian production over 11 million bpd in both October and November. U.S. oil output also set record levels of nearly 11.5 million bpd. Soaring production from the top three oil producing heavy weights come as economic problems grip emerging markets and as a projected slowdown in economic growth is projected amid trade tensions between Washington and Beijing. 
In the last few days, global oil prices have seen some support on hopes that the U.S. and China can reach a trade deal within the next 90 days. However, if no trade deal is agreed upon, and President Trump increases tariffs on Chinese goods from 10 percent to 25 percent, as well as placing another $267 worth of Chinese goods on the tariff list, global economic growth and oil demand will come under tremendous pressure, a possible scenario obviously not lost on Saudi Arabia.
History of disagreement
There has been a history of disagreement between OPEC and Iraq dating back to the at least the end of the Second Gulf War in 2003 as the country's post war oil production remained crippled. Iraq saw its oil production drop from a pre-war level of 3.5 million bpd to only around 900,000 bpd by the end of the war.
Since then, Iraq has maintained an on again and off again willingness to comply with OPEC, particularly over oil production cuts. The last time a Saudi-led OPEC needed to trim production amid plunging oil prices and an oil supply glut in late 2016, Iraq waffled, stalled, bluffed then finally conceded and complied. Iraq's oil minister, Jabar Ali al-Luaibi, at the same time OPEC was considering cuts actually urged oil and natural gas producers operating in the country to continue increasing output for the rest of the year and in 2017. 
Iraqi oil production plans
Last month, as global oil prices were plunging amid over fresh supply concerns, Iraqi oil minister Thamer Ghadhban said Iraq planned to increase its oil output and export capacity in 2019, with a focus on its southern oilfields, and is close to reaching a deal with international companies.
Moreover, five days ago Bloomberg reported that the biggest snag in OPEC's push for a consensus on cutting oil output could come from relentless growth in supply from its second-biggest producer, Iraq.
Iraq is targeting production capacity of 5 million bpd in 2019, with average exports expected to reach around 3.8 million bpd. According to a report from energy consultancy Wood Mackenzie, Iraqi oil production has increased by around 6 percent this year, while its output could reach as much as 6 million bpd by 2025.
By Tim Daiss for Oilprice.com

I'm an oil markets analyst, journalist and author that has been working out of the Asia-Pacific region for 12 years. I've covered oil, energy markets and geopolitics for Forbes, Platts, Interfax, NewsBase, Rigzone, and the UK-based Independent (newspaper) as well as providing energy markets analysis for subscription newsletters. I've also authored geopolitical reports and analysis for Singapore-based consultancy Enerdata.

My analysis and news reports have been cited in media outlets around the world, including in the US, Japan, China, Vietnam, the BBC in the UK, and Russia and have been translated into several languages and used in television news reports

I'm a former columnist for five Georgia-based newspapers, hosted a 30-minute news talk show on CBS affiliate WTOC-TV Savannah, and the author of four books.