How to Profit From Trade War Hysteria
Justin Spittler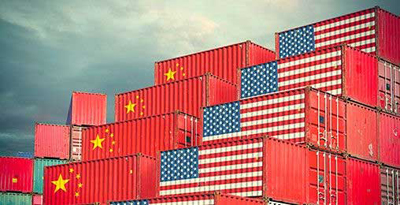 The trade war has claimed its biggest victim.
…Apple (AAPL).
Apple sells the wildly popular iPhone, iPad, and MacBook. It's one of the most recognized companies on the planet. It was the world's most valuable publicly traded company until Microsoft (MSFT) overtook it on Monday.
So how did a company this powerful get caught up in the trade war? Simple. On Monday, President Trump threatened to introduce a 10% tariff on consumer electronic products made in China.
This would impact the iPhone and other Apple products…
• Trump did this because he thinks the Chinese are screwing the U.S. on trade…
But more tariffs wouldn't just hurt the Chinese. They'd hurt everyday Americans, too.
This is because tariffs make imported goods more expensive. And if the iPhone becomes pricier, people will think twice about buying one.
That's the last thing Apple can afford.
• Demand for the iPhone appears to be weakening… 
I say this because some of Apple's suppliers recently cut forecasts. Apple has also reportedly canceled a production boost for its new iPhone XR model.
This tells us the new iPhone model isn't selling as well as expected.
That's triggered a huge sell-off. In fact, Apple is now trading 23% below its peak in early October. But it will surely head lower if Trump makes good on his threat to hit the iPhone with tariffs.
Of course, Apple isn't the only company that's been hit hard by the trade war. Harley-Davidson, MillerCoors, and Jack Daniel's have all been caught on the wrong side of tariffs.
• The trade war is also making resource investors nervous… 
Just look at what copper's been doing recently. Its price fell about 16% after Trump hit nearly $50 billion worth of Chinese imports with a 25% tariff in June. 
Other base metals were also hit by trade war concerns. Nickel, for instance, fell by 32% after Trump announced tariffs in June. Zinc plunged 23% over the same timeframe.
Those are huge declines for such short periods. But they were totally unwarranted.
You see, none of those metals were targeted in tariffs. Instead, finished products like lasers and laundry equipment were singled out. Still, that didn't stop many investors from dumping these metals. 
In other words, the trade war isn't something resource investors should fear… It's an opportunity.
But don't take my word for it…
• International Speculator editor Dave Forest says trade war fears are overblown… 
Dave is our in-house geologist. He knows more about commodities than anyone I know who's not named Doug Casey, of course.
And he had this to say about the trade war recently:
Trade war fears are overblown. The U.S.-China trade dispute is no excuse to sit out the coming bull market in commodities. This is a trend you'll want to keep on your radar for the foreseeable future.
And there's a simple reason for this.
• China can't afford to let the trade war escalate… 
It has one of the world's fastest-growing economies. And it will soon have the largest middle class in the world.
But its economy would come to a standstill without copper and nickel. Not only that, China gets most of these base metals from other countries.
See for yourself. This is a chart that Dave and his team put together recently. The orange bars represent refined production, a proxy for demand. The blue bars show mine output, or domestic supply.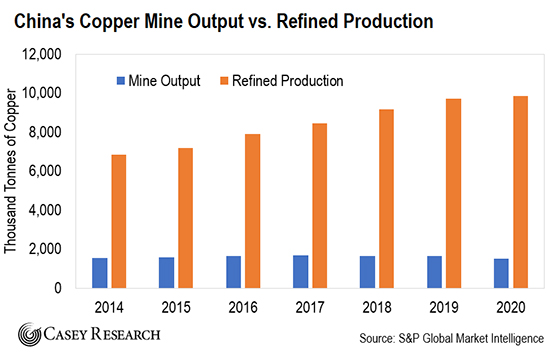 You can see that refined production far exceeds mine output. This tells you just how much China depends on foreign sources for copper.
• China's nickel supply is even more dire… 
According to Dave, domestic mines supply only 14% of China's nickel needs. Take a look.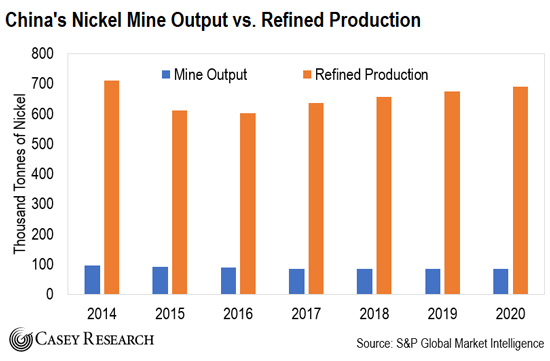 To make a long story short: China simply cannot allow the trade war to escalate. If it does, its entire economy would unravel.
It shouldn't come as a surprise that China is trying to deescalate matters. Dave wrote in last month's issue of International Speculator:
On September 30, China's Ministry of Finance announced it is reducing general import tariffs on base metals and steel from 11.5% to 8.4%. The Ministry also announced duty cuts on a wider slate of minerals and gemstones from 6.6% to 5.4%.
It's also worth noting that China originally planned to impose a 25% tariff on liquified natural gas but later dropped the rate to 10%. 
Of course, supply is only one side of the coin…
• Demand also needs to be strong for base metals prices to rise… 
I bring this up because many people think China's economy is headed for a "hard landing."
But once again, Dave sees the situation differently:
Recent reports from China suggest the government is moving quickly to cushion any blow from a trade-related economic slump.

For one, officials at the national level have pushed forward new bond financing for local government infrastructure projects. That's in stark contrast to the first half of 2018, when federal officials had been tightening financing to local developers.

The Chinese government now appears intent on launching a new wave of economic stimulus projects. Approvals from China's National Development and Reform Commission have seen a sharp lift since July – coinciding almost exactly with the escalation of the trade war.
In other words, Dave believes China's economy is in much better shape than people realize.
When you combine that with lower tariffs, you have the ingredients for much higher metals prices.
Most people don't realize this. All they hear about is how the trade war is intensifying and how China is headed for a major economic slowdown. But Dave says those fears are wildly overblown.
• So consider speculating on these base metals if you haven't yet…
You can easily do this by buying shares in a major mining company.
Just be sure to treat any bet on higher commodity prices as a speculation. Only bet money that you can afford to lose. Use stop losses. And take profits when they come.
I also encourage you to check out Dave's research. He recently recommended the top stock to own as the trade war unfolds. It's in a prime position to help China… and it has massive upside ahead. International Speculator subscribers can access the issue here.
If you're not a subscriber, you can access this pick by signing up today. And that's not the only money-making opportunity you can take advantage of… Dave just released a new video about a breakthrough in electric vehicle tech that needs to be on your radar today. Watch the video and learn more about a subscription here.
Regards,
Justin Spittler
New Orleans, LA
November 29, 2018
P.S. I also recommend reading Dave's recent essays below. They all show that the commodities sector is gearing up for a rally. Read on to see the top metals that need to be in your portfolio today…
 

 

Mr. Justin Spittler is a Research Analyst since March 2014 and also serves as an Editor of The Casey Daily Dispatch at Casey Research, LLC. Earlier, Mr. Spittler was a contributing writer at the firm. Before this, he worked for several years as a Commercial Real Estate Appraiser. Mr. Spittler graduated with degrees in Management and Economics from Loyola University New Orleans College of Business in 2011.