Trump Slams Fed On Eve Of Rate Decision:
"Incredible" Fed Hiking With "World Blowing Up"
Tyler Durden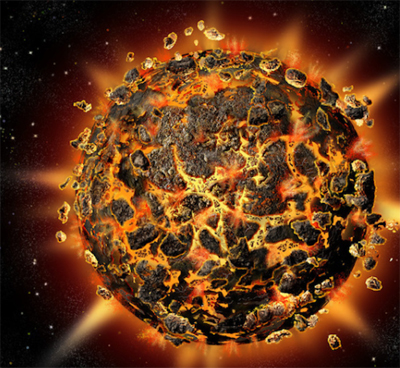 On the eve of Wednesday's Fed decision, President Trump is once again bashing the Federal Reserve over its plans to raise interest rates at a time when markets are already in chaos and the "world is blowing up" thanks in part to the central bank's "double-barreled blitz" of higher rates and tighter liquidity.
But instead of insinuating that Fed Chairman Jerome Powell is trying to undermine the administration, the president ticked off a reasonable list of factors that should give a truly "data-dependent" Fed reason to reconsider.
Instead of moving ahead with more rate hikes, Trump said the Fed should "Take the Victory!" Trump said.
Trump's Monday tweet follows a widely discussed op-ed published by investor Stanley Druckenmiller and former Fed Governor Kevin Warsh, who became the latest establishment heretics to side with President Trump over the economic establishment by urging the Fed to stop raising interest rates - for now, at least - due to "recent economic and market developments." The two authors wrote that the Fed should have stopped QE years ago before the easy money policies helped blow a massive asset-price bubble that could collapse as liquidity is withdrawn and borrowing costs are raised.
In a first-best world, the Fed would have stopped QE in 2010. It might then have mitigated asset-price inflation, a government-debt explosion, a boom in covenant-free corporate debt, and unearned-wealth inequality. It might also have avoided sowing the seeds of future financial distress. Booms and busts take the Fed furthest from its policy objectives of stable prices and maximum sustainable employment.

In a second-best world, on Mr. Powell's arrival in February 2018, the Fed would have shrunk its balance sheet with speed and determination before raising rates. The economic expansion was still gaining traction at home and abroad. Tax and regulatory reforms were jolting the supply side of the economy from its slumber. Accelerated Fed QT, in the absence of rate rises, would have been much less disruptive to the real economy. Asset prices could then have found a more durable equilibrium and laid a stronger foundation for future growth.

The time to be dovish was when the crisis struck and the economy needed extraordinary monetary accommodation. The time to be more hawkish was earlier in this decade, when the economic cycle had a long runway, the global economy ample momentum, and the future considerably more promise than peril.

This is a time for choosing.

We believe the U.S. economy can sustain strong performance next year, but it can ill afford a major policy error, either from the Fed or the rest of the administration.

Given recent economic and market developments, the Fed should cease - for now - its double-barreled blitz of higher interest rates and tighter liquidity.
Powell himself recently acknowledged that Trump might have a point by shifting his rhetoric to note that the Fed funds rate is just below the policy range, and the market is increasingly in Trump's camp - expects just 10bps of rate hike in 2019 and expects 10bps of rate cuts in 2020.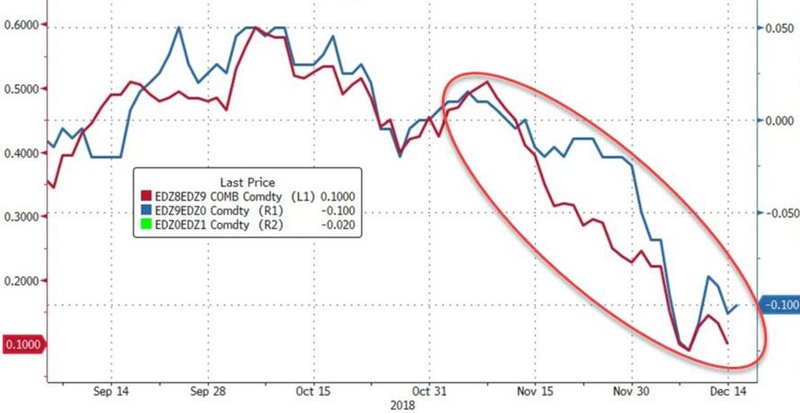 Though some were still eager to pin the selloff on Trump and his 'irresponsible' fiscal policies.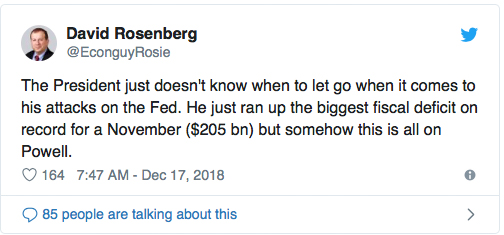 our mission:

to widen the scope of financial, economic and political information available to the professional investing public.
to skeptically examine and, where necessary, attack the flaccid institution that financial journalism has become.
to liberate oppressed knowledge.
to provide analysis uninhibited by political constraint.
to facilitate information's unending quest for freedom.
our method: pseudonymous speech...
Anonymity is a shield from the tyranny of the majority. it thus exemplifies the purpose behind the bill of rights, and of the first amendment in particular: to protect unpopular individuals from retaliation-- and their ideas from suppression-- at the hand of an intolerant society.

...responsibly used.

The right to remain anonymous may be abused when it shields fraudulent conduct. but political speech by its nature will sometimes have unpalatable consequences, and, in general, our society accords greater weight to the value of free speech than to the dangers of its misuse.

Though often maligned (typically by those frustrated by an inability to engage in ad hominem attacks) anonymous speech has a long and storied history in the united states. used by the likes of mark twain (aka samuel langhorne clemens) to criticize common ignorance, and perhaps most famously by alexander hamilton, james madison and john jay (aka publius) to write the federalist papers, we think ourselves in good company in using one or another nom de plume. particularly in light of an emerging trend against vocalizing public dissent in the united states, we believe in the critical importance of anonymity and its role in dissident speech. like the economist magazine, we also believe that keeping authorship anonymous moves the focus of discussion to the content of speech and away from the speaker- as it should be. we believe not only that you should be comfortable with anonymous speech in such an environment, but that you should be suspicious of any speech that isn't.