Renewable Electricity Generation Surpasses Nuclear For First Time Since 1984
Tyler Durden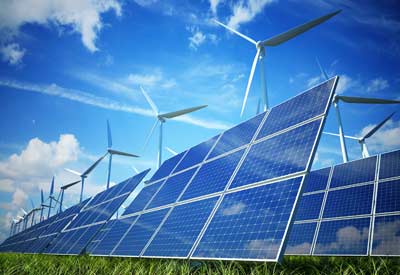 U.S. monthly electricity generation from utility-scale renewable sources exceeded nuclear generation for the first time since July 1984, in March, and again in April, the EIA reports.
This outcome reflects both seasonal and trend growth in renewable generation, as well as maintenance and refueling schedules for nuclear plants, which tend to undergo maintenance during spring and fall months, when overall electricity demand is lower than in summer or winter.
Record generation from both wind and solar as well as recent increases in hydroelectric power as a result of high precipitation across much of the West over the past winter contributed to the overall rise in renewable electricity generation this spring, while nuclear generation in April was at its lowest monthly level since April 2014. However, EIA's latest Short-Term Energy Outlook (STEO) projects that monthly nuclear electricity generation will surpass renewables again during the summer months of 2017 and that nuclear will generate more electricity than renewables for all of 2017.
Source: U.S. Energy Information Administration, Monthly Energy Review and Electric Power Monthly
Conventional hydroelectric generation, which remains the largest source of renewable electricity in most months, totaled 30 billion kilowatthours in March, the highest level in nearly six years. Largely because of record precipitation and snowpack in California, EIA's latest STEO projects an increase of 14% for hydroelectric power in 2017 compared with 2016.
Electricity generation from wind and solar has increased as more generating capacity has been installed. More than 60% of all utility-scale electricity generating capacity that came online in 2016 was from wind and solar technologies. These sources contributed to record high levels of generation from both fuels: between March 2016 and March 2017, wind generation increased by 16%, and solar generation increased by 65%. In April, solar generation continued to increase, while wind generation fell slightly. EIA's STEO projects an increase of 8% and 40% in wind and solar utility-scale generation, respectively, in 2017.
As renewable generation has increased, net generation from nuclear power has remained relatively flat since the late 1990s. Retirements of a number of nuclear plants have resulted in a slightly lower level of overall nuclear generation capacity, and in turn, a lower level of generation.
Unlike generation levels from wind and solar, which follow seasonal patterns that reflect the fluctuations in their resources, monthly fluctuations in nuclear generation largely reflect maintenance schedules. Based on data reported to the Nuclear Regulatory Commission and compiled in EIA's daily Status of U.S. Nuclear Outages report, an average of 14 gigawatts and 21 gigawatts of nuclear capacity were offline during March and April, respectively, representing about 14% and 21% of total nuclear capacity in the United States.
For a complete list of nuclear plant additions, restarts, and retirements over the past 10 years, see EIA's Monthly Energy Review.
our mission:

to widen the scope of financial, economic and political information available to the professional investing public.
to skeptically examine and, where necessary, attack the flaccid institution that financial journalism has become.
to liberate oppressed knowledge.
to provide analysis uninhibited by political constraint.
to facilitate information's unending quest for freedom.
our method: pseudonymous speech...
Anonymity is a shield from the tyranny of the majority. it thus exemplifies the purpose behind the bill of rights, and of the first amendment in particular: to protect unpopular individuals from retaliation-- and their ideas from suppression-- at the hand of an intolerant society.

...responsibly used.

The right to remain anonymous may be abused when it shields fraudulent conduct. but political speech by its nature will sometimes have unpalatable consequences, and, in general, our society accords greater weight to the value of free speech than to the dangers of its misuse.

Though often maligned (typically by those frustrated by an inability to engage in ad hominem attacks) anonymous speech has a long and storied history in the united states. used by the likes of mark twain (aka samuel langhorne clemens) to criticize common ignorance, and perhaps most famously by alexander hamilton, james madison and john jay (aka publius) to write the federalist papers, we think ourselves in good company in using one or another nom de plume. particularly in light of an emerging trend against vocalizing public dissent in the united states, we believe in the critical importance of anonymity and its role in dissident speech. like the economist magazine, we also believe that keeping authorship anonymous moves the focus of discussion to the content of speech and away from the speaker- as it should be. we believe not only that you should be comfortable with anonymous speech in such an environment, but that you should be suspicious of any speech that isn't.