U.S. military to declare martial law as DOJ, FBI criminality exposed
Benjamin Fulford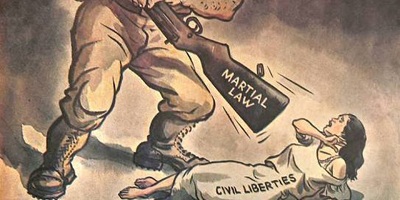 The U.S. military government, known to the world as the administration of President Donald Trump, is about to declare martial law, Pentagon sources say. "The Cabal has been checkmated, as Trump is ready to federalize the National Guard in case of riots or civil unrest," Pentagon sources say, adding that "FEMA camps will be used to house mass arrests, and Gitmo may house high-value targets while military tribunals will dispatch them swiftly."
Such radical action is necessary, "Because of corrupt judges appointed by [former U.S. President Barack] Obama and a Congress stacked with shills for Israel, so Trump may be forced to declare martial law to impose military justice," is how one Pentagon source put the situation. The FBI, for example, has been actively covering up the cabal slaughter of hundreds of Americans in Las Vegas using G4S mercenaries, multiple sources say.
Trump was probably referring to this upcoming purge in the following Tweet: "After years of Comey, with the phony and dishonest Clinton investigation (and more) running the FBI, its reputation is in tatters—worst in History! But fear not, we will bring it back to greatness."
The other big news from last week is that the U.S. Dover Air Force Base was hit with a nuclear weapon or the equivalent. The attack was described as a magnitude 4.4 earthquake in the corporate media. However, the "earthquake" had all the hallmarks of a nuclear or beam weapon attack in that its epicenter was a military base, it was shallow, and the seismograph shows a huge one-off instant quake, not the sort of shaking buildup seen in natural quakes. It can be seen in the link below.
http://www.delawareonline.com/story/news/local/2017/11/30/earthquake-strikes-kent-county-thursday/911208001/
Although the attack took place the day after North Korea announced it had ICBMs that could hit anywhere in the U.S., Pentagon sources are saying this was part of the undeclared civil war inside the military-industrial complex. The Dover base is where U.S. military and other dead bodies are "processed," and it is also home to long-range heavy-lifting air transports. Since the CIA smuggled heroin back to the U.S. in coffins during the Vietnam War, it is a pretty good guess that this base was taken out because it was a major trans-shipment point for Afghan heroin.
There was also visible evidence last week of at the very least, a low-earth-orbit space war going on, as what Pentagon sources describe as "rogue satellites" were "de-orbited." This may have appeared in the news as the failure of a Russian rocket launch containing 19 satellites.

http://www.telegraph.co.uk/news/2017/11/28/international-spacecrafts-lost-sea-russian-rocket-fails-make/

Also, on December 2nd, U.S. General John Hyten, the head of U.S. Strategic Command, told an audience in California that several states were targeting U.S. space capabilities and warned, "We cannot allow that to happen."

http://www.n2yo.com/satellite-news/U.S.-general-Russia-and-China-building-space-weapons-to-target-U.S.-satellites/4626

There were also reports world wide of meteorites and "space junk" falling last week. This writer personally witnessed a multicolor meteorite fall in a location that appeared to the naked eye to be less than a kilometer from my home in western Tokyo. A video of it can be seen at the following link:
"The storm that began on November 4th with the Saudi purge has gone kinetic," the Pentagon sources say, apparently being literal about it.

The purge on the ground level inside the U.S. is also becoming increasingly visible. "Operation Mockingbird has been deactivated as CIA media assets like Matt Lauer were fired from NBC," following the November 18th raid on CIA headquarters by the Marines, the sources note. Another sign of a Mockingbird shoot-down came as ABC News suspended Brian Ross for what Trump describes as his "horrendously inaccurate and dishonest report on the Russia, Russia, Russia Witch Hunt." The corporate media purge has just begun, the sources promise.

The Khazarian mobsters are clinging to the hope that the indictment last week of former Defense Intelligence Agency head Michael Flynn by Special Prosecutor Robert Mueller will lead to the impeachment of Trump. However, Pentagon sources promise that "the Flynn indictment is a 'nothing burger' that allows him to expose all crimes of Obama, Hillary, the FBI, pedos, and deep state to Mueller while helping Trump to drain the swamp."



Profile Benjamin Fulford

Nationality: Canada

Qualifications: 20-years experience as a professional writer and journalist. Have sold over 500,000 non-fiction books written in Japanese. Have produced a comprehensive catalogue of scoops in field ranging from business to yakuza gangsters to high-finance to government corruption. Now focused on exposing U.S. manipulation of Japanese politics, media and education through a combination of bribes, murder, brainwashing etc. My goal is to counter U.S. propaganda and expose the Japanese people to the truth so that they may free themselves from the colonial yoke and use their $5 trillion in overseas holdings to end world poverty and save the environment.

Native or near native, spoken and written: Japanese, French, Spanish and English. Conversational, reading ability in Mandarin, Portuguese and Italian.
Experience:

2005-present: Have published 15 books written in Japanese with cumulative sales running at over 500,000 copies. Have weekly 2-hour TV show and appear frequently on numerous other nationally broadcast shows. Have regular columns in a variety of best-selling Japanese magazines.

1998-2005: Asia-Pacific Bureau Chief for Forbes Magazine. Quit in profound disgust over extensive corporate censorship and mingling of advertising and editorial at the magazine. If they dispute this, I invite them to sue me, any place, any time.

1997-1998: Tokyo correspondent for the South China Morning Post.

1995-7: Staff writer for the Nikkei Weekly and the Nihon Keizai Shimbun Newspaper.

1993-1995 Took a sabbatical in Canada. Did research on the link between evolutionary forces and modern world society.

1989-1992 Senior Tokyo correspondent for the International Financing Revue. Created and managed Japan Watch, a news and analysis service available on the Reuters and Telerate news-wires. Created Katana, a Japanese language news service available on the Nikkei Quick news-wire. Triggered several Finance Ministry investigations with articles that uncovered financial industry irregularities.

1986-1989 Correspondent for Knight-Ridder Financial News; covered a broad range of market related news. One particularly market moving story was used by Knight-Ridder in an advertising campaign.

1982-1985 Part time jobs during student years included: work as an editor of Hitachi Review, a science and technology magazine; translation in the fields of business and finance and assorted television, radio and movie appearances.

1978-1982: Sowed my wild oats. Spent the time traveling and avoiding civilization. Spent 1-year studying with a witch doctor along the upper reaches of the Uquyali river in the Peruvian Amazon. Lived with former cannibals. Total time spent sleeping outdoors was 1 year. Lived as wild animal in the Canadian wilderness, catching food with my own hands, etc.
Education: Sophia University, Tokyo Japan; the University of British Columbia, Vancouver, Canada. BA Asian studies, China area specialty.