Four Charts Prove The 'Economic Recovery' Is Just
A Fed-Induced Entitlement Program For The Wealthy
Tyler Durden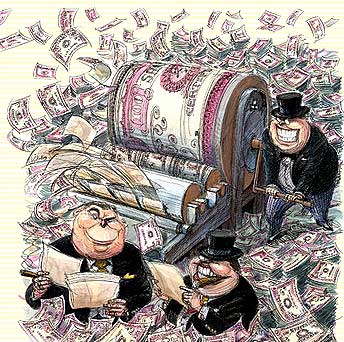 "Economic recovery" in America no longer means what it used to mean.
Historically "economic recovery" was largely characterized by job and wage growth, distributed across the income spectrum, and a rebound in GDP growth to north of ~3%-5%.
These days, the notion of "economic recovery" has been hijacked by the Fed and bastardized in such a way that they celebrate "asset bubbles" rather than real growth in economic output.
Presented as 'exhibit A', here is the Fed's modern-day definition of "economic recovery" (chart per Bloomberg):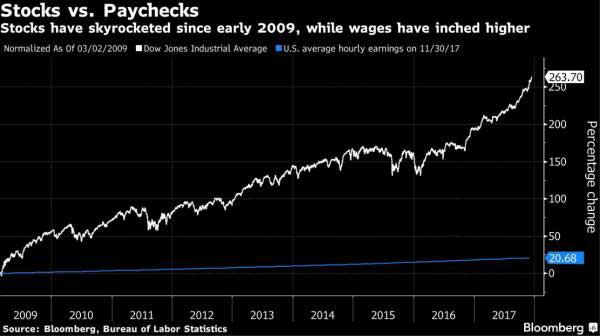 Of course, digging a little deeper you quickly realize that the problem is even worse than what the data in the chart above might suggest. While overall average wage growth has been anemic since 2009, to say the least, it has been almost nonexistent for those on the bottom end of the income spectrum.
Soaring markets helped the top 1 percent of Americans increase their slice of the national wealth to 39 percent in 2016, according to the Fed's Survey of Consumer Finances. The bottom 90 percent of families held a one-third share in 1989; that's now shrunk to less than one-quarter.

The current one has helped millions of people find work; it's also benefited asset-owners far more than people who trade their labor for a paycheck. Income distribution, already the most unequal in the developed world, is getting worse. And that's starting to influence everything from America's spending habits to its elections.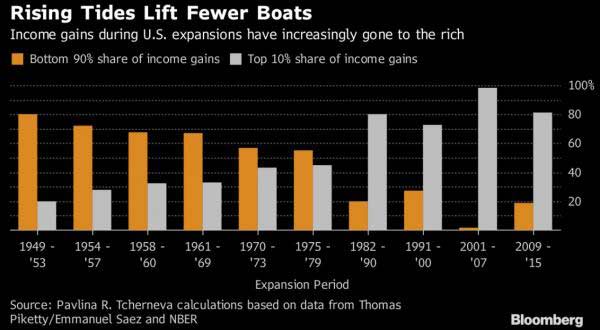 In fact, those in the bottom quintile of wage earners in the U.S. basically haven't experienced wage growth, on a real basis, since the late 1970's whereas those in the top quintile have nearly doubled theirs.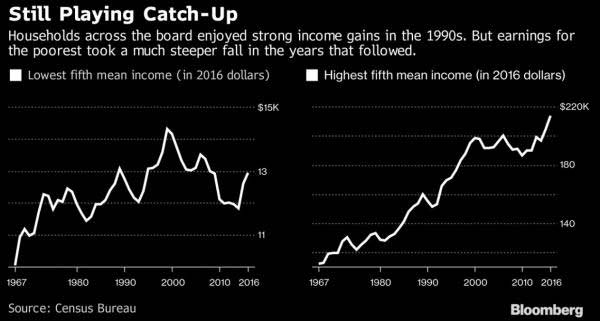 Of course, none of this should be particularly surprising to those who are paying attention as the top quintile of earners are the only ones financially positioned to benefit from Yellen's economic recovery asset bubbles...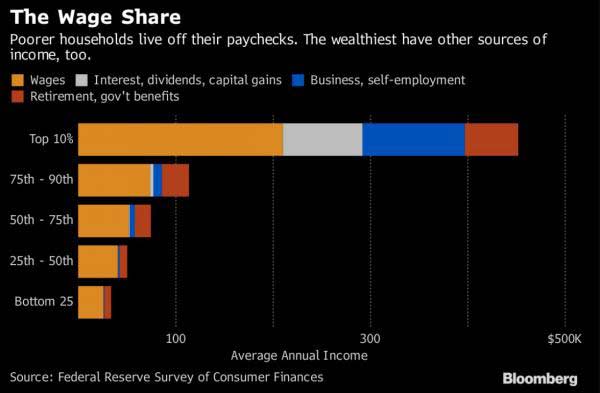 Meanwhile, the growing wealth disparity has seemingly put America on a collision course with political chaos as fringe candidates on both the Left and Right increasingly promise to have an 'easy' solution for the seemingly inescapeable economic plight of the poorest households.
Unfortunately, the sad truth just might be that there is no solution, absent some transformational technological advancements, and that the U.S. has just reached the maturity phase of it's 'business cycle'...and while the Fed may try to cover up that fact by repeatedly blowing assets bubbles, per the charts above, they're only making the problem worse with each successive iteration.



our mission:

to widen the scope of financial, economic and political information available to the professional investing public.
to skeptically examine and, where necessary, attack the flaccid institution that financial journalism has become.
to liberate oppressed knowledge.
to provide analysis uninhibited by political constraint.
to facilitate information's unending quest for freedom.
our method: pseudonymous speech...
Anonymity is a shield from the tyranny of the majority. it thus exemplifies the purpose behind the bill of rights, and of the first amendment in particular: to protect unpopular individuals from retaliation-- and their ideas from suppression-- at the hand of an intolerant society.

...responsibly used.

The right to remain anonymous may be abused when it shields fraudulent conduct. but political speech by its nature will sometimes have unpalatable consequences, and, in general, our society accords greater weight to the value of free speech than to the dangers of its misuse.

Though often maligned (typically by those frustrated by an inability to engage in ad hominem attacks) anonymous speech has a long and storied history in the united states. used by the likes of mark twain (aka samuel langhorne clemens) to criticize common ignorance, and perhaps most famously by alexander hamilton, james madison and john jay (aka publius) to write the federalist papers, we think ourselves in good company in using one or another nom de plume. particularly in light of an emerging trend against vocalizing public dissent in the united states, we believe in the critical importance of anonymity and its role in dissident speech. like the economist magazine, we also believe that keeping authorship anonymous moves the focus of discussion to the content of speech and away from the speaker- as it should be. we believe not only that you should be comfortable with anonymous speech in such an environment, but that you should be suspicious of any speech that isn't.