Hedge funds will remain bearish on gold price until the Fed slows its pace of tightening
Neils Christensen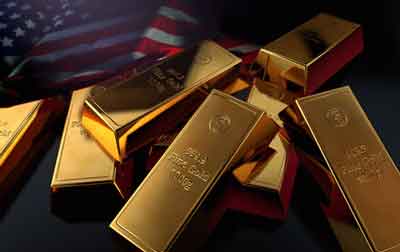 Editor's Note: With so much market volatility, stay on top of daily news! Get caught up in minutes with our speedy summary of today's must-read news and expert opinions. Sign up here! 
Until there is more clarity from the Federal Reserve regarding the pace of its tightening cycle, hedge funds will continue to sell gold rallies and maintain an overall bearish outlook on the precious metal, according to some analysts.
Analysts note that hedge funds currently have low expectations that the Federal Reserve is ready to slow its aggressive monetary policy stance as bearish sentiment in the gold market has pushed back to September's four-year low, according to the latest trade data from the Commodity Futures Trading Commission.
The CFTC disaggregated Commitments of Traders report for the week ending Oct. 25 showed money managers lowered their speculative gross long positions in Comex gold futures by 1,328 contracts to 72,016. At the same time, short positions rose by 11,762 contracts to 110,804.
Gold's net short positioning now stands at -38,788 contracts, up nearly 51% from the previous week.
During the survey period, the gold market was unable to hold on to any bullish momentum as prices tested support at $1,650 during the survey period. 
According to many analysts, the Federal Reserve's aggressive monetary policy stance remains the most significant headwind for gold. According to the CME FedWatch Tool, markets have all but priced in a 75-basis point hike later this week. Markets are split 50/50 on whether the committee will raise the Fed Funds rate by 50 or 75 basis points.
Sentiment in the gold market hinges on Wednesday's Federal Reserve's monetary policy decision. Any hint that it wants to slow the pace of rate hikes in December and into the new year could attract new bullish momentum, according to some market analysts.
However, many analysts have said that any hope the Federal Reserve is ready to pivot could be miss-placed.
"The Fed will move aggressively on Wednesday and most likely will signal a continued tightening bias. Unless there is some sort of concern over financial stability, the US central bank is unlikely to pivot to a dovish direction. This implies that prices and length should decrease," said commodity analysts at TD Securities.
Commodity analysts at Heraeus said they also see the Fed maintaining its aggressive monetary policy stance.
"The Fed could face increasing pressure to also shorten the tightening cycle heading into a recession, so as to minimise the severity of economic contraction. However, a reversal in monetary policy is not likely to happen in Q4'22 or early 2023 as the US CPI remains high, capping the gold price," the analysts said.
Although bearish sentiment continues to dominate the gold market, analysts do note recent short-covering rallies on Fed pivot rumors are signs of pent-up demand waiting to be unleashed.
Ole Hansen, head of commodity strategy at Saxo Bank, said in a report Monday that although he is cautious on gold in the near term, he remains bullish in the medium term. He said he expects the Federal Reserve to cap its tightening cycle at 5%.
"We maintain the view that long-term inflation will end up somewhere in the 4 to 5% area, well above the current market expectations for a sub 3% rate. If proven correct, it would trigger a major adjustment in breakeven and inflation swap prices – developments that may support gold through lower real yields," he said. "Speculators and investors are likely to remain mostly side-lined until we get a clearer view on the thinking within the Federal Reserve, hence the importance of next week's FOMC meeting."
While there are still strong opinions in the gold market, investors are reducing their total exposure to silver.
The disaggregated report showed that money-managed speculative gross long positions in Comex silver futures fell by 937 contracts to 35,428. At the same time, short positions fell by 931 contracts to 43,146.
Silver's net length stands at 7,718 contracts, virtually unchanged from the previous week. During the survey period, silver prices pushed back above resistance at $19 an ounce, bouncing off support just above $18.
Not only have silver prices struggled as the Fed Funds rate has pushed to 3% this year, but the rising threat of a recession continues to weigh on precious metal's industrial demand. 
Recession fears also continue to impact the copper market, which has seen investor sentiment stagnate in bearish territory through most of the summer.
Copper's disaggregated report showed money-managed speculative gross long positions in Comex high-grade copper futures rose by 366 contracts to 38,663. At the same time, short positions fell by 2,584 contracts to 41,951.
Copper's net short positioning is currently at 3,288 contracts, a slight improvement compared to the previous week. During the survey period, copper prices moved around $3.50 per pound.
"Copper speculators covered their short positions amid a low liquidity environment," said commodity analysts at TD Securities. "Tight physical markets are clashing with a deteriorating outlook and rising expectations for a surplus to emerge over the coming months, as critically low inventories across the LME, Shanghai and COMEX warehouses repeatedly catalyze a rush for stocks. In the immediate-term, we expect speculators will add to their shorts as a selling program from CTA trend followers hits the tape."

 


Neils Christensen has a diploma in journalism from Lethbridge College and has more than a decade of reporting experience working for news organizations throughout Canada. His experiences include covering territorial and federal politics in Nunavut, Canada. He has worked exclusively within the financial sector since 2007, when he started with the Canadian Economic Press. Neils can be contacted at: 1 866 925 4826 ext. 1526 nchristensen at kitco.com @Neils_c