Impact of US Shale on Asian Producers
Paul Wightman and Owain Johnson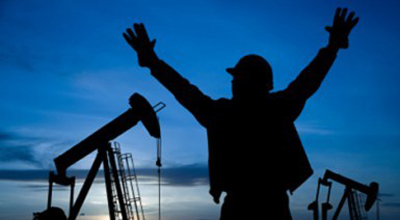 The resurgence of US crude oil production is driving change throughout the world's energy markets. With increasing flows of light sweet crude oil, closely matching the crude diet of many Southeast Asian refiners, benchmark change could be forthcoming as producers re-evaluate how crude supplies are priced and question the validity of existing benchmarks.  
The US has become one of the world's biggest crude oil producers and towards the end of 2017 surpassed both Saudi Arabia and Russia, which had held the top spot for years. US crude exports have risen sharply since the 2016 repeal of the oil export ban.  Asian nations have accounted for a large share of imports, ensuring the regional relevancy of US benchmark WTI in Asia. 
This paper examines some of the options under consideration by Southeast Asian producers and assesses the suitability of the current benchmark and whether new benchmarks may emerge.   
Chart 1: US overtakes the Russians and Saudis to claim top spot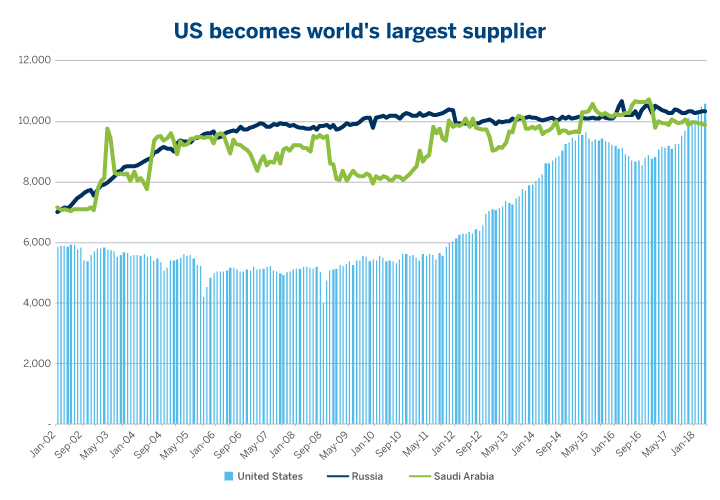 Southeast Asian crude oil benchmarks still fit for purpose?
The largest oil producers in Southeast Asia switched to using Dated Brent to price their crude oil exports in 2011-12 on the understanding that the North Sea marker would continue to reflect regional market fundamentals.
Malaysia, Indonesia, Australia, Vietnam and Brunei all made the switch to Dated Brent from either Malaysia's Tapis or Indonesia's Minas crude due to the declining availability of Minas and Tapis, which were increasingly divorced from market fundamentals.
The same issue of declining liquidity also now affects the Dated Brent complex, which has a relatively small pool of buyers and sellers. Production in the North Sea is in decline. The number of cargoes that underpin the current Brent benchmark has fallen to around 900,000 barrels per day which is about one and half cargoes of 600,000 each per day, far below the output of other regions.  The outage affecting the Forties pipeline system in December 2017 highlighted the risk of disruption given the low level of output.
Dated Brent is light sweet; but its fundamentals are firmly anchored to the North Sea with little direct connection to Southeast Asia's crude oil markets. US, production is growing by around 3.1 million barrels per day (2010-2017), according to the US Energy Information Administration. Rising US crude production volumes have been translated into higher export volumes into Asia. In 2017, Malaysia imported around 7.5 million barrels of US crude for the first time and around 1 million barrels so far in 2018 (year to date). Elsewhere, US crude exports to China were around 225,000 b/d in 2017 and up to around 380,000 b/d in 2018 (year to date). Whilst North Sea crude exports to Asia remain, the increase in crude supply from the US into Southeast Asia is  establishing strong ties to US markets and this may prompt a re-think of previous decisions around benchmarks. The relevance of US crudes for Asia is increasing and import volumes look set to rise in the coming years, supported by rising domestic volumes across the US.
The changing quality of the North Sea?
Historically Brent has been considered a light sweet benchmark.  But its quality has been falling since the introduction of Buzzard crude into the Forties stream in 2007. This becomes relevant because of the frequency with which Forties sets the price of Dated Brent. The mix of crudes in the North Sea is becoming heavier and sourer which reduces its attractiveness as an Asian benchmark.
Dated Brent developed as benchmark due to market logistics and free trade with cargoes shipped outside of the North Sea when economics permitted. A European Union free-trade agreement boosted the volume of Forties cargoes shipped to Asia, however it is not clear yet how this agreement would be impacted when the UK leaves the European Union in March 2019 or how it would be treated during any further transitional arrangement between the UK and the EU.
Currently, the Brent crude oil price is established at 16:30 London time, several hours after the Asian products markets have closed. Interest in trading a Dated Brent price in the Asia time-zone has received limited support. However, volumes of WTI Futures and Options trading during the Asia time have been increasing and are averaging between 200,000 and 250,000 lots per day.
Chart 2: Southeast Asia Crude oil production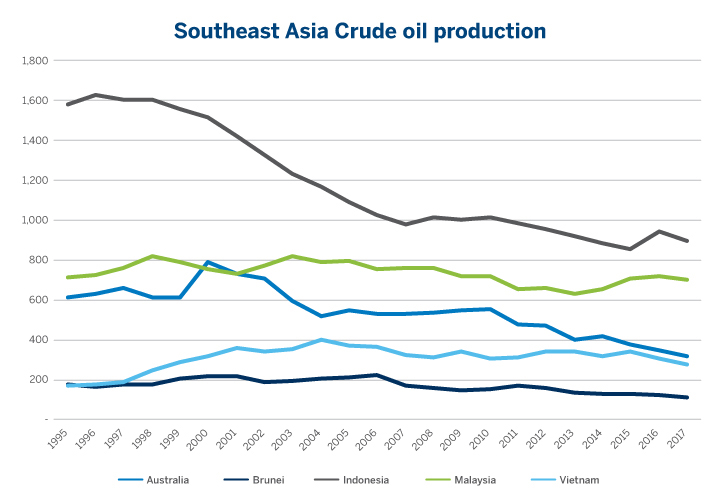 As the volume of crude oil produced in Southeast Asia continues to decline, producers are likely to divert output to domestic refining networks to satisfy growing regional demand for products.
There do not appear to be any valid light sweet regional crudes that could support a pricing benchmark, therefore regional producers have had to seek alternatives elsewhere. With a relative abundance of US light crude oil, could some of the US light sweet crudes fulfil this benchmark role.
US benchmark grows in significance for Asia
The decrease in regional production and a desire to diversify their sources of supply have led Asia's refiners to turn to alternatives, often from the Americas.
Asia is a very significant consumer of oil and this position is only likely to strengthen as regional economies expand. Oil demand in China is the fastest growing of all the leading industrialised and non-industrialised economies. Based on a July 2018 report from the International Energy Agency (IEA), Chinese oil demand increased by around 300,000 barrels per day in Q2 2018 vs Q2 2017. The IEA estimates that demand in both China and India will grow by around 910,000 b/d in 2018. At the end of 2018, Chinese oil demand will be about 13.1 million barrels per day and a further gain to around 13.5 million barrels per day is forecast for 20192. 
Imports of US based crudes have been rising in Asia to reach around 500,000 barrels per day. The S&P Global Platts graphic below shows the increasing flow from the US to Asia.
With the US Crude Export ban being lifted and US Shale Production growing crude trade flows are rebalancing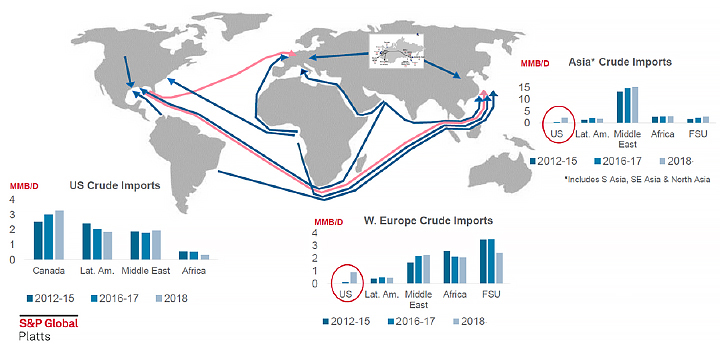 US crude grades have been sold into 43 countries since the export ban was lifted. Asia has absorbed some of the largest volumes, reflecting the strong appetite of the region's refiners for US oil.  A record 14.65 million barrels of US crude oil flowed into China in June, but volumes did fall over July and into August, according to S&P Global Platts, reflecting the impact of US sanctions. Chinese companies spent around $2 billion on US crude purchases in the first quarter of 2018. 
A trade war with the US
In early July, the US imposed import tariffs of up to 25% on imported Chinese goods into the US. In a direct response, the Chinese have imposed import tariffs on a range of different US products but most significantly on US petroleum. The biggest impact is expected to be in US NGL's rather than crude oil with the Chinese having removed this from the tariff list due to the possible negative impact that this may have on its refiners. Despite US crude falling off the tariff list, some Chinese refiners are limiting their purchases of US crude, according to Thomson Reuters Tanker tracking data due to the fear that any removal may only be temporary. Chinese refiners continue to monitor the decision about US oil carefully before deciding on future crude oil purchases. The imposition of US crude Oil tariffs would certainly raise prices compared to alternative crudes. US crude oil exporters may be forced to seek alternative outlets, which would alter the structure of any time spreads of US oil and the relative value to other crude oils. 
The prompt inter-month WTI spread has fallen significantly since early July, the effective date of the latest round of trade tariffs. Exchange data shows that the prompt WTI Futures spread has fallen by around $1 per barrel to $1.50 per barrel so the backwardation has lessened.
Regionally, Chinese refiners are watching developments with interest. A domestic refiner, Dongming Petrochemical Group with a processing capacity2 of 300,000 barrels per day announced that a cessation of US imported crude and they would turn to Iranian crude as a replacement. It remains to be seen if the Dongming decision is an isolated one or whether other refiners will follow suit.
The rising prominence of WTI has elevated its benchmark status. The US is arguably where the marginal price of crude oil is being established. The US has become very reflective of global supply/demand fundamentals. Both US and non-US markets are looking to WTI futures and the US grades markets for price direction.

US crude, the Asian solution to benchmarking?
Direct Asian participation in the major global energy benchmarks has never been higher.  This trend is driven by a greater regional appetite for risk management and by the strong and growing energy connections between the U.S. and Asia-Pacific markets. With the growth of US crude in Asia, further changes are expected in the future when it comes to benchmarks. Further direct US price referencing in Asia may more closely reflect the supply/demand fundamentals of the market.
Specifically, for Southeast Asia, the debate around choosing the appropriate benchmark for crude oil may be re-evaluated given the prominence of US oil in the region. Whilst benchmark change is not straightforward nor is it a quick change, the enhanced role of the US in international crude pricing may bring about a change a little quicker. 
CME Group is the world's leading and most diverse derivatives marketplace. The company is comprised of four Designated Contract Markets (DCMs). Further information on each exchange's rules and product listings can be found by clicking on the links to CME, CBOT, NYMEX and COMEX.