Oil Crashes To One Year Low, Brent Below $60 As Saudis Pump Record Crude
Tyler Durden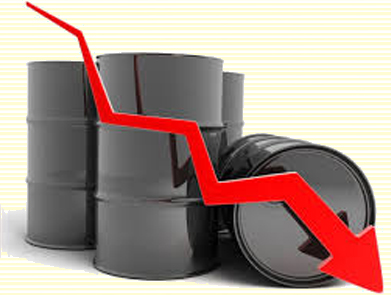 The first time oil tumbled two weeks ago when it crashed by 7%, Goldman - which has been telling its clients to keep buying crude all the way down from $80 - blamed it on "negative convexity" and other arcane reasons because the far simpler explanation, more supply, less demand, would be just too obvious for its brilliant strategists not to notice.
There was no "negative convexity" - Wall Street's catch phrase to explain anything that can not be otherwise explained -overnight, when oil resumed its plunge, sliding to the lowest in a year and dropping below $51 after Saudi Arabia signaled its output reached a record high, while growing U.S. inventories stoked fresh concerns over a global supply glut.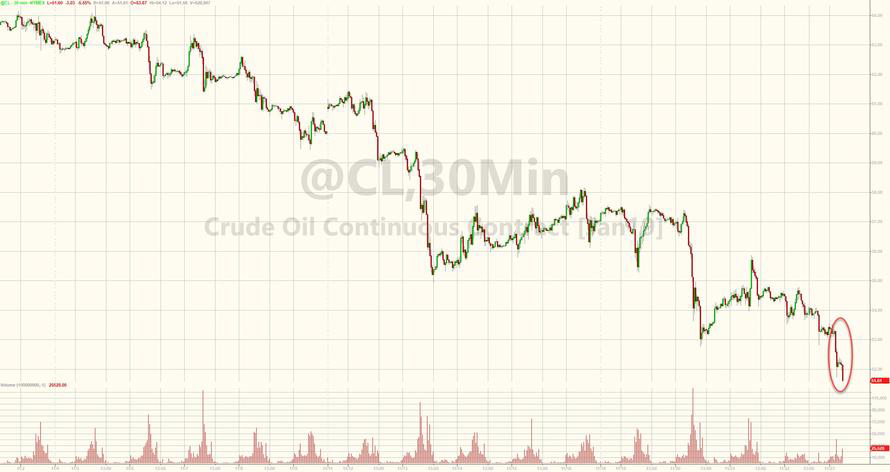 WTI futures dropped as much as 5.4% from the Wednesday settlement (there was no Thanksgiving settlement price) and were set for a seventh weekly decline, dropping as low as $51.62/barrel the lowest price in one year.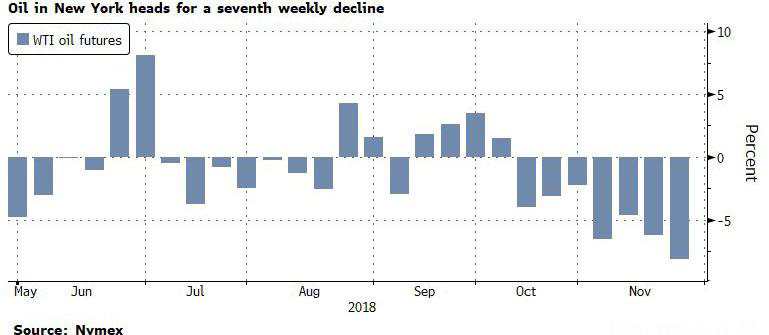 Oil prices are tracing out a very similar trajectory to 2014...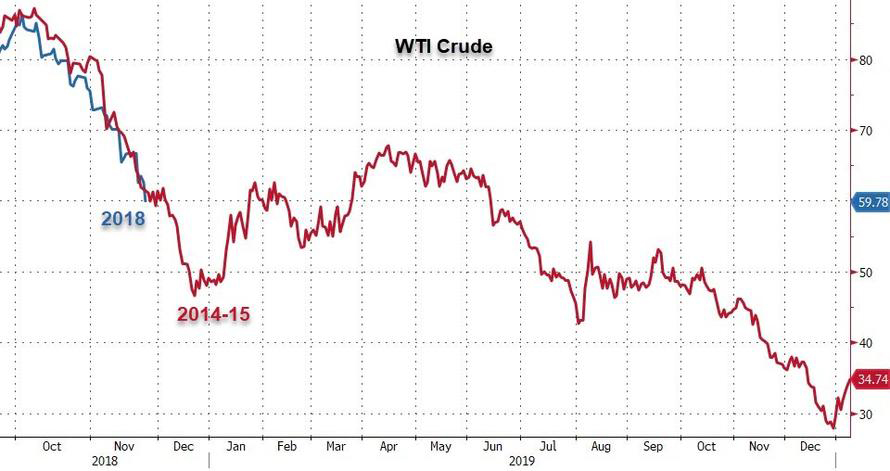 Brent dropped below $60/barrel for the first time since October 2017.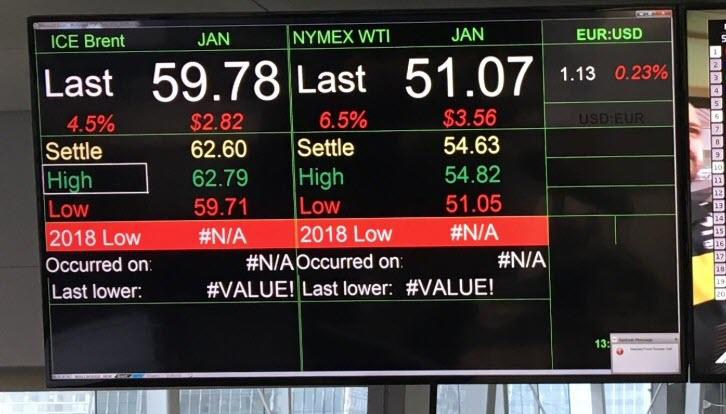 And with Iranian export restrictions lifted after Trump provided most of its clients oil import waivers, traders are now focused on growing risks of a new glut of crude: Saudi Arabia's oil minister said Thursday production from the world's largest exporter climbed further this month after a surge in October, and U.S. stockpiles have risen for nine straight weeks.
Saudi Arabia is producing oil in excess of 10.7 million barrels a day, more than in recent years, Energy Minister Khalid Al-Falih said, giving the strongest indication yet that the kingdom has boosted output to record levels. 
"We were at 10.7-something in October, and we are above that. We will know exactly when the month is over," Al-Falih said. "We will not flood the market. We will not send oil that customers don't need. And we've started doing that in December,and I expect  we'll continue doing that into the new year."
At the same time, the world's biggest exporter said it would respond to demand for oil and won't oversupply the market, he told reporters on Thursday at the mining complex of Wa'ad Al Shamal in northwestern Saudi Arabia. Why the hedge? Because demand for Saudi crude may be lower in January than in December, he said.
Saudi Arabia set an oil production record of 10.72 million barrels a day in November 2016, just before the kingdom led a group of OPEC and non-OPEC countries in cutting output. The surge in output this month will come into the spotlight when  producers meet on Dec. 6 in Vienna to discuss their 2019 output strategy. Riyadh has already indicated it supports a deep  production cut and as a first step will reduce its shipments by 500,000 barrels a day in December from November levels. "As the year comes to an end, customers tend to cut their liftings," Al-Falih said. "And of course we've seen the waivers on the Iranian sanctions. So, for all we know, January demand from Saudi Arabia will be even lower."
And speaking of Iran, overnight Bloomberg reported that Chinese oil refiners have resumed their purchases of Iranian crude scheduled to be shipped in November; Saudi Arabia will be eager to retain this market and the resulting price war with Iran will lead to even lower prices.
Furthermore, as of this moment the Saudis are no longer complying with the terms of the 2016 Vienna output curbs, as the nation seeks to grab market share at the lower price points. While Riyadh has signaled it would throttle back production in December, unless OPEC and Russia can reach a new deal to constrain supply at their meeting next month, analysts see the prospect of sustained oversupply in 2019 in a repeat of what happened after the Thanksgiving massacre of 2014, undoing the group's success over the last two years to drain global inventories.
Earlier this month, OPEC+ warned that markets will probably be oversupplied in 2019 and it would likely have to trim production by roughly 1 million barrels. U.S. stockpiles expanded to the highest level since December 2017 last week and oil producers there are producing at the highest rate since at least March 1983, according to government data.
Quoted by Bloomberg, Hong Sungki, a Seoul-based commodities trader at NH Investment said that "prices have taken a dive as Trump continues to put pressure on OPEC and Saudi Arabia to create a low-price environment, and that has coupled with increasing American stockpiles. A potential game-changer will be what OPEC+ agrees to do in terms of supply."
Should there be no agreement, watch out below as oil retraces the entire rebound from early 2016. Should that happen, US junk bonds better beware as another round of high yield-funded E&P defaults will be almost certainly assured.



our mission:

to widen the scope of financial, economic and political information available to the professional investing public.
to skeptically examine and, where necessary, attack the flaccid institution that financial journalism has become.
to liberate oppressed knowledge.
to provide analysis uninhibited by political constraint.
to facilitate information's unending quest for freedom.
our method: pseudonymous speech...
Anonymity is a shield from the tyranny of the majority. it thus exemplifies the purpose behind the bill of rights, and of the first amendment in particular: to protect unpopular individuals from retaliation-- and their ideas from suppression-- at the hand of an intolerant society.

...responsibly used.

The right to remain anonymous may be abused when it shields fraudulent conduct. but political speech by its nature will sometimes have unpalatable consequences, and, in general, our society accords greater weight to the value of free speech than to the dangers of its misuse.

Though often maligned (typically by those frustrated by an inability to engage in ad hominem attacks) anonymous speech has a long and storied history in the united states. used by the likes of mark twain (aka samuel langhorne clemens) to criticize common ignorance, and perhaps most famously by alexander hamilton, james madison and john jay (aka publius) to write the federalist papers, we think ourselves in good company in using one or another nom de plume. particularly in light of an emerging trend against vocalizing public dissent in the united states, we believe in the critical importance of anonymity and its role in dissident speech. like the economist magazine, we also believe that keeping authorship anonymous moves the focus of discussion to the content of speech and away from the speaker- as it should be. we believe not only that you should be comfortable with anonymous speech in such an environment, but that you should be suspicious of any speech that isn't.