The Fed is WAAAAY Behind the Curve on Inflation
Graham Summers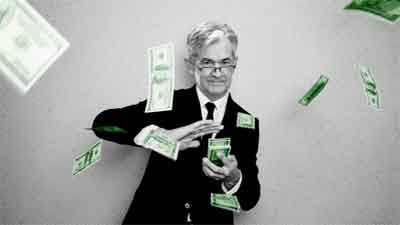 Inflation is ROARING.
Five year breakevens, which is a key inflation measure, just hit a new all-time high of 3.0% (started in 2002). Inflation expectations running out to five years are now higher than at any point in the last ~20 years.

Unfortunately, that's not even the end of the bad news. The 10-year breakeven rate (inflation expectations 10 years out) hit 2.7044% this week.
This is noteworthy first and foremost in that it is higher than the previous peaks experienced in 2011, 2012, and 2013. Indeed, the last time 10-year breakevens hit 2.7% was in 2006.

At that time the Fed was actively hiking rates: Fed Funds rates were 4.75%, on their way to 5.25%.
Today, Fed funds rates are at zero and the Fed is running a $120 billion Quantitative Easing (QE) program: the single largest monthly QE program in the Fed's history. Even more incredibly, the Fed has been staging a public debate as to whether it needs to taper this program… for months.
Put simply, there is NO signal that the Fed is going to stop inflation from roaring.
With that in mind, I outline five investments that could explode higher as inflation rips through the financial system in a Special Investment Report titled Survive the Inflationary Storm.
To pick up a free copy, swing by
https://phoenixcapitalmarketing.com/inflationstorm.html
Best Regards
Graham Summers
Chief Market Strategist
Phoenix Capital Research



 

Graham Summers, MBA is Chief Market Strategist for Phoenix Capital Research, an investment research firm based in the Washington DC-metro area.

Graham's sterling track record and history of major predictions has made him one of the most sought after investment analysts in the world. He is one of only 20 experts in the world who are on record as predicting the 2008 Crash. Since then he has accurately predicted the EU Meltdown of 2011-2012 (locking in 73 consecutive winners during this period), Gold's rise to $2,000 per ounce (and subsequent collapse), China's market crash and more.

His views on business and investing has been featured in RollingStone magazine, The New York Post, CNN Money, Crain's New York Business, the National Review, Thomson Reuters, the Fox Business, and more. His commentary is regularly featured on ZeroHedge and other online investment outlets.