"Time To Prepare For The Next Crisis":
One Of China's Largest Funds Is Getting Ready To Dump Stocks
Tyler Durden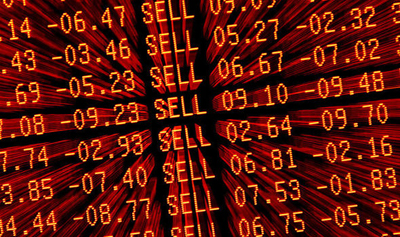 A few days after we reported that the investment vehicle of Sweden's most powerful family, the Wallenbergs, has begun preparations for the next global crisis, concerns about the future have spread to one of China's largest state-backed asset manager which runs about HK$139 billion ($18 billion) in assets, and which said it was preparing to sell shares in as many as 30 stocks on concern that valuations worldwide have peaked.
There are 20 to 30 companies in China Everbright's global portfolio that are ripe for exit after they went through initial public offerings, Chief Executive Officer Chen Shuang said in an interview in Hangzhou on Tuesday according to Bloomberg. And alhough he didn't specify which stocks Everbright would sell out of, Chen said the company is planning to make its exits "as soon as possible."
"We will be actively disposing of assets and be prudent about new investments," Chen said. "Global markets including the U.S. have peaked. We should be prepared for the next round of financial crises and turmoils."
Chen also said Everbright raised more funds overseas after it became "very difficult" to do so in China. According to Bloomberg, new rules on the asset management industry slowed the increase of fundraising for private equity firms to 8% this year from an average annual rate of 20% in the past five years, he said. "Most of our new funds this year were raised from overseas," he said.
Everbright, which has invested in more than 300 companies worldwide, has joined a wave of pessimism rippling through markets recently.  The Hong Kong-listed firm, part of China Everbright Group, counts electric-car maker NIO and Netflix-like streamer iQiyi both of which went public in the U.S. this year, within its portfolio.
Earlier today, the MSCI Asia Pacific Index was on the verge of a bear market as Asian stocks tumbled on rising geopolitical tensions, receding optimism over U.S. stocks, including a possible slowdown in earnings and economic growth.
It is likely that Chen will be punished for his bearish remarks: his comments come in direct refutation of an unprecedented jawboning campaign by various heads of Chinese financial regulators and Vice Premier Liu He making statements last week pledging increased support for private companies and the markets. On Sunday, even president Xi Jinping vowed "unwavering" support for the country's private sector.
"Any words and practices that negate and weaken the private economy are wrong," Xi said in a letter to private entrepreneurs, "Supporting the development of private enterprises is the Party Central Committee's consistent policy," Xi said.
In apparent refutation of Beijing's attempt to instill confidence with even more stimulus, Chen said China's economic growth should rest more on fundamentals than policy stimulus. "Long-term growth cannot rely on policy drive,"he said
It was not clear if words that suggest the selloff is only going to get worse are also "wrong" although if we were Chen, we'd be very nervous right about now.
China's attempt to boost confidence worked... briefly. China saw its biggest stock rally in three years on Monday, followed by another 2% drop on Tuesday as the effects wore off.

 

our mission:

to widen the scope of financial, economic and political information available to the professional investing public.
to skeptically examine and, where necessary, attack the flaccid institution that financial journalism has become.
to liberate oppressed knowledge.
to provide analysis uninhibited by political constraint.
to facilitate information's unending quest for freedom.
our method: pseudonymous speech...
Anonymity is a shield from the tyranny of the majority. it thus exemplifies the purpose behind the bill of rights, and of the first amendment in particular: to protect unpopular individuals from retaliation-- and their ideas from suppression-- at the hand of an intolerant society.

...responsibly used.

The right to remain anonymous may be abused when it shields fraudulent conduct. but political speech by its nature will sometimes have unpalatable consequences, and, in general, our society accords greater weight to the value of free speech than to the dangers of its misuse.

Though often maligned (typically by those frustrated by an inability to engage in ad hominem attacks) anonymous speech has a long and storied history in the united states. used by the likes of mark twain (aka samuel langhorne clemens) to criticize common ignorance, and perhaps most famously by alexander hamilton, james madison and john jay (aka publius) to write the federalist papers, we think ourselves in good company in using one or another nom de plume. particularly in light of an emerging trend against vocalizing public dissent in the united states, we believe in the critical importance of anonymity and its role in dissident speech. like the economist magazine, we also believe that keeping authorship anonymous moves the focus of discussion to the content of speech and away from the speaker- as it should be. we believe not only that you should be comfortable with anonymous speech in such an environment, but that you should be suspicious of any speech that isn't.