China's Solar Boom: Capacity Set To Hit 1 TW By 2026
Rystad Energy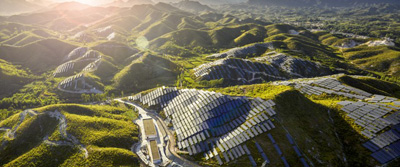 China's solar sector is set to break records in the coming years . When installed capacity crosses the 500 gigawatts (GW) mark by the end of 2023, it will have taken 13 years to reach that milestone. That total, however, will be doubled to 1 terawatt (TW) in just three additional years. Rystad Energy modeling shows total installed solar photovoltaic (PV) capacity in China will cross the 1,000 GW mark by the end of 2026.
New capacity in 2023 is expected to top 150 GW, almost doubling the 87 GW installed in 2022. Our projections show that the significant acceleration is not going to slow anytime soon. About 165 GW is expected to be added in 2024 and 170 GW in 2025. This growth will see China's cumulative solar PV capacity reach over 700 GW by 2024 and increase to close to 900 GW by the end of 2025, before topping 1 TW in 2026.
Today, China's 500 GW represents approximately 40% of global capacity, with the US in second place, accounting for about 12% with 145 GW. Installations in the US are also expected to grow, helped by the incentives offered through the Inflation Reduction Act, but total capacity will be about 209 GW in 2026, or around 11% of the global total.
According to the National Energy Administration (NEA), 134.9 billion CNY (~$15.8 billion) has been invested in solar PV construction during the first half of 2023. This is 3.4 times the investment put into thermal power during the same period and the highest among all power generation sources. As China continues to invest in renewable energy, proactive measures to address the challenges of solar intermittency have been taken by encouraging new utility-scale renewable projects to build associated storage. Pumped hydro, for example, is developing fast in China to meet seasonal changes in energy demand. By June 2023, China had 49 GW of pumped hydro, which is expected to reach 64 GW by 2025 and over 120 GW by 2030.
China's national program to build out solar capacity, launched in June 2021, has led to a significant boost in large-scale projects. Although most distributed PV systems are installed on rooftops, not all of them are used for residential purposes. Around two-thirds of the distributed PV capacity in China is utilized by the commercial and industrial sectors and these projects can vary from tens to more than 100 MW.
Yicong Zhu, senior renewables and power analyst, Rystad Energy.
The growth of distributed solar – typically sited on rooftops – during recent years has not been a surprise for the Chinese market. Utility-scale solar PV development - if it produces 10 megawatts (MW) or more of energy – has been concentrated in the northwest region of China where solar and land resources are abundant. Power demand centers are in the south and eastern regions, along the densely populated coast and where most of the industries are located. The nation has made efforts to construct and expand its high-voltage transmission networks to move renewable power from areas rich in resources to demand centers. However, there is limited land availability and costs are high in coastal regions, so large-scale utility solar PV developments are not feasible.
Therefore, distributed solar energy has become a more viable alternative and the more populous provinces of China have experienced a notable increase in the advancement of such projects this year. Particularly, the provinces of Henan, Shandong, Hubei, Jiangsu and Zhejiang have all observed a surge in installations.
Among these provinces, Henan takes the lead, with 7.6 GW of new solar PV installations, of which 98% were distributed solar PV. Following closely is Shandong, with 6.8 GW of new installations. It, however, currently holds the highest installed solar PV capacity among the provinces, boasting a total of 49.5 GW, including 35.7 GW of distributed solar and 13.7 GW of utility-scale solar. The province of Hebei takes second place in terms of installed solar PV capacity, with a cumulative of 41.7 GW, evenly divided between utility-scale and distributed solar PV installations.
China has set provincial-specific solar PV installation targets under its renewable energy plans across 26 provinces as part of its 14th five-year planning period. The goal is to install 443 GW of new capacity by the end of 2025. As of 30 June, a total of 206 GW was already installed, achieving a completion rate of 46.5% at the halfway mark of the five-year plan.
As of now, Henan and Fujian provinces have surpassed their targets for the planning period, while some other provinces are less than 20% away from their five-year target, with 2.5 years remaining. Even so, almost half of the 26 provinces have fallen behind, which is why less than half of the overall expected new capacity has been installed by the midpoint of the five-year plan.
Of the top 10 provinces that have the highest new solar PV capacity installation targets, only three have managed to complete more than 50% as of the end of June. Provinces like Shanxi, Inner Mongolia, Gansu and Qinghai, which still have to install more than 20 GW of new capacity, will need to speed up their project development in the coming years if they want to meet their targets. Overall, all provinces will need to bring at least 250 GW of solar PV capacity online by the end of 2025 to achieve their respective targets.




  

Rystad Energy is an independent oil and gas consulting services and business intelligence data firm offering global databases, strategy consulting and research products.

Rystad Energy's headquarters are located in Oslo, Norway. Further presence has been established in London, New York, Houston, Stavanger, Moscow, Rio de Janeiro, Singapore, Bangalore, Tokyo and Dubai.