PIMCO Starts Dumping Bonds, Fears "Helicopter Money" Around The Corner
Tyler Durden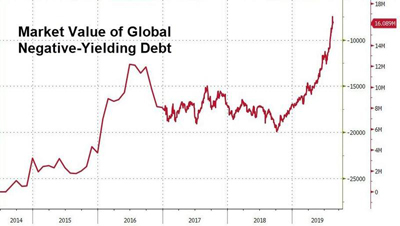 Amid a collapse in global bond yields (to record lows) and soaring aggregate volumes of central-bank-created negative-yielding debt, at least one big bond shop is dumping sovereigns.
"We're a lot more defensive," warned PIMCO's Daniel Ivascyn, group CIO at the massive bond manager, noting that after the best year-to-date performance since 2003, the fund is paring its positions in government debt on fears that a breakthrough in US-China trade talks could trigger a violent sell-off.
"Even if we get a narrow trade agreement [between the US and China] we could see a pretty powerful snapback in yields."
However, as The FT reports, while PIMCO is lightening up on their positions in the UK and European bond markets, it is reducing exposure to the US government bond markets less. 
"We like the US market more - it still has more room to rally in a global flight to safety," Mr Ivascyn said.

"But it wouldn't take much of an uptick in inflation to cause a meaningful repricing."
Ivascyn may appear more constructive on growth and inflation but, as FT notes, he tempers his enthusiasm by noting that,
"We think we'll at best get a partial agreement on trade, and this friction will be with us for a long time."
And one could argue bonds are more in line with the depressionary signals than stocks currently...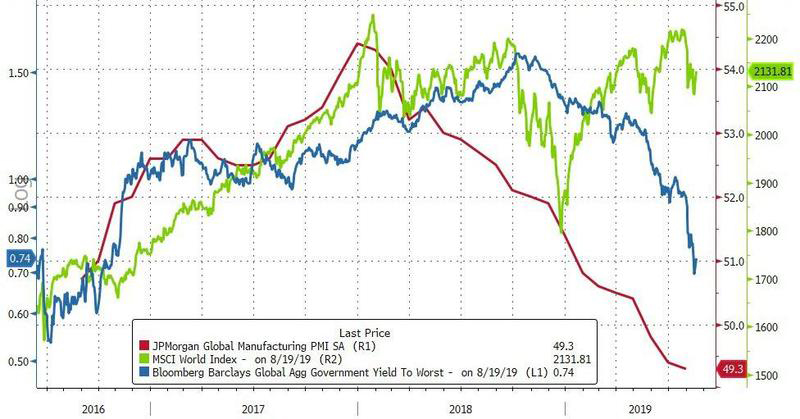 Source: Bloomberg
It appears investors are buying any dip (in price) in USTs for now...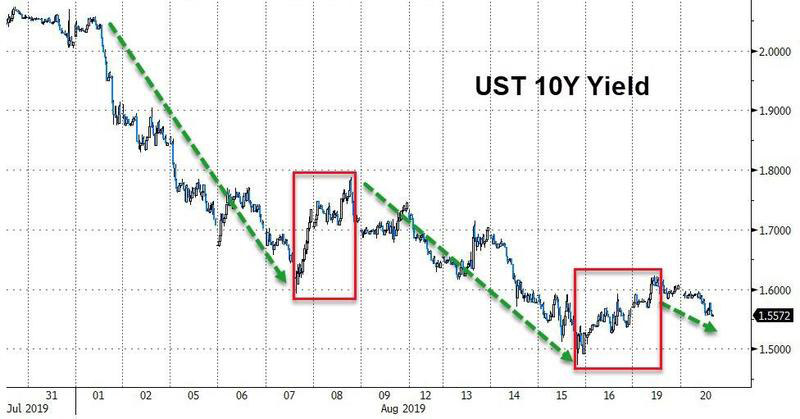 Source: Bloomberg
His greatest fear, which is likely driving the decision to dump European debt faster than US debt, is simple - unorthodox policy mania...
"We think it's premature to declare inflation to be dead..."

"We could still see more unorthodox policies, like 'helicopter money'."
PIMCO's words (and actions, we presume), echo a report from BlackRock, co-authored by Philipp Hildebrand, Stanley Fischer and Jean Boivin, pointing out that central banks have limited firepower left in their monetary armory, and that fiscal policy is constrained by still-high debt levels. The trio concluded that "unprecedented policies will be needed to respond to the next economic downturn". The report added:
"Without a clear framework in place, policymakers will inevitably find themselves blurring the boundaries between fiscal and monetary policies... This threatens the hard-won credibility of policy institutions and could open the door to uncontrolled fiscal spending."
Will it be different this time?
 

our mission:

to widen the scope of financial, economic and political information available to the professional investing public.
to skeptically examine and, where necessary, attack the flaccid institution that financial journalism has become.
to liberate oppressed knowledge.
to provide analysis uninhibited by political constraint.
to facilitate information's unending quest for freedom.
our method: pseudonymous speech...
Anonymity is a shield from the tyranny of the majority. it thus exemplifies the purpose behind the bill of rights, and of the first amendment in particular: to protect unpopular individuals from retaliation-- and their ideas from suppression-- at the hand of an intolerant society.

...responsibly used.

The right to remain anonymous may be abused when it shields fraudulent conduct. but political speech by its nature will sometimes have unpalatable consequences, and, in general, our society accords greater weight to the value of free speech than to the dangers of its misuse.

Though often maligned (typically by those frustrated by an inability to engage in ad hominem attacks) anonymous speech has a long and storied history in the united states. used by the likes of mark twain (aka samuel langhorne clemens) to criticize common ignorance, and perhaps most famously by alexander hamilton, james madison and john jay (aka publius) to write the federalist papers, we think ourselves in good company in using one or another nom de plume. particularly in light of an emerging trend against vocalizing public dissent in the united states, we believe in the critical importance of anonymity and its role in dissident speech. like the economist magazine, we also believe that keeping authorship anonymous moves the focus of discussion to the content of speech and away from the speaker- as it should be. we believe not only that you should be comfortable with anonymous speech in such an environment, but that you should be suspicious of any speech that isn't.