Senate Democrats Are Circulating Plans For Government Takeover Of The Internet
Elizabeth Nolan Brown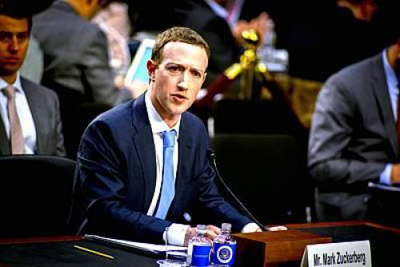 A leaked memo circulating among Senate Democrats contains a host of bonkers authoritarian proposals for regulating digital platforms, purportedly as a way to get tough on Russian bots and fake news.
To save American trust in "our institutions, democracy, free press, and markets," it suggests, we need unprecedented and undemocratic government intervention into online press and markets, including "comprehensive (GDPR-like) data protection legislation" of the sort enacted in the E.U.
Titled "Potential Policy Proposals for Regulation of Social Media and Technology Firms," the draft policy paper - penned by Sen. Mark Warner and leaked by an unknown source to Axios - the paper starts out by noting that Russians have long spread disinformation, including when "the Soviets tried to spread 'fake news' denigrating Martin Luther King" (here he fails to mention that the Americans in charge at the time did the same). But NOW IT'S DIFFERENT, because of technology.
"Today's tools seem almost built for Russian disinformation techniques," Warner opines. And the ones to come, he assures us, will be even worse.
Here's how Warner is suggesting we deal:
Mandatory location verification. The paper suggests forcing social media platforms to authenticate and disclose the geographic origin of all user accounts or posts.

Mandatory identity verification: The paper suggests forcing social media and tech platforms to authenticate user identities and only allow "authentic" accounts ("inauthentic accounts not only pose threats to our democratic process...but undermine the integrity of digital markets"), with "failure to appropriately address inauthentic account activity" punishable as "a violation of both SEC disclosure rules and/or Section 5 of the [Federal Trade Commission] Act."

Bot labeling: Warner's paper suggests forcing companies to somehow label bots or be penalized (no word from Warner on how this is remotely feasible)

Define popular tech as "essential facilities." These would be subject to all sorts of heightened rules and controls, says the paper, offering Google Maps as an example of the kinds of apps or platforms that might count. "The law would not mandate that a dominant provider offer the serve for free," writes Warner. "Rather, it would be required to offer it on reasonable and non-discriminatory terms" provided by the government.
Other proposals include more disclosure requirements for online political speech, more spending to counter supposed cybersecurity threats, more funding for the Federal Trade Commission, a requirement that companies' algorithms can be audited by the feds (and this data shared with universities and others), and a requirement of "interoperability between dominant platforms."
The paper also suggests making it a rule that tech platforms above a certain size must turn over internal data and processes to "independent public interest researchers" so they can identify potential "public health/addiction effects, anti-competitive behavior, radicalization," scams, "user propagated misinformation," and harassment - data that could be used to "inform actions by regulators or Congress."
And - of course - these include further revisions to Section 230 of the Communications Decency Act, recently amended by Congress to exclude protections for prostitution-related content. A revision to Section 230 could provide the ability for users to demand takedowns of certain sorts of content and hold platforms liable if they don't abide, it says, while admitting that "attempting to distinguish between true disinformation and legitimate satire could prove difficult."
"The proposals in the paper are wide ranging and in some cases even politically impossible, and raise almost as many questions as they try to answer," suggested Mathew Ingram, putting it very mildly at the Columbia Journalism Review.



Elizabeth Nolan Brown is an associate editor at Reason, where she covers sex policy, free speech, criminal justice, women's health care, food regulation, and national politics. Her writing has also appeared in outlets such as Politico, Playboy, the Los Angeles Times, The Daily Beast, Fox News, The Week, The Dish, and Timemagazine, and been published by entities such as the New America Foundation and the Cato Institute.

In 2016, her Reason cover story "The War on Sex Trafficking Is the New War on Drugs," won the Western Publishing Association's "Maggie" award for best feature article and took third in the Southern California Journalism Awards best-feature category. 

Brown is a frequent commentator on sex work, First Amendment issues, libertarian feminism, and general politics—in libertarian spaces and the media more broadly. She has spoken at events like FreedomFest, the International Students for Liberty Conference, and the Porcupine Freedom Festival, and has been invited to talk to students at New York University and Vanderbilt Law, among other places. She has also spoken on these issues on radio and TV, including Fox Business' Stossel and Opening Bell, NPR's 1A, the BBC's Business Matters, and Al Jazeera's The Stream.  

Before coming to Reason, Brown was a blogger, web producer, and editor with AARPmagazine, Bustle.com, and Defy Media; a nutrition news ghostwriter; a researcher at the Center for Media & Social Impact; and a personal-finance and law reporter for the Daily Reporter in Columbus, Ohio. She has a BFA in theater from Ohio University, a certificate in nutrition studies from Cornell, and an M.A. in strategic communication from American University. 

She currently lives in Washington, D.C.