Louisiana Bans BofA, Citi From Bond Sale Over "Restrictive Gun Policies"
Tyler Durden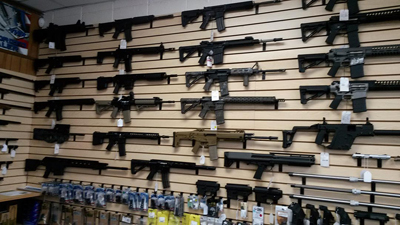 The blowback against bank virtue signaling has begun.
Louisiana's state's bond commission voted 7 to 6 Thursday to ban Bank of America and Citigroup from working on its upcoming debt sale because of the banks' "restrictive gun policies," the state treasury said in a statement, according to Bloomberg.
As states begin using the bond market in retaliation against Wall Street and to stick up for the Second Amendment, Bank of America and Citigroup - the two top-ranked underwriters of long-term municipal debt - stand to lose millions in muni revenue.
"I personally believe the policies of these banks are an infringement on the rights of Louisiana citizens," Treasurer John Schroder said in a statement. "As a veteran and former member of law enforcement, I take the Second Amendment very seriously."
As a reminder, Bank of America in April said it would stop making new loans to companies that make assault-style rifles for civilian use. At the time, the bank said at least 150 of its employees had been affected by gun violence over the years.
One month earlier, Citigroup became the major banking institution to set restrictions on the firearm industry in March, when it announced plans to prohibit retailers that are customers of the bank from offering bump stocks or selling guns to people who haven't passed a background check or are younger than 21. The restrictions applied to companies that rely on the bank for store credit cards, lending and other services.
Citigroup's Brandee McHale, the company's head of corporate citizenship, defended the bank's policies at the state's bond commission meeting. "This policy does not infringe on constitutional rights, and certainly not the right to bear arms," she said at the meeting.
But if banks thought their recent "virtue signaling" would not cost them, Louisiana just showed the way how the counter-resistance can extract its own pound of flesh.
As Bloomerg notes, the ban is the latest example of how corporate America has been drawn into the nation's polarizing debate over gun control.
Earlier this year, Chicago Mayor Rahm Emanuel proposed using the city's business to push for stricter gun controls by limiting work with Wall Street firms that didn't cut ties with companies that sold firearms to people under the age of 21 or dealt in high-capacity magazines. Emanuel's diversion from the city's inability to contain its own gun problems has not gone unnoticed, and just last weekend some 66 people were shot and 12 killed in the latest weekend of Chicago gun violence. There were no arrests made.

 

our mission:

to widen the scope of financial, economic and political information available to the professional investing public.
to skeptically examine and, where necessary, attack the flaccid institution that financial journalism has become.
to liberate oppressed knowledge.
to provide analysis uninhibited by political constraint.
to facilitate information's unending quest for freedom.
our method: pseudonymous speech...
Anonymity is a shield from the tyranny of the majority. it thus exemplifies the purpose behind the bill of rights, and of the first amendment in particular: to protect unpopular individuals from retaliation-- and their ideas from suppression-- at the hand of an intolerant society.

...responsibly used.

The right to remain anonymous may be abused when it shields fraudulent conduct. but political speech by its nature will sometimes have unpalatable consequences, and, in general, our society accords greater weight to the value of free speech than to the dangers of its misuse.

Though often maligned (typically by those frustrated by an inability to engage in ad hominem attacks) anonymous speech has a long and storied history in the united states. used by the likes of mark twain (aka samuel langhorne clemens) to criticize common ignorance, and perhaps most famously by alexander hamilton, james madison and john jay (aka publius) to write the federalist papers, we think ourselves in good company in using one or another nom de plume. particularly in light of an emerging trend against vocalizing public dissent in the united states, we believe in the critical importance of anonymity and its role in dissident speech. like the economist magazine, we also believe that keeping authorship anonymous moves the focus of discussion to the content of speech and away from the speaker- as it should be. we believe not only that you should be comfortable with anonymous speech in such an environment, but that you should be suspicious of any speech that isn't.