Trump Complained About Fed's Rate Hikes, Expected Powell To Be
"Cheap-Money" Fed Chair
Tyler Durden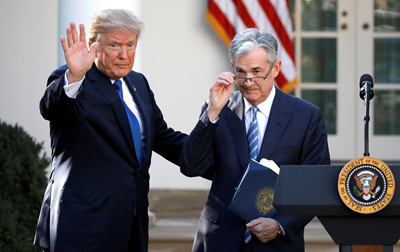 One month after Trump first ventured into territory few presidents have dared to go before, when he told CNBC in an interview that he was "not thrilled" about the Fed raising rates, and noted that the strong dollar is disadvantageous, moments ago Bloomberg reported that during a Hamptons fundraiser with wealthy Republican donors, Trump said he expected Jerome Powell to be a cheap-money Fed chairman and lamented that his nominee instead raised interest rates, according to three people present.
Bloomberg adds that about 60 people attended Trump's fundraiser at the Southampton home of Howard Lorber, the chairman of hot dog company Nathan's Famous. Guests included Chicago Cubs co-owner Todd Ricketts; John Catsimatidis Jr., the son of Red Apple Group Chairman John Catsimatidis; Republican National Committee Chairwoman Ronna Romney McDaniel; Commerce Secretary Wilbur Ross; Treasury Secretary Steven Mnuchin; White House Chief of Staff John Kelly; and senior White House aides Jared Kushner and Dan Scavino.
Trump held a discussion with a small group and then made remarks to a larger group over a dinner of salad with chicken in a tent in Lorber's yard. It was a humid night and Trump joked that Lorber could have afforded better air conditioning, according to one of the people.
While Trump has publicly complained about the central bank's recent rate increases - most recently to CNBC in mid-July -his private remarks to donors are the most personal criticism of Powell's performance to emerge so far according to Bloomberg.
Despite Trump's recurring complaints, the Fed continues on its course to further tighten policy; with core CPI now running at a "hot" 2.4% and set to increase as a result of tariff-induced price increases, it may have to hike more than the market expects.
The dollar wobbled following the Bloomberg report, sliding to session lows...

our mission:

to widen the scope of financial, economic and political information available to the professional investing public.
to skeptically examine and, where necessary, attack the flaccid institution that financial journalism has become.
to liberate oppressed knowledge.
to provide analysis uninhibited by political constraint.
to facilitate information's unending quest for freedom.
our method: pseudonymous speech...
Anonymity is a shield from the tyranny of the majority. it thus exemplifies the purpose behind the bill of rights, and of the first amendment in particular: to protect unpopular individuals from retaliation-- and their ideas from suppression-- at the hand of an intolerant society.

...responsibly used.

The right to remain anonymous may be abused when it shields fraudulent conduct. but political speech by its nature will sometimes have unpalatable consequences, and, in general, our society accords greater weight to the value of free speech than to the dangers of its misuse.

Though often maligned (typically by those frustrated by an inability to engage in ad hominem attacks) anonymous speech has a long and storied history in the united states. used by the likes of mark twain (aka samuel langhorne clemens) to criticize common ignorance, and perhaps most famously by alexander hamilton, james madison and john jay (aka publius) to write the federalist papers, we think ourselves in good company in using one or another nom de plume. particularly in light of an emerging trend against vocalizing public dissent in the united states, we believe in the critical importance of anonymity and its role in dissident speech. like the economist magazine, we also believe that keeping authorship anonymous moves the focus of discussion to the content of speech and away from the speaker- as it should be. we believe not only that you should be comfortable with anonymous speech in such an environment, but that you should be suspicious of any speech that isn't.