The Rise Of Perovskite: A Quantum Leap In Solar Panel Efficiency
Felicity Bradstock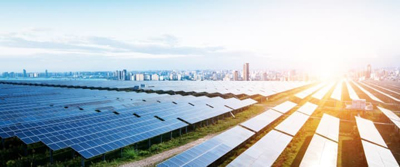 With huge amounts of investment being pumped into developing new renewable energy technologies and improving existing equipment worldwide, we are seeing innovations in traditional green energy sources. Solar panels are getting more efficient, capable of generating energy even when the sun's not shining, and wind turbines are getting bigger and stronger. This shows that renewable energy operations are not rigid, that technologies can evolve, and the appearance of a solar or wind farm today may not be the same as that in 50 years. This also suggests that efficiency will continue to improve as greater funding is provided for research and development in green energy.
Most solar panels use a silicon semiconductor compound with a maximum efficiency of around 29 percent for converting sunlight into electricity. But researchers believe the incorporation of a second perovskite layer into the silicon layer could significantly improve this efficiency. Perovskite is extremely flexible, making it ideal for application across a variety of industries, used for ultrasound machines, memory chips, and now solar panels. 
The existing solar energy technology is thought to have reached almost maximum efficiency, with new innovations required if energy companies hope to improve efficiency. Traditional solar panels have an efficiency level of below 30 percent, far lower than that required to meet global climate goals. However, researchers now believe that including a perovskite layer in the design could help boost this efficiency. The silicon layer captures electrons from red light, while perovskite captures blue light, helping the two layers to work in tandem. 
The discovery comes after around a decade of research attempting to improve the efficiency of solar panels. And scientists believe the silicon-perovskite solar cell technology could become commercially available in around 5 years. Stefaan De Wolf, a professor at KAUST University in Saudi Arabia, recently achieved a 33.7 percent level of efficiency in tandem technology and is waiting to publish the findings in scientific journals. De Wolf stated, "This year is a revolutionary year… It's very exciting that things are moving rapidly with multiple groups. He added, "Overcoming the 30 percent threshold provides confidence that high-performance, low-cost PVs can be brought to the market." He also highlighted the need to rapidly increase the world's solar energy capacity to "avert the catastrophic scenarios associated with global warming, the total capacity needs to increase to about 75TW by 2050," he said.
Other groups have also experienced success with tandem silicon-perovskite technology. Steve Albrecht at the Helmholtz Centre Berlin for Materials and Energy in Germany recently announced an above-30 efficiency rate, achieving a level of 32.5 percent. Meanwhile, Xin Yu Chin's group of researchers at the Federal Institute of Technology in Lausanne, Switzerland, saw an efficiency level of 31.25 percent, far higher than any level ever measured using the previous technology. 
In June, the biggest Chinese solar panel manufacturer, LONGi, announced it had achieved an efficiency rate of 33.5 percent in a lab, and it now has plans to increase the size of the new panels from experimental conditions (1 cm squares) to commercial-level features (15cm squares). Longi President Li Zhenguo stated, "Improving cell conversion efficiency and reducing the cost of electricity remain the perpetual theme driving the development of the photovoltaic industry." He is optimistic about the potential for the commercial development of this technology. The company has broken the world record for solar cell efficiency 14 times since April 2021, demonstrating the rapid progression of solar technology in recent years and the potential for further innovation. 
Based on the efficiency level of the existing commercially available solar panel technology, scientists believe the installation rate of solar power must increase tenfold to tackle the climate crisis. But if solar panels can be created to be more efficient by incorporating the two-layer technology, the price of solar energy will decrease, which is expected to encourage an accelerated uptake of the technology. Further, companies can either set up projects on smaller land areas, thanks to the improved efficiency of the solar panels or produce more electricity across the same area as existing solar farms. 
China, Europe, and the U.S. are all rapidly expanding their solar energy markets. In a 2022 report, the International Energy Agency (IEA) stated that it expects the total renewable capacity growth globally to almost double in the next five years, overtaking coal as the largest source of electricity generation. It also pointed to several ways in which various regions could develop their green energy capacity more rapidly. It emphasized that utility-scale solar PV and onshore wind remain the cheapest renewable energy sources for new electricity generation. Further, the global solar PV capacity is expected to triple between 2022 and 2027 to become the largest source of power capacity in the world. Together, wind and solar power are expected to contribute over 90 percent of the renewable power capacity that is added over the next five years, and the rollout of innovative technologies could boost this figure even further. 
By Felicity Bradstock for Oilprice.com 




 

 

Felicity Bradstock is a freelance writer specialising in Energy and Finance. She has a Master's in International Development from the University of Birmingham, UK.