Vast Hordes Of Americans Are Being Forced Out Into The Streets As The Middle Class Disintegrates
Michael Snyder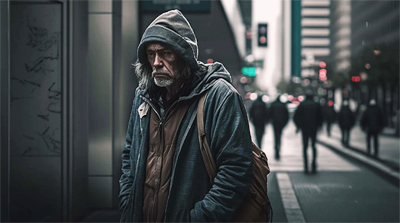 How many people will be sleeping in homeless shelters, on the streets or in their vehicles where you live tonight?  That is the sort of question that not a lot of us like to think about.  But the truth is that homelessness is growing at a very rapid pace all over the country right now.  But if you have lots of money, life probably seems pretty good to you at the moment.  You may eat at a different restaurant every night, and you may be one of the approximately 10 million Americans that currently own a second home.  Our leaders made the wealthy even wealthier by pumping trillions of dollars into the system in recent years, but as the cost of living has soared the poor have gotten even poorer and the middle class has steadily disintegrated.  So now the gap between the wealthy and the rest of the nation is larger than ever, and that is creating a tremendous amount of tension in our society.
In California, vast hordes of homeless people sleep in the shadows of multi-million dollar homes every single night.
And even though California has spent a whopping 17.5 billion dollars on homelessness during the last four years, the homeless population in the state has just continued to grow…
California has spent a stunning $17.5 billion trying to combat homelessness over just four years. But, in the same time frame, from 2018 to 2022, the state's homeless population actually grew. Half of all Americans living outside on the streets, federal data shows, live in California.

Across the country, homelessness is on the rise. But California is adding more homeless people every year than any other state. More than 170,000 unhoused people now live here.
Just think about that number for a moment.
There are 170,000 homeless people in just one state.
And those are the ones that they can actually count.  They are many more that haven't been found yet or that don't want to be counted.
We have also just learned that family homelessness in the United States is surging…
Family homelessness in the US is on the rise in an alarming sign of how the increasing cost of goods, the ever-tightening housing supply and the end of most pandemic-era benefits are putting pressure on Americans.

Some 72,700 people in families with children were experiencing homelessness in 20 of the largest cities in the nation as of January, a 37.6% jump from a year before, according to an analysis of data provided by jurisdictions. In New York, that figure shot up by two thirds, while Chicago, the District of Columbia and Fort Worth, Texas, also saw outsize increases.
I thought that Joe Biden was "fixing" the economy.
So why has that number gone up by 37.6 percent in just one year?
Something is not adding up.
A 28-year-old single mother in Washington D.C. named Mercedez Millings doesn't have a home for herself and her four children.  Since she is so close to the White House, perhaps Biden and his family would be willing to take her in…
Among those homeless in the nation's capital is Mercedez Millings, a 28-year-old single mother of four. She delivered packages and worked at a pizza shop during the pandemic, but experienced homelessness during that time and bounced between living in her car and staying with family.

She and her children have been living in a Salvation Army transitional housing program with some 25 other families for most of this year — and Millings is taking personal finance and workforce development classes. But one big obstacle is stopping her from getting a job: She gave birth to her youngest at her mother's home during the pandemic and never received an official birth certificate. Without it, she's unable to sign her daughter up for child care.
There are countless others just like her.
They would love to have homes, but housing costs have simply become way too high.
As I mentioned yesterday, an unused space next to a laundry room that has been converted into an "apartment" in one building in New York City will run you $2,300 a month.
And actually purchasing a home is now out of reach for tens of millions of Americans.
The Fed has made certain of that by hiking interest rates so dramatically.
Earlier today, I came across a tweet that shared some mortgage math that is just stunning…
New mortgage math is brutal.

Say you buy a $1m house with $200k down at a 7% rate ($800k mortgage).

Over the first three years you pay $193k ($5,322/mo.)

After those $193k of payments your $800k mortgage is now at $774.5k.

You paid $166k in interest, $25.5k in principle.
Ouch.
Of course housing costs are not the only thing that is going up.
According to Zero Hedge, auto insurance rates are going up by double digit percentages all over the nation…
The Wall Street Journal found Allstate has jacked up car insurance premiums by 40% in Georgia, Nationwide Mutual Insurance has increased insurance rates by 32% in California, and State Farm has bumped rates in New York by 11%. The reason is that many of these insurers have experienced significant losses over the last several years, an indication premiums will continue to rise well into 2024.
If you are still making the same amount of money that you did two or three years ago, you are rapidly falling behind.
The cost of living is not going to slow down for any of us, and if you can't keep up that is too bad for you.
In such an environment, many middle class Americans find themselves falling into poverty, and many poor Americans are finding themselves out in the streets.
All over America, giant homeless encampments are sprouting like mushrooms.  Here is just one example…
One of California's famous wine regions has a government-sanctioned homeless encampment set up near the local courthouse, Fox News Digital has learned.

Photos taken on Sonoma County's administrative campus in Santa Rosa show blue tents lining a parking lot where up to 100 homeless individuals can live. Leaders in Sonoma County, located in northern California's famed wine region, approved the taxpayer-funded homeless camp this year after a "shelter crisis" declaration. The administrative complex is home to various offices such as Sonoma County Human Resources, the county registrar, Superior Court of California and district attorney's office.
If you still have plenty of money, you may not care what is happening to everyone else.
For now, those with lots of cash are living the high life.
But that won't last for long.
A day of reckoning is coming for the wealthy, and they will deeply mourn as their tremendous wealth is wiped out.
During the early stages of this economic crisis, it will be the poor that are hit particularly hard, but great pain is eventually coming for those at the top of the food chain too.
Michael's new book entitled "End Times" is now available in paperback and for the Kindle on Amazon.com, and you can check out his new Substack newsletter right here.
 

 

My name is Michael Snyder and my brand new book entitled "7 Year Apocalypse" is now available on Amazon.com.  During this season, I would like to encourage you to send digital copies of my new book to your family and friends as gifts.  That will help to support the work that I am doing, and it will help to multiply the impact of the book.  In addition to my new book I have written five other books that are available on Amazon.com including  "Lost Prophecies Of The Future Of America", "The Beginning Of The End", "Get Prepared Now", and "Living A Life That Really Matters". (#CommissionsEarned)  By purchasing the books you help to support the work that my wife and I are doing, and by giving it to others you help to multiply the impact that we are having on people all over the globe.  I have published thousands of articles on The Economic Collapse Blog, End Of The American Dream and The Most Important News, and the articles that I publish on those sites are republished on dozens of other prominent websites all over the globe.  I always freely and happily allow others to republish my articles on their own websites, but I also ask that they include this "About the Author" section with each article.  The material contained in this article is for general information purposes only, and readers should consult licensed professionals before making any legal, business, financial or health decisions.  I encourage you to follow me on social media on Facebook and Twitter, and any way that you can share these articles with others is a great help.  During these very challenging times, people will need hope more than ever before, and it is our goal to share the gospel of Jesus Christ with as many people as we possibly can.