A typical geothermal plant attempts to identify areas of highly fractured, highly permeable and high-temperature rocks, then sinks a vertical water injection bore on one side of this area, and a steam recovery bore on the other, hoping that the water will go through the hot rocks, then be picked up on the other side as steam.
But since this often fails to produce a useful flow of steam, Fervo has developed a technique to take all the guesswork out. It uses horizontal drilling techniques to create long, horizontal channels through the rock, then injects pressurized fluid to fracture the rock, creating large areas of high permeability. This "enhanced geothermal" approach, it says, delivers much more reliable results. 
So instead of a vertically drilled geothermal resource with only a small point of contact at either end, Fervo creates enormous, custom-fractured resources, with water pumped in at many points along a pipe that might extend thousands of feet across, and recovered at just as many points though one or more long, horizontal steam recovery pipes.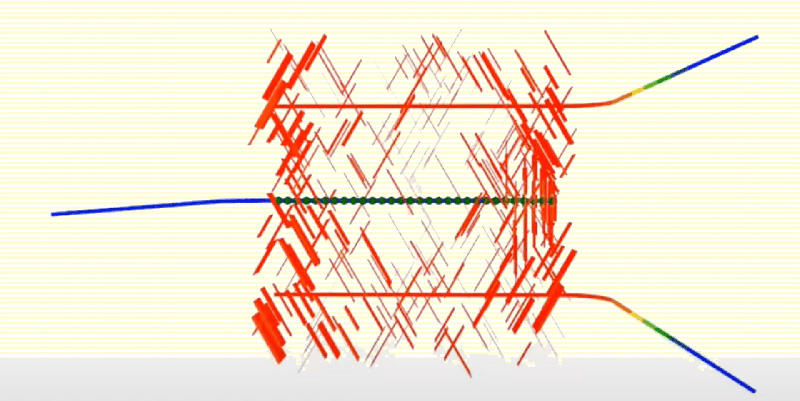 Fervo's approach creates long, horizontal bores in the rock, then creates its own fractures, resulting in very long contacts with the hot rock to ensure high flow and reliable power
The result, says the company, is that you get more steam, more power, and a much better chance of striking hot rock gold than with traditional approaches. And that should make geothermal economically viable in a ton more locations – potentially, just about anywhere.
Fervo's first full-scale commercial pilot, Project Red in Nevada, is the first time a geothermal project has ever drilled a horizontal pair of bores, extending some 3,250 ft (990 m) laterally. It has now completed a 30-day well test, producing a flow rate of 63 liters per second, at temperatures up to 191 °C (376 °F). It produces 3.4 megawatts of power, or about enough to power 500 US homes. 
"By applying drilling technology from the oil and gas industry, we have proven that we can produce 24/7 carbon-free energy resources in new geographies across the world," said Tim Latimer, Fervo Energy CEO and Co-Founder, in a press release. "The incredible results we share today are the product of many years of dedicated work and commitment from Fervo employees and industry partners, especially Google."
The company's next project will produce twice as much energy, but the end goal here is to get geothermal into the realm of mass manufacturing, where sheer volume can drive down costs on one side and rapid learning can improve results at every stage of the process to drive things down even further. 
In a 2020 lecture to students at the Energy Institute, University of Texas at Austin, Latimer spelled out a three-stage commercialization plan, starting out with expanding production at existing geothermal plants to the tune of ~200 megawatts, then graduating to deeper resources adjacent to those existing plants, which could unlock as much as 2 gigawatts of production. 
Finally, with some runs on the board, the company believes it'll have driven costs down low enough to explore completely new resources at depths as low as 4.5 km (2.8 miles) below the surface. That could get this tech into the hundreds of gigawatts, and a significant contribution to firming up renewables-based power grids.
The company is well-funded, with some $187 million raised according to Crunchbase. So it's certainly got an opportunity to make a difference. We look forward to learning more about Fervo's progress.
Source: Fervo Energy