Popular Journalist Confesses: Gold Market Rigging Was Prohibited Subject
Chris Powell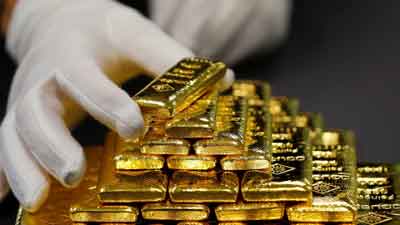 This week's Stansberry Research interview by Daniela Cambone of Mark Yaxley of bullion dealer Strategic Wealth Preservation is far more notable for what Cambone herself says than for anything said by Yaxley.
Cambone notes that lately much news has been produced by the trial of former JPMorgan Chase gold and silver traders on federal charges of market rigging. Then she tells Yaxley: 
"Back in the day, you remember when we started in the industry, the talk of gold manipulation was really … like, you couldn't talk about it. It was like an underground thing. You were seen as a conspiracy person if you did speak about it, and now it's really like it's almost out in the open. Yes, banks were spoofing the prices."
Yes, gold and silver market manipulation was all around them and financial journalists heard about it but none of them dared to attempt actual journalism by investigating it.
So it would be even more interesting if someone interviewed Cambone herself to discover exactly who at Kitco News directed her not to discuss the issue in her many years of doing interviews there, and to discover who seems to have renewed those instructions to Kitco's current staff members.
But Cambone also leaves a mistaken impression here. For while the gold and silver sector now may be fully aware of the longstanding rigging of its markets, the government policy behind that rigging, which goes far beyond the Morgan traders who have been convicted and those who are now on trial, still can't be addressed by mainstream financial news organizations and most monetary metals market analysts — nor by nearly all gold and silver mining companies themselves.
If Cambone really wants to make amends for her years of aiding gold and silver price suppression and the cheating of the investors who relied on her, she might consider interviewing a few of her bigshot friends in the industry about the extensive documentation of government gold price suppression policy, as compiled by GATA here —
— reviewing the documents one by one and asking the bigshots what they think about them after their years of denial that anything improper was going on. Their squirming would be enlightening for investors, and fun to watch.
Yaxley did make a couple of excellent points — first, that because because of its comprehensive misconduct in the gold and silver markets, JPMorgan Chase should be kicked out of the industry worldwide, even though the bank is so dominant that it would be hard to replace; and second, that premiums on gold and silver coins are causing prices to be much higher than futures prices.
Cambone's interview with Yaxley, including her flippant confession, is 17 minutes long and can be viewed at YouTube here.
CHRIS POWELL, Secretary/Treasurer
Gold Anti-Trust Action Committee Inc.
[email protected]
* * *
Join GATA here:
New Orleans Investment Conference
Wednesday-Saturday, October 12-15, 2022
Hilton New Orleans Riverside Hotel
New Orleans, Louisiana
https://neworleansconference.com/wp-content/uploads/2022/07/NOIC_2022_powellgata.html




 

Powell has been managing editor of the Journal Inquirer, a daily newspaper in Manchester, Connecticut, since 1974. He began working at the paper when he left high school in 1967. He writes a column about Connecticut issues that is published in a dozen other newspapers in the state and Rhode Island and often appears on radio and television public-affairs programs in Connecticut.

From 2004 through 2009 he was legislative chairman of the Connecticut Council on Freedom of Information. In 2006 he was inducted into the Academy of New England Journalists by the New England chapter of the Society of Professional Journalists and the New England Society of Newspaper Editors.

In addition to the Connecticut Council on Freedom of Information, he is a member of the Connecticut, Manchester, and Vernon historical societies and the Churchill Centre.