If Inflation Is "Transitory" Why Is This Happening?
Peter Schiff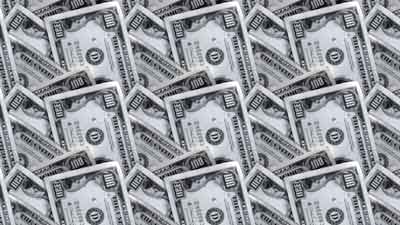 Federal Reserve Chairman Jerome Powell continues to insist the surge of rising prices is "transitory. But if this is true, why are inflation projections for 2022 rapidly rising? It seems the markets aren't buying the transitory theme.
As prices continue to skyrocket, Americans paying more and getting less. Nevertheless, Powell stuck to his guns during his most recent trip to Capitol Hill. Transitory is his story, and he's sticking to it! Powell conceded inflation "has increased notably and will likely remain elevated in coming months before moderating." But he continued to insist we're really only seeing significant price pressures from a few sectors such as the auto industry and they will abate.
Meanwhile, inflation forecasts for next year keep creeping higher. As Deutsche Bank credit strategist Jim Reid asked, "At what point will the surge in 2022 inflation render the transitory debate moot?"
If inflation is really transitory, we should see CPI come in under the Fed's 2% target in 2022 compared to 2021's big numbers that will serve as the base of comparison. But consensus 2022 CPI has risen to 2.5%. Although that would be well below the projected 3.5% CPI for this year, it would still rank as the highest full-year inflation of any year in the past decade.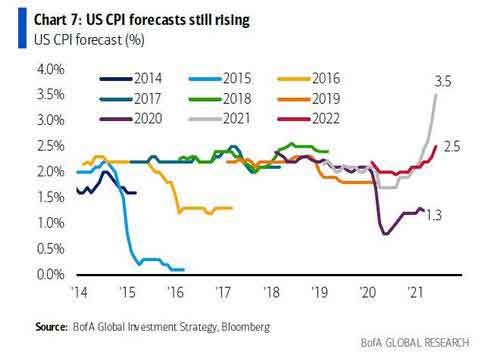 As ZeroHedge put it:
Wall Street can't have it both ways: it can't be saying that soaring inflation is transitory on one hand while on the other predicting the highest 2022 CPI since the global financial crisis."
And about that Wall Street's projection for a 3.5% CPI increase for this year — doesn't that seems awful low given that we've already seen a 3.6% increase in CPI over the last six months? If the last half of the year simply duplicates the first, we're looking at an annual pace of 7.2%.
Peter Schiff has said he thinks we could see even bigger CPI numbers in the last six months of the year as reluctant businesses begin to pass on their costs to consumers. Economist Mohamed El-Erian made a similar prediction. During a Bloomberg TV interview, El-Erian emphatically said, "Inflation is not going to be transitory."
I have a whole list of companies that have announced price increases, that have told us they expect further price increases, and that they expect them to stick."
As Wolf Richter put it, this "transitory inflation" could become an inflationary spiral.
This surge of inflation is becoming engrained in the inflation expectations of company decision-makers and consumers alike. They're adjusting to it and in this manner inflation becomes persistent.
Here's some more bad news. As inflation expectations for 2022 rise, upward revisions to GDP growth projections next year have stalled and are about to turn downward. ZeroHedge said this could suggest " the US is facing a growing risk of stagflation."
Some in the mainstream seem to have figured out inflation isn't transitory, but Schiff said they are still bracing for the wrong impact. They're worried about Fed tightening to take on rising prices and thereby slowing down the economic recovery. Schiff said that's not what's going to happen.
It's not that inflation is going to turn out to be not transitory and therefore the Fed is going to fight it. It's that inflation is not transitory and the Fed is not going to fight it. And because the Fed is not going to fight the non-transitory inflation, it's actually going to end up getting much worse than people think. And the reason that they are not going to fight inflation in the future is the same reason they're not fighting it now — because they can't do it without collapsing the economy. They can't do it without crashing the stock market, crashing the housing market and forcing the US government to dramatically cut spending or raise taxes on the middle class, two things that it is completely reluctant to do. So, since the Federal Reserve wants no part of any bitter-tasting medicine, even if ultimately it cures what ails us, they're not going to fight inflation in the future, they're not going to fight inflation now, they're never going to fight inflation."






 

Peter Schiff is Chairman of SchiffGold, CEO and Chief Global Strategist of Euro Pacific Capital, Inc, and host of The Peter Schiff Show. Peter is an economic forecaster and investment advisor influenced by the free-market Austrian School of economics. He is one of the few forecasters who accurately and publicly predicted the 2007 housing market collapse and subsequent 2008 financial crisis. His latest best-selling book, The Real Crash: America's Coming Bankruptcy – How to Save Yourself and Your Country, warns that the 2008 crisis was just the prelude to a larger sovereign debt crisis in the United States that may lead to a collapse of the US dollar. Peter recommends long-term investment in foreign markets with sound fiscal policies, as well as global commodities including buying gold, silver and other physical precious metals.