Total Market Insanity: Toyota vs. Tesla
Steve St Angelo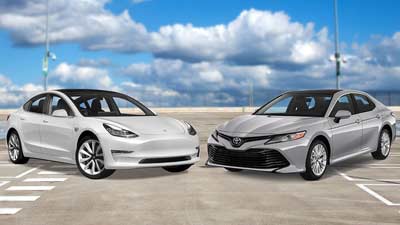 The present market insanity reminds me of the similar mentality of Americans right before the 1929 stock market crash and the pre-1999 Tech Bubble.  However, the big difference today is that technology has destroyed the ability of investors to understand the meaning of VALUE.  The notion that technology makes the world better fails the test of time, especially when you read Joesph Tainter's book, THE COLLAPSE OF COMPLEX SOCIETIES.
The new generation of millennials and even the baby-boomers have fallen HOOK, LINE, and SINKER for the glamour and glitter of technology.  So, if we ask most Americans about our future energy predicament, their knee-jerk reply is that "Technology will solve all of our problems."  This is quite hilarious when, in fact, complex, sophisticated technology is a massive ENERGY BLACK HOLE.  The more technology we throw at a problem, the more energy is consumed.  
Thus, this brings me to my comparison of Toyota Motors vs. Tesla Inc.   Toyota was the largest auto manufacturer in the world in 2018 but was overtaken by Volkswagon last year.  Toyota didn't produce any electric cars in 2019 but plans on rolling out ten new EV models in 2020.  However, if we compare the market fundamentals for Toyota and Tesla, investors have gone completely insane.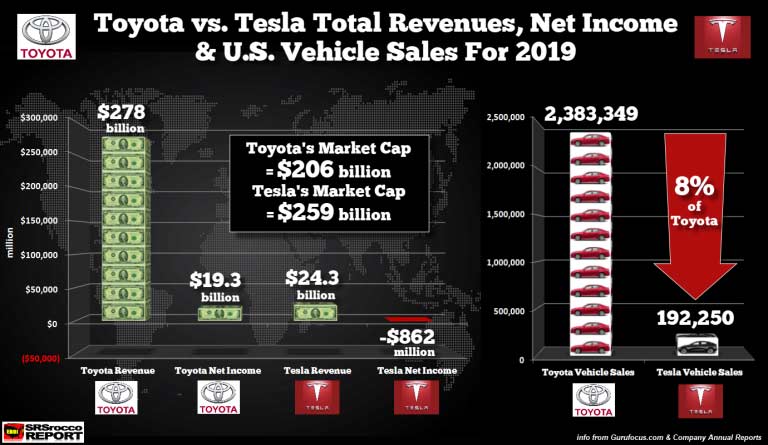 Currently, Tesla's market cap is worth $259 billion compared to $206 billion for Toyota.  Why did investors push Tesla's stock up to $1,400 a share ($259 billion market cap) when its total revenues in 2019 were only a little more than Toyota's net income profits?  As you can see, Toyota posted $19 billion in net income profits on total revenues of $278 billion compared to Tesla's $862 million net income loss on $24.3 billion in revenues.
Again, a perfect example of the investor mindset today.  Profits don't matter, just technology, regardless if it continues to lose money.
And, if we look at the comparison of car sales, Tesla's U.S. EV sales were only 8% of Toyota's North American sales in 2019.  Toyota sold nearly 2.4 million cars and trucks versus 192,500 units for Tesla.
However, these fundamentals don't seem to register in the BRAINS of investors.  Instead, if we sprinkle a bit of TECHNOLOGY FAIRY DUST on something, everyone jumps aboard.
Lastly, Toyota's more "realistic" stock performance versus Tesla's "super-inflated" tech-noir valuation should be a major warning sign to investors, but it isn't.  Tesla's stock increased a mind-blowing 5766% over the past ten years versus just 92% for Toyota.  Even if we go back when Toyota started trading at less than $20 a share in 1993, it's long-term performance is only 527%: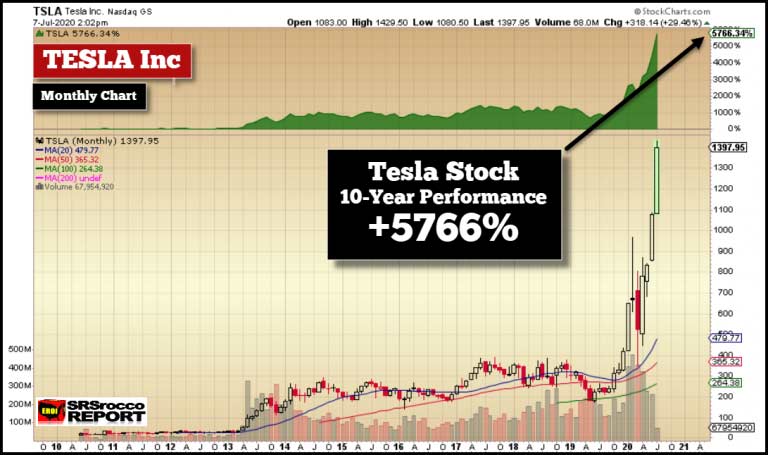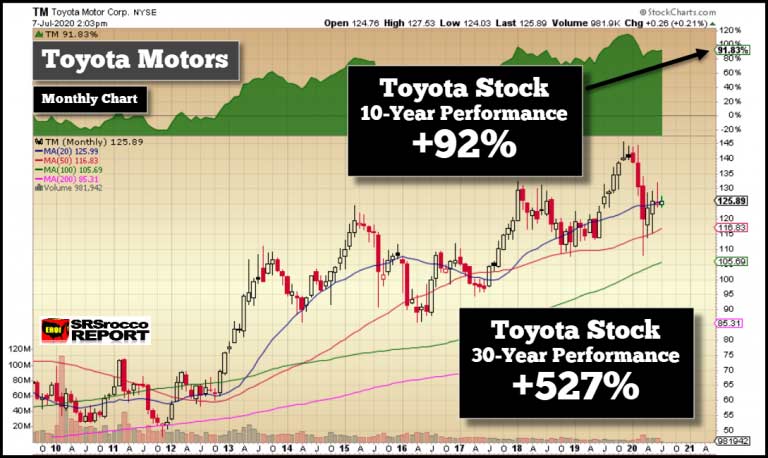 You will also notice that Toyota's monthly volume for the first week of July is only 981,942 shares traded compared to the gargantuan 68 million for Tesla. That's just another clear indicator that the market has totally lost its marbles.
When the world heads firmly over the ENERGY CLIFF, technology will become more of a liability than an asset or solution.  The entire Green Renewable Energy Fiasco will turn out to be a BAD JOKE for humanity as we wasted a great deal of high-quality energy on Wind, Solar and EV's that aren't really green or renewable.
IMPORTANT NOTE:  If you are new to the SRSrocco Report, please consider subscribing to my:  SRSrocco Report Youtube Channel.
HOW TO SUPPORT THE SRSROCCO REPORT SITE:
My goal is to reach 500 PATRON SUPPORTERS.  Currently, the SRSrocco Report has 155 Patrons now!   Thank you very much for those who became new members and new Patrons of the SRSrocco Report site.
So please consider supporting my work on Patron by clicking the image below: 

Or you can go to my new Membership page by clicking the image below: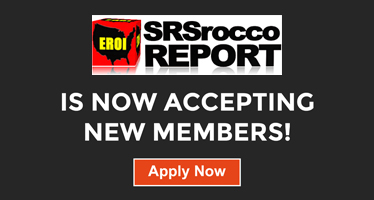 Check back for new articles and updates at the SRSrocco Report.  You can also follow us on Twitter, Facebook, and Youtube below: 

Independent researcher Steve St. Angelo (SRSrocco) started to invest in precious metals in 2002. Later on in 2008, he began researching areas of the gold and silver market that, curiously, the majority of the precious metal analyst community have left unexplored. These areas include how energy and the falling EROI – Energy Returned On Invested – stand to impact the mining industry, precious metals, paper assets, and the overall economy.

Steve considers studying the impacts of EROI one of the most important aspects of his energy research. For the past several years, he has written scholarly articles in some of the top precious metals and financial websites.

You can find many of Steve's articles on noteworthy sites, such as GoldSeek-SilverSeek, Market Oracle, Financial Sense, GoldSilver.com, SilverDoctors, TFMetals Report, Outsiderclub, SGTreport, BrotherJohnF, Hartgeld, Der-klare-blick, PeakProsperity, SilverStrategies, DollarCollapse, FurtureMoneyTrends, Sharpspixley, FinancialSurvivalNetwork, Pmbull, Deviantinvestor, PmBug, Wealthwire, and ZeroHedge.