The fear of COVID-19 is more threatening than the disease itself
Ted Nugent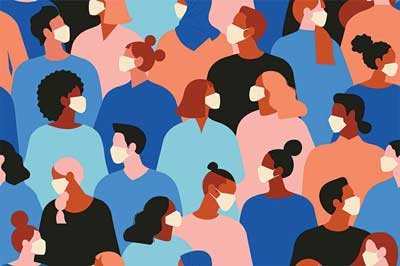 The legendary rock music veteran Ted Nugent penned a really long letter on his official Facebook page to show off how his patience is run out because of the coronavirus outbreak and staying home.
As Ted Nugent stated that he's really sick of social distancing, he also stated that the fear of the public is destroying America and he refuses to wear a mask because of someone else's fear.
Here is that long letter of Ted:
"Why do I have to stay home just because you are scared? How about you stay home, you stay in your house indefinitely, you wear a mask, you socially distance yourself from me, you avoid restaurants, you avoid baseball games, you stay off the roads, you avoid malls and beaches and parks, you believe the made up death numbers, you believe the media hype, you get your toxic vaccine while avoiding vitamin C, sunshine and the things God gave us to actually heal.

I'm done playing your dumb game. We are not all in this together. I'm not wearing your dumb tin foil hat anymore. I'm no longer going to be a prisoner of your fear. I'm no longer staying in my house or catering to you because you are scared. I'm not wearing a mask and I'm not staying 6 feet away from you anymore because I'm not afraid of you. You are not my enemy and if I get sick, it's not because of you, it's because of me and my system, which not only have I been addressing for quite some time, but I also know how to treat if I get sick."
He continued and stated that he won't pay any respect to the people who keep their fear uncontained. He thinks that's the main reason for the crisis.
Here is the rest of the statement:
"This virus (or whatever it is) is already circulating. Millions of people have already encountered it, as it's been circulating around the world probably since last September. You WILL have to confront this thing, if you haven't already. There is no way around it, unless you lock yourself up in your house and it somehow doesn't manage to hop on some mail or some groceries that you ordered online.

Your fear is not an excuse to destroy America. Your fear is not my fear and your fear does not have the right to interfere with my life, my job, my income or my future as a free American citizen. So if you're scared, you can just put your tin foil hat on, or even wrap foil all around your whole body – or around your whole house if you wish – but please keep your fear contained to your little corner of the world and don't contaminate me or my family or my Country."



To millions of music lovers, Ted Nugent has carved a permanent place in rock and roll history as the guitar-shredding showman, selling more than 40 million albums, performing more than 6,400 (!) high-octane concerts, and continuing to set attendance records at venues around the globe.

From the ground breaking Amboy Dukes' hit "Journey to the Center of the Mind", to classics like "Stranglehold" and "Cat Scratch Fever", Damn Yankees chartbuster "High Enough," and cult classic "Fred Bear", Ted's no-holds barred career spans five decades, and has been featured on A&E's Biography and on VH1's Behind the Music. Named Detroit's greatest guitar player of all time by readers of MLive!, Nugent performed for 55,000 marines, sailors and families at Camp Pendleton's Rockin' the Corps, was honored to join fellow musician Toby Keith on a USO Tour of the Persian Gulf, and has donated in excess of 6000 concerts and backstage passes to individual troops stateside.

To millions of citizens, Nugent is the nation's most outspoken proponent of our first and second Amendment rights, conducting thousands of pro-gun, pro-freedom, pro-America interviews in major media worldwide.  He has served continuously on the Board of Directors of the NRA since his initial election in 1995, where he consistently sets records for amassing the highest number of votes received by an individual board member.

A recipient of myriad commendations from state police, sheriff departments, FBI and police agencies, Nugent has been lauded for his work with Big Brothers/Big Sisters and the Pass It On Outdoor Mentors Program.  He proudly serves as Ambassador for Exodus Place, advancing the goal of "zero veteran homelessness in Michigan" and works with Operation Finally Home to provide quality, mortgage-free housing for our wounded and disabled vets.

Nugent has been named favorite Hunting Personality by the readers of Outdoors Magazine.  He was inducted into the National Bowhunters Hall of Fame, marking the pinnacle of recognition for  Nugent as a bona fide Bowhunting Legend of the 21st Century, acknowledged for his skills as an outdoorsman, and for his tireless promotion of bowhunting via his writings for over 40 publications, his New York Timesbest-sellers Ted, White & Blue:  The Nugent Manifesto and God, Guns and Rock 'n' Roll, along with Kill It and Grill It, BloodTrails and BloodTrails II, and his award-winning Ted Nugent Spirit of the Wild television show — seen exclusively on Outdoor Channel — where he proudly serves as Ambassador for the network.