Boomer Retirement
Larry LaBorde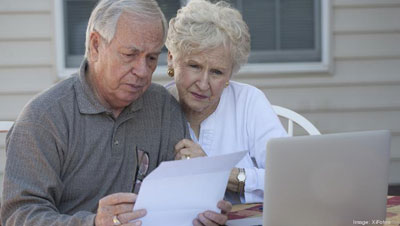 It happens if you live long enough. You finally get old enough for social security. Even though we are in our early 60's and not planning to retire I was curious when my wife's social security statement arrived in the mail. She glanced at it and then handed it to me.
Now I plan on working until the day I die. I just want to work less and less every year. Fortunately I am in a position where I can slow down, downshift a gear and not quit. I still want to work but I want to take more time off and travel a little more. Most people run at their jobs full speed until one day they just jump off (or are pushed off) the merry-go-round and all of a sudden find themselves unemployed. So even though I was not interested in signing up for social security any time soon; when my wife handed me her statement, it just happened to be a Saturday and I sat down in my study and read it carefully.
I discovered that a wife who had never paid into social security could draw 50% of her husband's social security benefits when he retired. In our case my wife had worked just enough part time jobs over the last 45 years on and off to qualify for her own social security benefits. Her minimum payment at age 62 was just under $500 / month. The rules also said that she could either draw her benefit or 50% of mine – whichever was greater. So that means that she would draw on my social security since 50% of mine would be more than hers once I retired. I did a little research and found out that she could retire in a couple of months and get her minimum benefit from her social security account and then five and a half years later when I retire she could bump it up to 50% of my social security benefit. She had never thought about drawing her benefits until she reached 66 ½ but 50% of mine was more than hers so she was not going to receive any of the benefits from her account unless she retired at 62. Since she was no longer working (she could still make almost $18,000/year without reducing her benefits) it just made since to start drawing her benefits from her account on her 62nd birthday. She will receive over $30,000 in benefits from her account until I retire at 66 ½ at which time her benefits will bump up to 50% of mine.
I can also retire at my full retirement age of 66 ½ and continue to work without getting my benefits reduced. Therefore, while I was planning on waiting until I was 70 years old it makes more sense in our situation to claim my benefits at 66 ½ so that my wife can get the bump up to 50% of my full benefits at that time.
Our recent trip to the social security office reminded me of buying an airline ticket. You cannot ask the airlines what is the least expensive fare. You have to ask multiple questions and price out the different options until you think you have all the information, however, you are always left wondering if there was a better deal that you just didn't know to ask about. I have always said that I was going to stand up on a flight one day and ask everyone to announce out loud what their ticket cost. There would probably be a riot on board before the plane landed.
At the social security office they could not offer advice. You had to let them pull up both of your records and then ask if you could do this or that. They would only say "yes" or "no" or your benefits would be this or that in answer to your direct questions. You had to know the right question to ask before you went to the window. It was also important that you were both there at the same time with proper identification.
The problem is everyone's situation is different and the rules are typical government bureaucratic mumbo-jumbo. So do a little research before your 62nd birthday and find out what works best for you. In our case we found over $30,000 of retirement benefits that we had never considered possible.
There is also the fact that social security is hopelessly broken and the math just does not add up. Everyone knows that it cannot continue in its present form and it must therefore be changed. The democrats want to do away with the income cap on social security payments so more money flows into the system. The republicans want to increase the retirement age so less money flows out. There has also been talk about means testing the program so that your benefits are reduced by the payments from your 401K, IRA or defined benefit retirement account. All these reasons lead to my decision to start drawing at 66 ½ instead of 70 when they may finally get around to changing the rules.
Of course depending on social security alone for income in your old age is a plan for disaster. Nothing can beat a lifetime of savings starting at a young age. A well managed balanced portfolio of income producing blue chip stocks, income producing real estate, cash and precious metals (coins and bars) all included within a tax deferred retirement account has been a winning combination during my life time.
If you have questions about buying gold and silver or about precious metals storage, just give us a call or send me an email and perhaps we can help.
Protect your nest egg and invest a portion in precious metals. Make the move this week and save yourself some worry.
Cheers,
Larry LaBorde
Larry LaBorde owns Silver Trading Company, LLC (www.silvertrading.net) and has sold gold, silver, platinum and palladium around the world since 2001. Larry travels the world meeting with customers, investors and interesting people from almost everywhere. Contact him about buy, selling or storing precious metals at [email protected]
Larry is not a financial advisor and any information expressed here is strictly the opinion of a man starting to get grey hair.

Larry's interest in precious metals originated at age eight, when he made his first trade after learning that the new 1965 coins were made with far lower silver content than earlier coins. He promptly exchanged new coins for older, more valuable coins that he gathered from the tellers at the bank where his dad was a board member and from the lunch ladies at school. He was thrilled at having spotted such a rich opportunity because of a stupid move by the government, and his fate as a metals broker was sealed.

In high school, recruiters from MIT and the Naval Academy came calling, but Larry had already made the decision to marry his sweetheart and follow in his father's footsteps in the water well drilling business, so he went to Louisiana Tech University and trained as a civil engineer. After college, he returned to Shreveport and took over operations of the family business. He is active, along with his four brothers, in both the water well drilling business started by his father and a water well supply business.

Larry enjoys traveling with his wife of 35 years and racing dinghy-sized sailboats. He is active in the Shreveport Lions Club and the McNeill Street Pump Station preservation effort. An avid student of monetary history and U.S. history and politics, he is the author of Libertorn: Hope and Heartache for America's Future (in press).

Larry and his wife, the lovely Miss Puddy, have two grown children and live in Shreveport, Louisiana (USA) with Gracie, a border collie who likes to bark at the second hand of the wall clock, and Abbie, a golden retriever who looks sweet and innocent in between stealing treats. When not traveling, studying or playing with the dogs, Larry occasionally goes on mini-adventures with Miss Puddy to do things like jump out of a perfectly good airplane.

Larry LaBorde sells precious metals through Silver Trading Company LLC. Since 2001, Silver Trading Company has offered high volume sales of gold, silver, platinum and palladium to serious investors around the world. It also offers guidance about storage options for metals. Please visit Silver Trading Company's website at www.SilverTrading.net.