Is Geothermal Energy The Key To Decarbonization?
Felicity Bradstock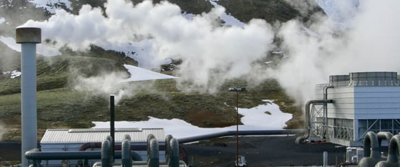 As governments and private firms worldwide invest heavily in research and development into alternative clean energy sources, geothermal energy is attracting greater attention. Although still highly underdeveloped, the potential for new geothermal operations is significant, with countries across Europe converting old fossil fuel projects into geothermal energy sites and using new operations to power industry. But other countries, such as Peru and Japan, are finding it hard to get political and public support for these types of projects. 
Geothermal energy can be produced by converting heat energy from under the Earth's crust. This energy is accessed through the digging of one-mile wells to access underground reservoirs to use steam and hot water, which can turn turbines connected to electricity generators. There are three types of geothermal energy operations: dry steam, flash and binary. While the potential for geothermal energy is significant, it remains largely untapped in most areas of the world due to the technological limitations of the past. 
Thanks to greater investment into new geothermal technologies in recent years, several countries now have the means to tap into their geothermal resources. Some projects are already up and running in countries such as Iceland, El Salvador, New Zealand, Kenya and the Philippines, with geothermal energy meeting over than 90 percent of Iceland's heating demand. Many of these operations rely on dry steam plants or flash plants, which harness temperatures above 180°C. 
There are several different types of geothermal technology in distinct levels of development. Technologies for direct use, including district heating, geothermal heat pumps and heating greenhouses, are mature and are widely used. This is similar in the case of technologies used for electricity generation from hydrothermal reservoirs with naturally high permeability. However, several innovative technologies are in the testing phase, such as enhanced geothermal systems. This is a man-made reservoir, established where there is hot rock but insufficient or little natural permeability or fluid saturation, therefore fluid must be injected into the subsurface under carefully controlled conditions, causing pre-existing fractures to re-open, creating permeability.
The global geothermal energy market was valued at $6.6 billion in 2021, a figure that is projected to increase to $9.4 billion by 2027, growing at a CAGR of 5.9 percent. The rollout of new technologies is expected to enable producers to access previously unreachable reserves, as well as reduce operational costs, encouraging investment in new projects worldwide. 
In the U.K., a network of geothermal plants could help the country achieve its decarbonisation goals, as well as support disadvantaged communities. A report published this month shows that many areas with high geothermal potential are underneath towns and cities that require investment. The development of these resources could support the government's levelling up agenda, a moral, social and economic programme that sets out how to spread opportunity more equally across the U.K. Six of the areas identified in the top 10 index of the agenda, Redcar and Cleveland, Middlesbrough, East Lindsey, Hartlepool, Northumberland, and Bassetlaw, have been identified as having geothermal potential.
The U.K. has already been discussing the potential for transforming its abandoned coal mines into geothermal energy sites. In 2021, permission was granted to test the feasibility of harnessing geothermal energy from disused, flooded coal mines in the northeast of England. While the testing phase was unsuccessful, owing to instability in the mine, it serves as a pilot for future conversion projects. 
Meanwhile, in France last month, the Australian lithium and renewable energy producer Vulcan Energy Resources signed an agreement with automotive manufacturer Stellantis to develop new geothermal operations to provide energy for an industrial site in Mulhouse, eastern France. This will support the low-carbon production of several Peugeot models. France's Geological and Mining Research Bureau estimates that geothermal energy could cover around 70 percent of France's heating needs, yet, at present, it only represents 1 percent of the heat produced in the country.
Although the potential to tap into geothermal energy around the globe is significant, several countries are facing challenges in developing the sector. In Peru, the company with the biggest geothermal portfolio stopped operations last month. In a regulatory filing, Philippine group First Gen said that its subsidiary Energy Development Corporation (EDC) Peru will "no longer pursue exploration and development activities in Peru due to political and market factors." The country's geothermal power potential is estimated to be around 3GW. Some of the challenges cited included difficulties in gaining environmental permitting, the high upfront cost of exploratory drilling to prove the resource, and a six-to-seven-year construction period, with companies asking for greater support from the government for development. 
And in Japan, it's private companies that are blocking the potential development of geothermal operations. Close to the hot springs resort of Okuhida Onsengo in northern Japan, the Nakao Geothermal Power Plant is using steam from the thermal waters to generate 2MW of electricity, enough to supply 4,000 households. But this is one of the few successful projects due to opposition from the country's hot-spring resorts. Japan is thought to have a potential geothermal resource of 23GW, the third-largest geothermal potential in the world, after the U.S. and Indonesia, and yet it accounts for just 0.3 percent of its electricity supply at present. But producers continue to face staunch opposition from resorts that worry about the impact of geothermal energy operations on tourism. 
There is significant potential to develop the world's geothermal resources thanks to investment in the research and development of new technologies in recent years. Several countries have already carried out surveys on their geothermal reserves and are now planning the pilot phases of new projects. However, the success of geothermal operations around the globe will depend heavily on government cooperation through favourable climate policies, as well as public support. 
By Felicity Bradstock for Oilprice.com 




 

 

Felicity Bradstock is a freelance writer specialising in Energy and Finance. She has a Master's in International Development from the University of Birmingham, UK.