Future Headline: President Harris appoints
"Drag-Queen-in-Chief" to top military brass
Simon Black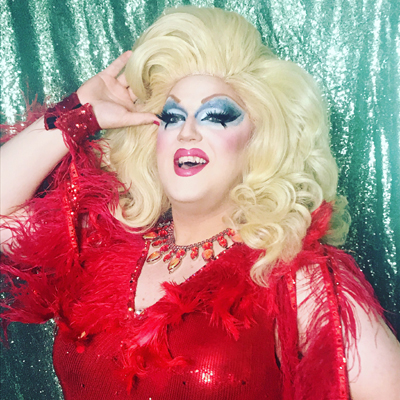 In a world full of unimaginable absurdity, we spend a lot of time thinking about the future… and to where all of this insanity leads.
"Future Headline Friday" is our satirical take of where the world is going if it remains on its current path. While our satire may be humorous and exaggerated, rest assured that everything we write is based on actual events, news stories, personalities, and pending legislation.
June 9, 2026: Former NYC Mayor: "We just wanted to be inclusive…"
"I didn't expect it to work out like this," said former New York City Mayor Eric Adams.
Back in 2023 when then-Mayor Adams encouraged New Yorkers to house undocumented immigrants in their private homes, the city's migrant population surged.
Then, in 2025, Adams passed a law which allowed undocumented immigrants to not only vote, but also to run for public office.
Dozens of migrant candidates emerged, and when the polls closed last November, undocumented immigrant candidates had swept the election for Mayor, City Comptroller, three of five Borough Presidents, and over half of the City Council.
Six months after taking office this past January, New York City's new mayor, Luis Moreno, fulfilled his pledge to appoint undocumented immigrants to all key positions in government, including Schools Chancellor, Police Commissioner, and district judges.
Yesterday afternoon, Moreno signed a new law which now formally codifies ex-Mayor Adams' 2023 'voluntary housing' policy for migrants; under the new Moreno law, New Yorkers are now required to offer any spare bedrooms to families of undocumented immigrants.
When asked for his reaction, former Mayor Adams said, "Well I'm jobless and essentially homeless. I felt I needed to move out of my house after being required to give out my spare bedrooms."
"We just wanted to be inclusive," Mayor Adams continued, "But I think we are all feeling pretty excluded at this point."
June 9, 2028: Kamala Harris Appoints Honorary "Drag-Queen-in-Chief" to Top Military Brass
While President Biden remains comatose after falling up the steps of Air Force One last month, Acting President Kamala Harris announced this morning that she was appointing trans-activist and TikTok star 'B. Yatch' as honorary "Drag-Queen-in-Chief" to the Pentagon's Joint Chiefs of Staff.
"By creating this position, we not only commemorate Pride month in our great nation, but we also show our adversaries that America is still #1. No one can possibly underestimate the awesome power of our diversity and inclusion."
The other generals and admirals who make up the Joint Chiefs looked on awkwardly as Acting President Harris awarded B. Yatch an honorary "battlefield" promotion to Major.
The TikTok star will now become the official spokesperson for US military recruiting, which has been in steep decline since the beginning of the first Harris/Biden administration in 2021. After they won a stunning re-election in 2024, military recruitment continued to plummet.
Many national security analysts believe that this recruiting crisis, coupled with steep military budget cuts and outdated weapons technology, is precisely what gave China the confidence to invade Taiwan earlier this year.
Before introducing Major B. Yatch at this morning's press conference, Acting President Harris said that "young people across America can finally be inspired to serve their nation in uniform, now that the uniform includes high heels and sequins."
Wearing a rainbow camouflage uniform with sex-toy war-medals and high-heel combat boots, Major B. Yatch announced in her signature sassy cadence:
"Calling all soldier-boys, girls, and everyone in between! It's time to rekindle some PRIDE in our military! I challenge each and every one of our service-people to find their inner-diva this month, lace up your highest combat boots, and don your most militant drag! Let's show the world just what kind of bad-bitches the US military is made of!"
The Pentagon announced this morning that Major B. Yatch will kick off an official, nationwide recruiting tour, including military drag themed events at high schools and middle schools across the country, as well as drag queen story hours at select pre-schools.
The new Drag-Queen-in-Chief commented, "We've got to go after the children while they're young."
Not the future you'd prefer? Visit SovereignMan.com to take matters into your own hands.
 

 

 

James Hickman (aka Simon Black) is an international investor, entrepreneur, and founder of Sovereign Man. His free daily e-letter Notes from the Field is about using the experiences from his life and travels to help you achieve more freedom, make more money, keep more of it, and protect it all from bankrupt governments.