Calling All Broke Millennials: Vermont Will Give You $10,000
To Move There And Work From Home
Tyler Durden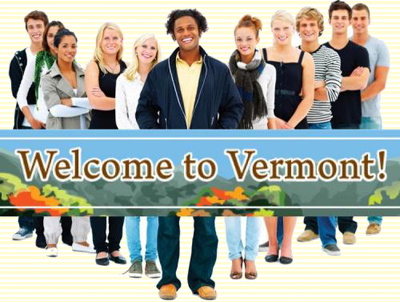 The Governor of Vermont has introduced an unusual law that will pay people who move into the state and work remotely for an out-of-state company - $10,000 over a two year period to cover relocation costs, office equipment, internet, and other work-related expenses.
Governor Phil Scott approved the legislation on Wednesday (May 30) in hopes to bottom out the rapidly shrinking tax base, and, of course, sucker in those heavily indebted millennials from large cities.
According to the Vermont House of Representatives, the "Remote Worker Grant Program" will start on January 01, 2019, and will cover a variety of business-related expenses of a worker's transition to the state, including relocation services, computer software and hardware, broadband access or upgrade, and membership in a co-working or similar space expenses.
Vermont has found the funds to budget roughly 100 grants for the first three years of the program, and after that, 20 additional workers per year for an unspecified amount of time. An eligible "remote worker" under the program could receive not more than $5,000.00 per year, not to exceed a total of $10,000.00 per individual over two years.
CNBC said the program operates on a first-come, first-served basis and is only available to new residents who relocate on or after January 01, 2019.
The new law is designed to catch the falling knife of a rapidly shrinking tax base, along with thwarting an economic crisis that has been sparked by Vermont's aging population.
"Vermont continues to age, and age faster than the nation as a whole," writes Art Woolf for the Burlington Free Press. "Over the past quarter of a century, the median age nationally has increased by almost five years to 37.8 while Vermont's has increased by 10 years.
"The most common age in Vermont is 19 years. But that's because Vermont brings in a lot of college-age students from other states. Ignoring the 18 to 22 year-old college student cohort, the most common age is 55, which is people at the tail end of the baby boom generation. Vermont has a lot more baby boomers, people between 53 and 71, relative to other ages, than the U.S. There are a lot of baby boomers nationally, but the age with the largest number of people nationally is 25 years old, part of the millennial generation."
Woolf also said, "our largest age cohort is the baby boomers, not the millennials if you ignore the large number college students - even those who come from out of state - who are counted as Vermont residents." This trend has made Vermont one of the oldest states in the country, in regards to age.
"We have about 16,000 fewer workers than we did in 2009. That's why expanding our workforce is one of the top priorities of my administration," Governor Scott said in a statement while addressing the need to attract younger working families to the state.

"We must think outside the box to help more Vermonters enter the labor force and attract more working families and young professionals to Vermont. That's exactly what the Department of Tourism and Marketing did with this program for out-of-state visitors who may be interested in living full-time in Vermont, and I'm excited to see it move forward."
CNBC explains the program will be spread across "four weekends and will be piloted in three communities." One of those locations will be Brattleboro, Vermont.
"The one thing we need more of in Vermont is people," says Adam Grinold, executive director of the Brattleboro Development Credit Corporation."We need more visitors, we need more employees, we need more business owners. We need more people."
While a demographic time bomb is looming for Vermont, the recent reactionary efforts by officials to divert taxpayer dollars for programs to attract millennials from other states is merely a short-term solution and will not solve the old age crisis. Expect this trend to increase with other states, as the good ole' days of easy money, are over.
 

 

our mission:

to widen the scope of financial, economic and political information available to the professional investing public.
to skeptically examine and, where necessary, attack the flaccid institution that financial journalism has become.
to liberate oppressed knowledge.
to provide analysis uninhibited by political constraint.
to facilitate information's unending quest for freedom.
our method: pseudonymous speech...
Anonymity is a shield from the tyranny of the majority. it thus exemplifies the purpose behind the bill of rights, and of the first amendment in particular: to protect unpopular individuals from retaliation-- and their ideas from suppression-- at the hand of an intolerant society.

...responsibly used.

The right to remain anonymous may be abused when it shields fraudulent conduct. but political speech by its nature will sometimes have unpalatable consequences, and, in general, our society accords greater weight to the value of free speech than to the dangers of its misuse.

Though often maligned (typically by those frustrated by an inability to engage in ad hominem attacks) anonymous speech has a long and storied history in the united states. used by the likes of mark twain (aka samuel langhorne clemens) to criticize common ignorance, and perhaps most famously by alexander hamilton, james madison and john jay (aka publius) to write the federalist papers, we think ourselves in good company in using one or another nom de plume. particularly in light of an emerging trend against vocalizing public dissent in the united states, we believe in the critical importance of anonymity and its role in dissident speech. like the economist magazine, we also believe that keeping authorship anonymous moves the focus of discussion to the content of speech and away from the speaker- as it should be. we believe not only that you should be comfortable with anonymous speech in such an environment, but that you should be suspicious of any speech that isn't.