John McAfee Says He's No Longer Pitching ICOs "Due To SEC Threats"
Tyler Durden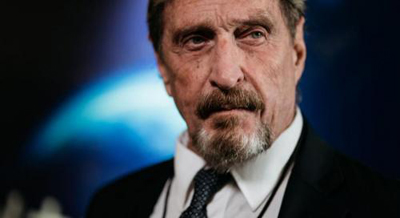 The SEC crackdown on ICOs has, apparently, finally extended to one of the industry's most enthusiastic and prolific promoters: former software security pioneer John McAfee, who has earned a reputation for outrageous behavior (including promising in July 2017 to eat his dick on national television if bitcoin doesn't hit $500,000 in three years) in recent years.
McAfee, who hasn't been affiliated with his namesake company since 1994 and lost most of a fortune once worth $100 million in the years since the crisis, was at one point pitching a new ICO every day. And since before last year's boom, McAfee has been a regular on the cryptocurrency conference circuit and is part of what Bloomberg calls "a vast network of social media influences" who have helped ICOs raise billions.
In his characteristic voice, McAfee said the SEC had warned him about recommending ICOs, forcing him to step aside, despite declaring the treatment "unjust."
"Due to SEC threats, I am no longer working with ICOs nor am I recommending them, and those doing ICOs can all look forward to arrest," McAfee wrote from his verified Twitter account, which has more than 820,000 followers. "It is unjust but it is reality. I am writing an article on an equivalent alternative to ICOs which the SEC cannot touch. Please have Patience."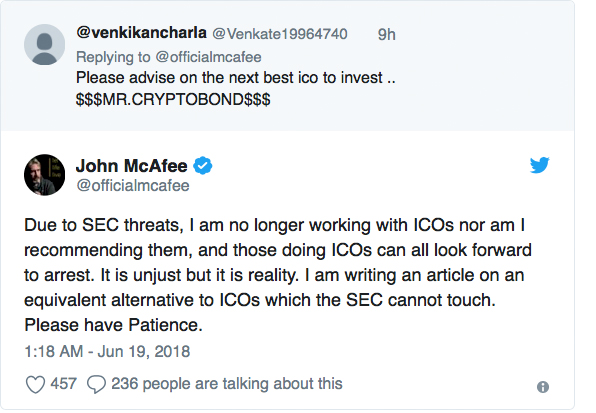 The SEC has declared that ICO tokens are securities which must be registered with the SEC and follow all applicable securities laws.
However, the agency recently clarified that trades in ethereum tokens are not subject to securities laws - clearing the way for ether futures. In one example of behavior to which the SEC might object, back in March, MacAfee tweeted a link to a website that showed he charged $105,500 per tweet to promote ICOs and other products.

 

our mission:

to widen the scope of financial, economic and political information available to the professional investing public.
to skeptically examine and, where necessary, attack the flaccid institution that financial journalism has become.
to liberate oppressed knowledge.
to provide analysis uninhibited by political constraint.
to facilitate information's unending quest for freedom.
our method: pseudonymous speech...
Anonymity is a shield from the tyranny of the majority. it thus exemplifies the purpose behind the bill of rights, and of the first amendment in particular: to protect unpopular individuals from retaliation-- and their ideas from suppression-- at the hand of an intolerant society.

...responsibly used.

The right to remain anonymous may be abused when it shields fraudulent conduct. but political speech by its nature will sometimes have unpalatable consequences, and, in general, our society accords greater weight to the value of free speech than to the dangers of its misuse.

Though often maligned (typically by those frustrated by an inability to engage in ad hominem attacks) anonymous speech has a long and storied history in the united states. used by the likes of mark twain (aka samuel langhorne clemens) to criticize common ignorance, and perhaps most famously by alexander hamilton, james madison and john jay (aka publius) to write the federalist papers, we think ourselves in good company in using one or another nom de plume. particularly in light of an emerging trend against vocalizing public dissent in the united states, we believe in the critical importance of anonymity and its role in dissident speech. like the economist magazine, we also believe that keeping authorship anonymous moves the focus of discussion to the content of speech and away from the speaker- as it should be. we believe not only that you should be comfortable with anonymous speech in such an environment, but that you should be suspicious of any speech that isn't.