The Israeli Attack On The USS Liberty
Paul Craig Roberts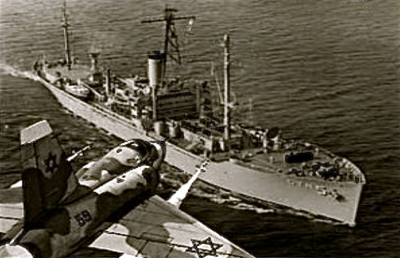 Fifty-one years ago today Israeli fighter aircraft and torpedo boats tried to sink the USS Liberty, a surveillance ship stationed off the coast of Egypt during Israel's attack on Egypt and Syria. Israel was unable to sink the USS Liberty, but did manage to kill or wound almost the entire crew. Thirty-four Americans were killed and 174 were wounded.
There are two explanations for the attack. As Washington has blocked every attempt at an investigation, we do not know which one is correct. Perhaps both are the reasons for the attack.
One is that Israel, which was committing a war crime by mass execution of Egyptian prisoners of war, was fearful that the USS Liberty's surveillance had discovered the crime. The other is that Israel fearing an unfavorable outcome of the war that Israel had initiated intended to blame the attack on the USS Liberty on Egypt, thus bringing the US into the war on Israel's side.
I have written about this attack a number of times, having interiewed sailors and officers on board during the attack, an officer, Captain Ward Boston, who was ordered to produce a cover-up, and Admiral Tom Moorer, former Chief of Naval Operations and Chairman of the US Joint Chiefs of Staff. Frustrated at Washington's coverup, indeed, Washington's complicity in the crime, upon retirement Admiral Moorer convened the Moorer Commission to set the record straight.
The Moorer Commission concluded:
"That there is compelling evidence that Israel's attack was a deliberate attempt to destroy an American ship and kill her entire crew.
"That fearing conflict with Israel, the White House deliberately prevented the US Navy from coming to the defense of USS Liberty by recalling Sixth Fleet military rescue support while the ship was under attack.
"That surviving crew members were threatened with 'court-martial, imprisonment or worse' if they exposed the truth; and [the survivors] were abandoned by their own government.

"That there has been an official cover-up without precedent in American naval history.
"That a danger to our national security exists whenever our elected officials are willing to subordinate American interests to those of any foreign nation."
You can find my articles on my website or online as well as the proceedings of the Moorer Commission.
The most disturbing thing about the Israeli attack is that when the Liberty's distress signal reached the fleet commander and US Navy fighters were launched to drive off the Israeli attackers, the White House ordered the fleet commander to recall the American jets. Frustrated by his inability to defend the US Navy from murderous assault, the fleet commander used open radio to scare off the Israelis by announcing that US fighters were on their way to the Liberty's rescue. This caused the Israelis to immediately call off the attack and to issue an apology that it had mistaken the USS Liberty, which was flying a massive American flag and had USS Liberty in tall letters, as an Egyptian ship.
On orders from the White House, Admiral McCain, Senator McCain's father, ordered a cover up. The Liberty's crew were ordered not to mention the event. It was two decades before one of the Liberty's officers, then retired, wrote the story. American taxpayers, who were shelling out billions of dollars from their desperate needs every year to enable Israel to purchase the US government with the billions of dollars hapless Americans are forced to hand over to Israel, knew nothing about the attack for 20 years.
If 51 years ago Israel had such power over the US government that the White House itself refused to protect an American ship from Israeli attack and then covered up the attack in order to give Israel a free pass, just imagine how much more control Israel has achieved over the US government in the past half century. If you have any doubt that Israel rules America, just look at Nikki Haley's subservience to Israel in the UN as US ambassador, or at President Trump himself defying the entire world and moving the US embassy to Jerusalem. Just look at Trump, on Israel's orders, unilaterally disregarding the Iranian nuclear agreement signed by President Obama and upheld by all other signatories, in the hopes of creating a pretext for an American attack on Iran that serves only Israel's interest. Just look at the extraordinary groveling at Israel's feet of the entire US Senate and House of Representatives who unanimously pass Israel Lobby sponsored laws and resolutions. Just look at the New York Times, Washington Post, CNN, National Public Radio, MSNBC, and so on who serve as megaphones for the voice of Israel.
Every American, especially those superpatriots who wrap themselves in the flag, should be totally ashamed that their government is nothing but an adjunct of Israel.
The BBC's investigative report on Israel's attack on America: http://www.informationclearinghouse.info/article5073.htm




Hon. Paul Craig Roberts is the John M. Olin Fellow at the Institute for Political Economy, Senior Research Fellow at the Hoover Institution, Stanford University, and Research Fellow at the Independent Institute. A former editor and columnist for The Wall Street Journal and columnist for Business Week and the Scripps Howard News Service, he is a nationally syndicated columnist for Creators Syndicate in Los Angeles and a columnist for Investor's Business Daily. In 1992 he received the Warren Brookes Award for Excellence in Journalism. In 1993 the Forbes Media Guide ranked him as one of the top seven journalists.

He was Distinguished Fellow at the Cato Institute from 1993 to 1996. From 1982 through 1993, he held the William E. Simon Chair in Political Economy at the Center for Strategic and International Studies. During 1981-82 he served as Assistant Secretary of the Treasury for Economic Policy. President Reagan and Treasury Secretary Regan credited him with a major role in the Economic Recovery Tax Act of 1981, and he was awarded the Treasury Department's Meritorious Service Award for "his outstanding contributions to the formulation of United States economic policy." From 1975 to 1978, Dr. Roberts served on the congressional staff where he drafted the Kemp-Roth bill and played a leading role in developing bipartisan support for a supply-side economic policy.

In 1987 the French government recognized him as "the artisan of a renewal in economic science and policy after half a century of state interventionism" and inducted him into the Legion of Honor.

Dr. Roberts' latest books are The Tyranny of Good Intentions, co-authored with IPE Fellow Lawrence Stratton, and published by Prima Publishing in May 2000, and Chile: Two Visions - The Allende-Pinochet Era, co-authored with IPE Fellow Karen Araujo, and published in Spanish by Universidad Nacional Andres Bello in Santiago, Chile, in November 2000. The Capitalist Revolution in Latin America, co-authored with IPE Fellow Karen LaFollette Araujo, was published by Oxford University Press in 1997. A Spanish language edition was published by Oxford in 1999. The New Colorline: How Quotas and Privilege Destroy Democracy, co-authored with Lawrence Stratton, was published by Regnery in 1995. A paperback edition was published in 1997. Meltdown: Inside the Soviet Economy, co-authored with Karen LaFollette, was published by the Cato Institute in 1990. Harvard University Press published his book, The Supply-Side Revolution, in 1984. Widely reviewed and favorably received, the book was praised by Forbes as "a timely masterpiece that will have real impact on economic thinking in the years ahead." Dr. Roberts is the author of Alienation and the Soviet Economy, published in 1971 and republished in 1990. He is the author of Marx's Theory of Exchange, Alienation and Crisis, published in 1973 and republished in 1983. A Spanish language edition was published in 1974.

Dr. Roberts has held numerous academic appointments. He has contributed chapters to numerous books and has published many articles in journals of scholarship, including the Journal of Political Economy, Oxford Economic Papers, Journal of Law and Economics, Studies in Banking and Finance, Journal of Monetary Economics, Public Finance Quarterly, Public Choice, Classica et Mediaevalia, Ethics, Slavic Review, Soviet Studies, Rivista de Political Economica, and Zeitschrift fur Wirtschafspolitik. He has entries in the McGraw-Hill Encyclopedia of Economics and the New Palgrave Dictionary of Money and Finance. He has contributed to Commentary, The Public Interest, The National Interest, Harper's, the New York Times, The Washington Post, The Los Angeles Times, Fortune, London Times, The Financial Times, TLS, The Spectator, Il Sole 24 Ore, Le Figaro, Liberation, and the Nihon Keizai Shimbun. He has testified before committees of Congress on 30 occasions.

Dr. Roberts was educated at the Georgia Institute of Technology (B.S.), the University of Virginia (Ph.D.), the University of California at Berkeley and Oxford University where he was a member of Merton College.

He is listed in Who's Who in America, Who's Who in the World, The Dictionary of International Biography, Outstanding People of the Twentieth Century, and 1000 Leaders of World Influence. His latest book, HOW THE ECONOMY WAS LOST, has just been published by CounterPunch/AK Press. He can be reached at: [email protected]

Please Donate

I listen to my readers. In March 2010, I terminated my syndicated column. Thousands of you protested. So persuasive were your emails asking me to reconsider and to continue writing that, two months later, I began writing again.

In order to create a coherent uncensored and unedited archive of my writings, The Institute For Political Economy, a non-profit organization that supports research, writing and books, has established this site, thus gratifying readers' demands that I continue to provide analyses of events in our time.

In order to stay up, this site needs to pay for itself.