The Dead Cat Bounce in the US Dollar is OVER
Graham Summers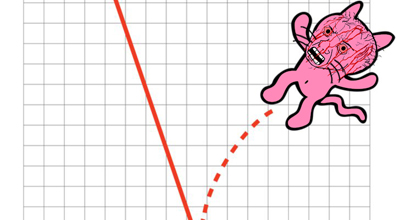 It never fails.
Any time the $USD begins to rally, even a little bit, the deflationists come out in full force proclaiming that it's the start of some major bull market that will blow up the financial system.
Take this latest bounce in the $USD.
Having staged one of the worst annual returns in years in 2017 (down over 14%), the $USD was BEYOND oversold. Throw in the fact that traders were RECORD short the $USD and record long the Euro, and the stage was set for a $USD bounce.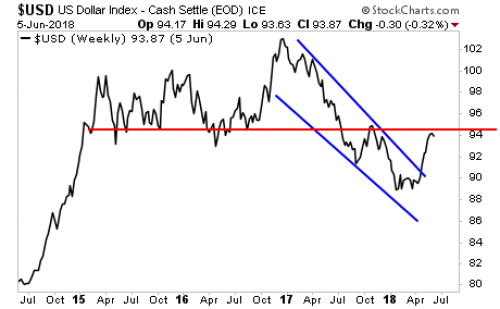 That bounce is now OVER. The $USD has slammed into major resistance. And anyone who thinks that the US currency is going to explode higher when the ECB is about to ends its QE program needs their head examined.
Instead, the next move will be the $USD breaking down to the mid-80s.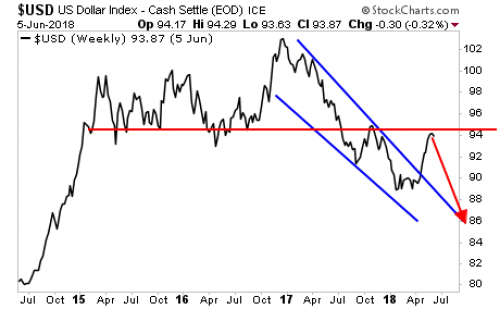 And this move is going to send risk assets, especially inflation/ reflation trades THROUGH THE ROOF.
On that note, we just published a Special Investment Report concerning FIVE secret investments you can use to make inflation pay you as it rips through the financial system in the months ahead.
The report is titled Survive the Inflationary Storm. And it explains in very simply terms how to make inflation PAY YOU.
We are making just 100 copies available to the public.
To pick up yours, swing by:
https://www.phoenixcapitalmarketing.com/inflationstorm.html
Best Regards
Graham Summers
Chief Market Strategist
Phoenix Capital Research




 

GAINS, PAINS & CAPITAL is a FREE investment e-letter delivered to your inbox every weekday before the markets' open.

Each issue of GAINS, PAINS & CAPITAL contains a sample of the investment research that our clients have used to make large returns from their investments.

This is Investment Research That Converts.

Sign up for GAINS, PAINS & CAPITAL today and we'll send you a FREE copy of our Special Investment Report The Financial Crisis "Round Two" Survival Guide… outlining the next Crisis to hit the markets as well as which investments will pay off the largest returns when it does.