"Its' Crazy": Texas Roiled By Unprecedented Labor Shortage As Shale Industry Hires "Just About Anyone"
Tyler Durden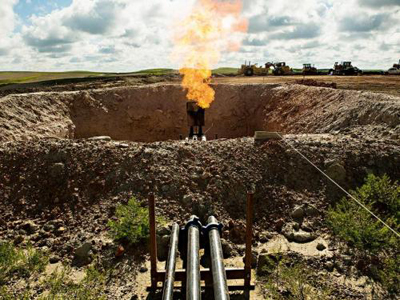 Midland Mayor Jerry Morales says the boom is a double-edged sword; while the energy industry has increased sales-tax revenue by 34% year-over-year, an incredibly low unemployment rate of  2.1% has resulted in a severe shortage of low-paying jobs around town - such as the 100 open teaching positions, according to Bloomberg.
Morales, a native Midlander and second-generation restaurateur, has seen it happen so many times before. Oil prices go up, and energy companies dangle such incredible salaries that restaurants, grocery stores, hotels and other businesses can't compete. People complain about poor service and long lines at McDonald's and the Walmart and their favorite Tex-Mex joints. Rents soar. -Bloomberg
"This economy is on fire," said Morales - who is also the proprietor of Mulberry Cafe and Gerardo's Casita. Unfortunately, the fire is so hot that the Mayor is scrambling to fill open jobs - from local government positions, to cooks at his restaurants.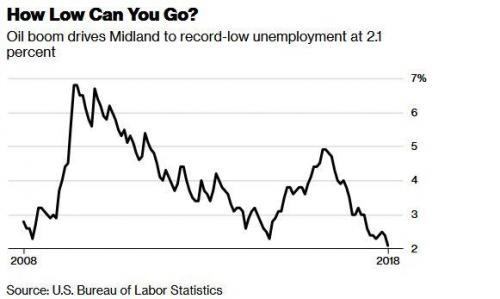 In the country's busiest oil patch, where the rig count has climbed by nearly one third in the past year, drillers, service providers and trucking companies have been poaching in all corners, recruiting everyone from police officers to grocery clerks. So many bus drivers with the Ector County Independent School District in nearby Odessa quit for the shale fields that kids were sometimes late to class. The George W. Bush Childhood Home, a museum in Midland dedicated to the 43rd U.S. president, is smarting from a volunteer shortage.
And it doesn't take much to get hired by the oil industry - which, as Bloomberg summarizes, "will hire just about anyone with basic training"... and it will quickly double, triple or x-ple their pay in the process. "It is crazy" said Jazmin Jimenez, 24, who flew through a two-week training program at New Mexico Junior College about 100 miles north of Midland. Jimenez was hired by Chevron as a well-pump checker. "Honestly I never thought I'd see myself at an oilfield company. But now that I'm here -- I think this is it."
And at $28-an-hour, Jimenez makes double what she was earning as a prison guard at the Lea County Correctional Facility in Hobbs. 
Meanwhile, innovations in oilfield technology promise to find new and efficient ways of finding and pulling oil from the pancaked lawyers of rock in the 75,000 square-mile Permian basin - an extraction method which now accounts for 30% of all US output. 
The booming shale economy has also effected the local real-estate market - as the supply of homes for sale is the lowest on record according to the Texas A&M Real Estate Center. 
The $325,440 average price in Midland is the highest since June 2014, the last time the world saw oil above $100 a barrel. Apartment rents in Midland and Odessa are up by more than a third from a year ago, with the average 863-square-foot unit commanding $1,272 a month.

People who move for jobs are stunned by the cost of living. Armin Rashvand's apartment is smaller and costs more than the one he rented in Cleveland before moving last August to run the energy-technology program at Odessa College.

"That really surprised me," he said, because Texas's reputation is that it's affordable. "In Texas, yes -- except here."
Some of Rashvand's students with two-year degrees are making more than he does, despite his master's degrees in science, electrical and electronic engineering.
Keep on truckin'
And for those who would rather work a bit further upstream from the oilfields, schools that teach how to pass the test for a commercial drivers license (CDL) are packed.  "A CDL is a golden ticket around here," said Steve Sauceda, head of the workforce training program at New Mexico Junior College. "You are employable just about anywhere."
Truckers in the shale fields can easily make six-figures, such as Jeremiah Fleming, 30, who is on track to make $140,000 driving flatbed trucks for Aveda Transportation & Energy Services Inc., hauling rigs. 
"This will be my best year yet," said Fleming, who used to work in the once-bustling shale play in North Dakota. "I wouldn't want to go anywhere else."
So what is Mayor Morales doing? 
In order to try and retain employees, Morales has come up with several strategies - such as weekly vs. twice-monthly paychecks, more opportunities for overtime, and a "common-sense pitch" to employees thinking of jumping ship for the oil fields: 
"If you'll stay with me, I can give you three quarters of what the oil will give you but you don't have to get dirty or worry about getting hurt." 
 

 

our mission:

to widen the scope of financial, economic and political information available to the professional investing public.
to skeptically examine and, where necessary, attack the flaccid institution that financial journalism has become.
to liberate oppressed knowledge.
to provide analysis uninhibited by political constraint.
to facilitate information's unending quest for freedom.
our method: pseudonymous speech...
Anonymity is a shield from the tyranny of the majority. it thus exemplifies the purpose behind the bill of rights, and of the first amendment in particular: to protect unpopular individuals from retaliation-- and their ideas from suppression-- at the hand of an intolerant society.

...responsibly used.

The right to remain anonymous may be abused when it shields fraudulent conduct. but political speech by its nature will sometimes have unpalatable consequences, and, in general, our society accords greater weight to the value of free speech than to the dangers of its misuse.

Though often maligned (typically by those frustrated by an inability to engage in ad hominem attacks) anonymous speech has a long and storied history in the united states. used by the likes of mark twain (aka samuel langhorne clemens) to criticize common ignorance, and perhaps most famously by alexander hamilton, james madison and john jay (aka publius) to write the federalist papers, we think ourselves in good company in using one or another nom de plume. particularly in light of an emerging trend against vocalizing public dissent in the united states, we believe in the critical importance of anonymity and its role in dissident speech. like the economist magazine, we also believe that keeping authorship anonymous moves the focus of discussion to the content of speech and away from the speaker- as it should be. we believe not only that you should be comfortable with anonymous speech in such an environment, but that you should be suspicious of any speech that isn't.

 
www.zerohedge.com