Godfather of AI Issues a Warning
Greg Guenthner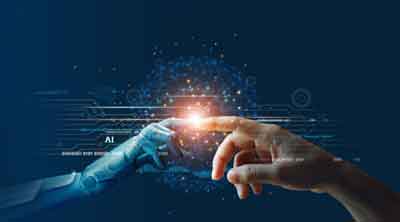 The hype surrounding artificial intelligence is getting out of control.
I figured choppy market conditions would put a lid on some of the crazier AI discourse pundits have tossed around since these stocks first started running earlier this year.
But it's only getting worse.
Every day, I stumble across a new hot take on the market's latest fad. AI will improve our efficiency, destroy menial office tasks, and make millions of jobs obsolete. It will write music, make movies, and solve complex scientific and medical problems. It will be the best — and worst – technological development to ever happen to humankind.
That's probably why former Googler and media-proclaimed "godfather of AI" Geoffrey Hinton is calling for a six-month moratorium on artificial intelligence research in order to better learn to contain it and avoid its negative consequences…
Is this a bit extreme? Perhaps. But when it comes to AI, I just assume that no one knows what the heck they're talking about. That's why it's so important to break down the price action of the mega-cap players and the pure-play stocks to determine where we are in this bubble cycle — and what to look for next.
Google Joins the Party
Tech growth stocks attracted renewed interest during the January snapback rally, which helped kick off the artificial intelligence bull that has quickly become the go-to micro-bubble of 2023.
The AI bubble was so powerful during its January explosion into the mainstream that it even tore down tech giant Alphabet Inc. (GOOG).
You probably recall the hubbub surrounding Bing's partnership with ChatGPT, which some tech analysts were quick to declare a Google killer. Investors took the bait, and GOOG shares fell nearly 20% from their pre-earnings highs in February before finding a floor. Meanwhile, Microsoft (MSFT) and NVIDIA (NVDA) shares blasted off as management hyped their involvement in the AI space.
We discussed two important points as this story emerged during the first quarter:
GOOG's quick fall from grace was likely a knee-jerk reaction to the AI hype cycle.
The stock should be viewed as a bounce candidate if and when it finds support above its year-to-date lows.
Google crashing to new lows just didn't make sense barring a broader market move to the downside. Sure enough, the stock carved out a bottom by early March and rallied back to its February highs by the beginning of the second quarter.
Following a 30%-plus rally off those recent lows, GOOG is posting an even bigger breakout.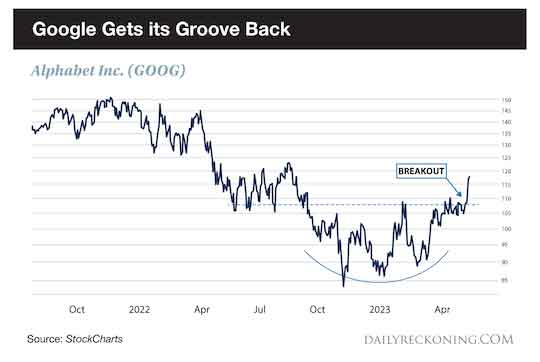 GOOG has managed to survive earnings season and play a little catch-up with its AI competitors. Last week, CEO Sundar Pichai unleashed a laundry list of AI advancements coming to its platforms at the company's developer conference. The financial media ate it up, declaring that Google is no longer playing AI defense to Microsoft.
The positive reception sparked a massive rally, prompting the stock to jump more than 10% last week to new eight-month highs.
More importantly, GOOG has finally cleared a base the stock has been building since late last year. GOOG lost as much as 45% of its value since topping out in late 2021, spending the entire next calendar year locked in a vicious downtrend. That's now in the rearview as shares vault higher – and not a moment too soon.
GOOG was lagging its mega-cap counterparts up until last week's breakout. Apple Inc. (AAPL), MSFT, and NVDA have all locked into strong uptrends this calendar year. Even Tesla Inc. (TSLA), which topped out in February, has bested the averages by a wide margin.
GOOG was the final piece of the FANG+ puzzle. For better or worse, We're currently seeing mega-caps dominating the market right now — whether they're playing the AI hype game or not.
What About the AI Bubble Basket?
The AI pure plays were all the rage during the first quarter.
What happened?
C3.ai Inc. (AI) is the poster child with the perfect ticker. We've closely tracked the stock as it shot up more than 200% at the beginning of the year. But it has yet to perform in the second quarter. In fact, it showed signs of trouble as it failed a big test at $20 last week.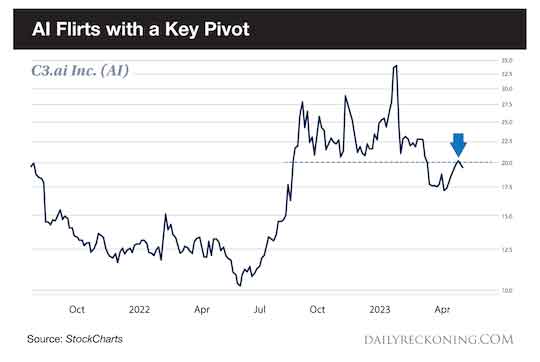 AI was hit hard in April by an analyst short report that raised some serious questions about the company's accounting practices. That decline continued until a brief bounce earlier this month, which appears to be running into some trouble back at $20. That's an important pivot where the stock consistently found support as it consolidated its January rally.
The bulls are getting a little reprieve early this week thanks to AI announcing it will beat top-line estimates. The stock is back above $20 for now, but will need to extend beyond the lower end of its Feb. – April consolidation zone if it's going to make another run.
It's possible we're simply dealing with some sloppy trading action due to choppier conditions in the broad market. But I wouldn't rule out a bigger move lower, either — especially if the major averages lose their footing.
We're also not seeing a ton of action down the cap scale. The smallest artificial intelligence names aren't playing nice. Most are caught in wide, sideways ranges.
The best hands off approach to AI is to stick with the major players until frothier conditions resurface. The Global X Robotics & Artificial Intelligence ETF (BOTZ) we discussed earlier this year continues to look constructive. It's a much better bet than most of these broken speculative plays.
What do you think? Will the AI bubble continue to inflate? Or is it destined to burst before it even gets off the ground?
Let me know what you think by emailing me here.


Just look at the mess we're in right now: political theatrics that keep the populace distracted while the police state clamps down, an economy that is disintegrating before our eyes, a surveillance state that is gearing up for total control, an aging national infrastructure that is falling apart, an appalling lack of leaders with moral backbones and civic knowledge, and a government that grows more authoritarian with every passing day.

The looming problem is not so much that the U.S. is being invaded by hostile forces at the border, but rather that the U.S. Constitution is under assault from within by a power-hungry cabal at the highest levels of power.

As I make clear in my book Battlefield America: The War on the American People and in its fictional counterpart The Erik Blair Diaries, the government is now the greatest threat to our safety, and there's no border wall big enough to protect us from these ruffians in our midst.

 

 

www.rutherford.org