The World Shouldn't Just Abandon Coal Mines
Felicity Bradstock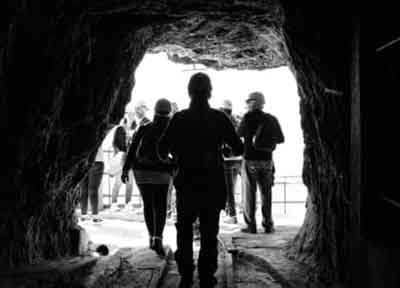 As coal mines are being decommissioned at a more rapid rate, in a move away from the most polluting forms of fossil fuels, governments worldwide are considering how these sites may be used for other energy operations. When coal mines close down, hundreds of workers in the region inevitably lose their jobs, with a negative knock-on effect on the local economy. However, if governments and private companies can find a way to reuse these sites for green energy projects, there could be a significant opportunity to re-train workers in new jobs, use existing energy sites to produce power, and support the green transition.
The repurposing of coal infrastructure has been much discussed in recent years, following a major drive to decommission coal mines worldwide. With coal having been labeled as the "dirtiest fossil fuel", and with alternatives such as oil, natural gas, and renewables becoming more widely used, many coal mines have become obsolete, with workers around the globe losing their jobs as their doors are shut. This usually has a severe impact on the coal mining community or region, as livelihoods and revenues are lost. But if these coal mines could be reused more sustainably, they could help communities recover from the shift away from fossil fuels to renewable alternatives.
In China and Romania, there are plans underway to produce nuclear power on existing coal production sites. China announced in 2021 that it planned to build at least 150 new reactors in the next 15 years. The government plans to replace almost all of its 2,990 coal-fired generators with clean energy by 2060. And one of the ways in which this could be achieved is by converting existing coal sites into nuclear plants.
A similar initiative is being explored in the U.S. In September 2022, the Department of Energy (DoE) released a report stating that as many as 300 decommissioned coal plants could be converted into nuclear facilities. Victor Ibarra Jr., an analyst at the think tank the Nuclear Innovation Alliance explained, "A lot of communities that may have not traditionally been looking at advanced nuclear, or nuclear energy in general, are now being incentivised to look at it." With much of the necessary infrastructure already in place, such as transmission lines, cooling towers, office buildings, and roads, this could make project development cheaper, as well as provide jobs for a community of workers that have experience in the energy industry.
In Australia, the government is considering replacing coal plants with battery storage facilities. Australia plans to massively increase its battery storage capacity in the coming years, in line with major wind farms and other renewable energy developments. New South Wales awarded the contract to energy storage start-up Akaysha Energy to build an 850-MW plant called Waratah Super Battery on the former site of the Munmorah coal plant. It is expected to be up and running by 2025.
Meanwhile, in the U.K., plans are underway for the development of geothermal energy operations on the sites of several decommissioned coal plants. In April this year, the Sunderland City Council – in the northeast of England – backed an exploratory drilling project in a disused mine. Borehole drilling will take place at the former Wearmouth Colliery, which was closed in 1993, to try to access naturally heated water that could be distributed to houses via underground pipes. This could help to cut consumers' energy bills and reduce the reliance on natural gas. The U.K. government's Green Heat Networks Fund Transition Scheme has granted $2.2 million for the pilot phase of the project.
While there has been a lot of talk about the potential for coal mines to be used for geothermal energy production in the U.K., this has not been discussed so widely in other parts of the world until recently. But now, the DoE is exploring the potential to convert plants across the U.S. The Biden administration's 2022 Inflation Reduction Act (IRA) provides the funding needed to develop the country's renewable energy capacity, as well as to explore the much-overlooked potential of several energy sources. Some of the IRA funding is expected to support the development of clean energy projects at former coal mines.
Abandoned coal mines typically fill with water once the mining activities come to an end. This water is heated from below the earth's surface and borehole drilling can help us to access that heat. The director of the Environmental Studies Programme at Ohio University, Natalie Kruse-Daniels, is studying abandoned mines in Appalachian Ohio with her students to assess which ones are close enough to towns to be used for home heating. Daniels stated, "It's this untapped energy source that could reduce bills, that could make energy more efficient, that could reduce some reliance on fossil fuels." And with coal fields in at least 20 U.S. states, the shift from coal to geothermal could benefit thousands of populations across the country.
As the world moves away from coal, it might be time to rethink the traditional process involved with coal mine decommissioning. Thousands of coal mines have been simply abandoned over the last few decades. But governments are now seeing the potential to redevelop these coal mines for green energy operations, to provide jobs and wealth to local communities, and support the global green transition.
By Felicity Bradstock for Oilprice.com




 

 

Felicity Bradstock is a freelance writer specialising in Energy and Finance. She has a Master's in International Development from the University of Birmingham, UK.