We're In "Uncharted Territory" - Paul Tudor Jones "Can't Think Of A Worse Environment" For Bond & Stock Investors
Tyler Durden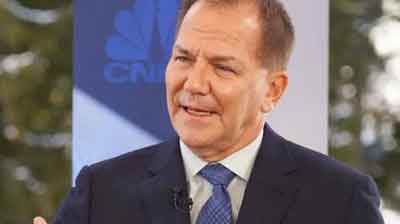 "Clearly you don't want to own bonds and stocks."
Those were the ominous words uttered by billionaire hedge fund manager Paul Tudor Jones (PTJ) this morning during an extensive interview on CNBC's 'Squawk Box'.
With The Fed expected to hike by 50bps tomorrow (and the short-term interest-rate market starting to price in 75bps for June) and 10 more hikes for the full-year... as financial conditions tighten and the economy contracts, CNBC reports that the founder and chief investment officer of Tudor Investment Corp. believes that we are now in "uncharted territory" as the central bank had only eased monetary policy during past economic slowdowns and financial crises.
Specifically, PTJ warned investors to prioritize capital preservation in such a challenging environment for "virtually anything."
"I think we're in one of those very difficult periods where simply capital preservation is I think the most important thing we can strive for," Jones said.

"I don't know if it's going to be one of those periods where you're actually trying to make money."
It's not just investors that are in 'uncharted territory' as The Fed faces global stagflation...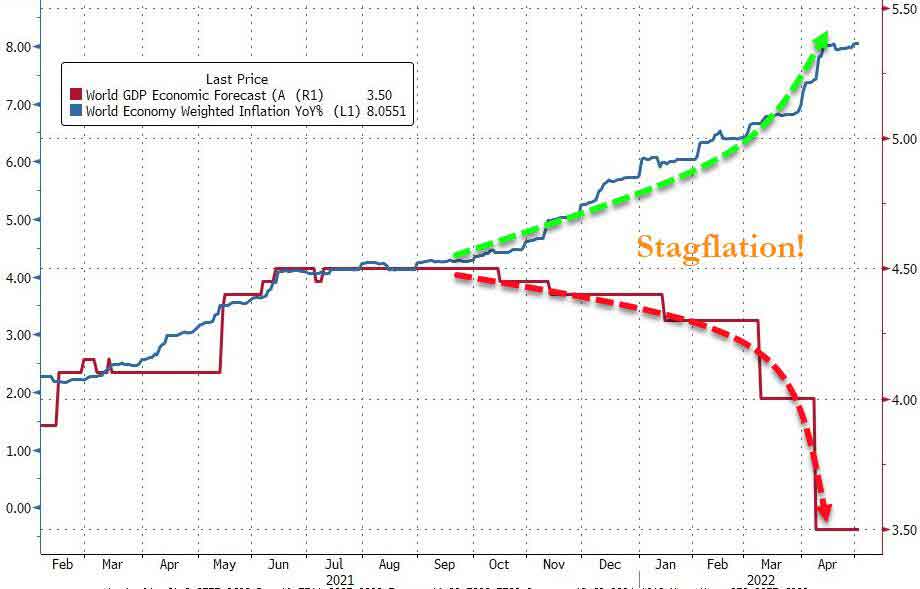 Jones fears The Fed's actions will tip the US economy into recession...
"They've got inflation on the one hand, slowing growth on the other, and they're going to be clashing all the time," Jones said.
Finally, PTJ's world-view can be summed up with this simple statement that he shocked the CNBC anchors with...
"You can't think of a worse environment than where we are right now for financial assets."
However, Jones does believe in buying one asset in this environment: "it's hard to not want to be long crypto"...
And yet the world of commission-rakers and asset-gatherers continue to press the silver-lining just over the horizon and the term "priced in" morphs to a whole new meaning.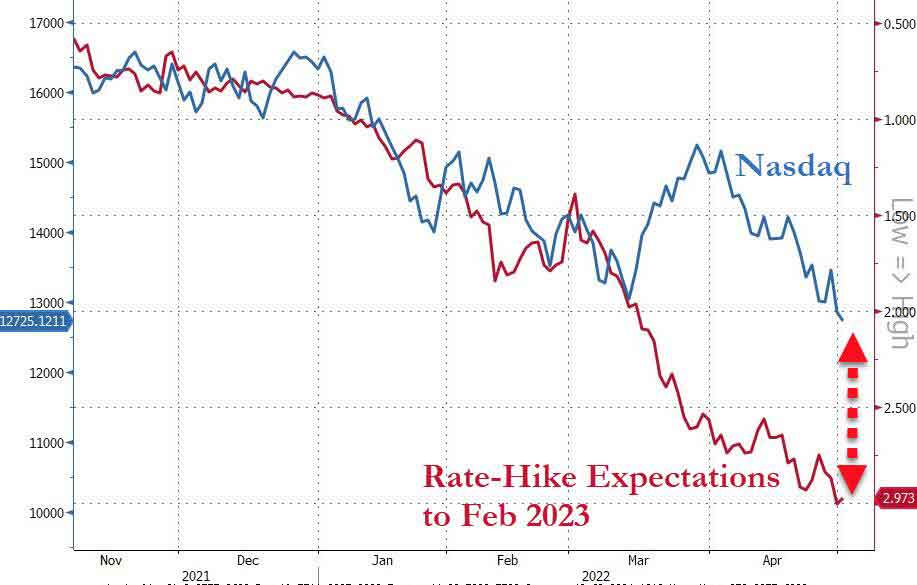 Some markets are "pricing-in" The Fed, others aren't... yet.


our mission:

to widen the scope of financial, economic and political information available to the professional investing public.
to skeptically examine and, where necessary, attack the flaccid institution that financial journalism has become.
to liberate oppressed knowledge.
to provide analysis uninhibited by political constraint.
to facilitate information's unending quest for freedom.
our method: pseudonymous speech...
Anonymity is a shield from the tyranny of the majority. it thus exemplifies the purpose behind the bill of rights, and of the first amendment in particular: to protect unpopular individuals from retaliation-- and their ideas from suppression-- at the hand of an intolerant society.

...responsibly used.

The right to remain anonymous may be abused when it shields fraudulent conduct. but political speech by its nature will sometimes have unpalatable consequences, and, in general, our society accords greater weight to the value of free speech than to the dangers of its misuse.

Though often maligned (typically by those frustrated by an inability to engage in ad hominem attacks) anonymous speech has a long and storied history in the united states. used by the likes of mark twain (aka samuel langhorne clemens) to criticize common ignorance, and perhaps most famously by alexander hamilton, james madison and john jay (aka publius) to write the federalist papers, we think ourselves in good company in using one or another nom de plume. particularly in light of an emerging trend against vocalizing public dissent in the united states, we believe in the critical importance of anonymity and its role in dissident speech. like the economist magazine, we also believe that keeping authorship anonymous moves the focus of discussion to the content of speech and away from the speaker- as it should be. we believe not only that you should be comfortable with anonymous speech in such an environment, but that you should be suspicious of any speech that isn't.