"Somebody Is Dumping Everything": Mystery Investor Pukes $333M In Real Estate ETF In Dark Pool Trade
Tyler Durden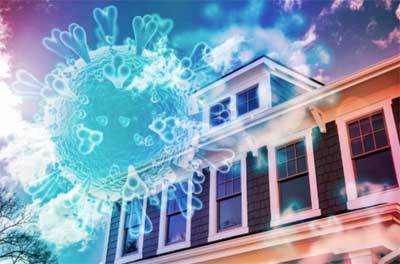 Post-coronavirus pandemic, nobody really knows what the real estate market will look like. Will people travel less? Will we work from home more often? Will commercial and residential real estate be able to keep their respective bids once current leases run out?
We've found at least one investor who doesn't want to stick around and find out.
One "mystery investor" blew out more than 10.5 million shares of an S&P 500 Real Estate fund last week, representing a $333 million sale. This amounts to about 7.4% of outstanding shares in the Real Estate Select Sector SPDR Fund, a macro indicator of the industry's largest companies, according to The Real Deal. 
One anonymous investor commented: "That is obscene. It would be like Warren Buffett selling Delta all at once. A very large institution is expecting widespread weakness across the real estate market, more so than is already perceived."
The fund trades under the symbol XLRE and includes holdings like Prologis and Equity Residential and AvalonBay Communities. At least half of its shareholders are institutional investors, including names like BlackRock and Merrill Lynch, TRD notes. 
The trade was made on one of the 53 dark pools registered with the SEC, which is probably why it escaped investor scrutiny when it happened. Per regulations, dark pools only have to report the transaction as it happened and not the names of the parties involved in buying and selling. To that end, the seller remains a mystery. 
The trade was confirmed, however, by Stefanie Kammerman, a former trader at Schonfeld Securities, from a dark-pool data feed. She said the shares were sold below the market price and that about 20 minutes before the trade, another entity sold 991,700 shares of the XLRE at the same price in a similar transaction. The ETF, meanwhile, was up about 5% on the day. 
"It's very odd there's anything big on [XLRE]," she commented about the trade. "It looks like somebody's dumping everything in my opinion. There's something very big going on."

our mission:

to widen the scope of financial, economic and political information available to the professional investing public.
to skeptically examine and, where necessary, attack the flaccid institution that financial journalism has become.
to liberate oppressed knowledge.
to provide analysis uninhibited by political constraint.
to facilitate information's unending quest for freedom.
our method: pseudonymous speech...
Anonymity is a shield from the tyranny of the majority. it thus exemplifies the purpose behind the bill of rights, and of the first amendment in particular: to protect unpopular individuals from retaliation-- and their ideas from suppression-- at the hand of an intolerant society.

...responsibly used.

The right to remain anonymous may be abused when it shields fraudulent conduct. but political speech by its nature will sometimes have unpalatable consequences, and, in general, our society accords greater weight to the value of free speech than to the dangers of its misuse.

Though often maligned (typically by those frustrated by an inability to engage in ad hominem attacks) anonymous speech has a long and storied history in the united states. used by the likes of mark twain (aka samuel langhorne clemens) to criticize common ignorance, and perhaps most famously by alexander hamilton, james madison and john jay (aka publius) to write the federalist papers, we think ourselves in good company in using one or another nom de plume. particularly in light of an emerging trend against vocalizing public dissent in the united states, we believe in the critical importance of anonymity and its role in dissident speech. like the economist magazine, we also believe that keeping authorship anonymous moves the focus of discussion to the content of speech and away from the speaker- as it should be. we believe not only that you should be comfortable with anonymous speech in such an environment, but that you should be suspicious of any speech that isn't.