Xi Sends Trump A Message: Rare-Earth Export Ban Is Coming
Tyler Durden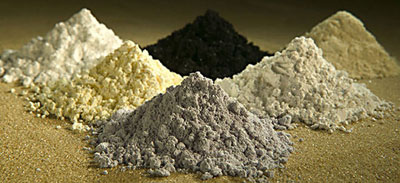 Back in April of 2018, when the trade war with China was still in its early stages, we explained that among the five "nuclear" options Beijing has to retaliate against the US, one was the block of rare-earth exports to the US, potentially crippling countless US supply chains that rely on these rare commodities, and forcing painful and costly delays in US production as alternative supply pathways had to be implemented.
As a result, for many months China watchers expected Beijing to respond to Trump's tariff hikes by blocking the exports of one or more rare-earths, although fast forwarding one year later this still hasn't happened. But that doesn't mean it won't happen, and overnight President Xi Jinping's visit to a rare earths facility fueled speculation that the strategic materials will soon be weaponized in China's tit-for-tat war the US.
As Bloomberg reported overnight, shares in JL MAG Rare-Earth surged by the daily limit on Monday after Xinhua said the Chinese president had stopped by the company in Jiangxi, a scripted move designed to telegraph what China could do next.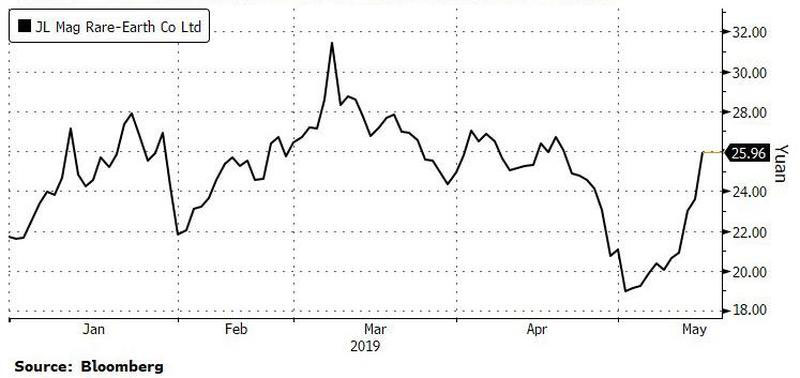 The reason for the dramatic market response is that the presidential visit flags policy priorities, and "rare earths have featured in the escalating trade spat between the U.S. and China." Specifically, as Bloomberg notes, China raised tariffs to 25% from 10% on American imports, while the U.S. excluded rare earths from its own list of prospective tariffs on roughly $300 billion worth of Chinese goods to be targeted in the next wave of measures. And just in case the White House missed the message, Xi was accompanied on the trip to JL MAG by Liu He, the vice premier who has led the Chinese side in the trade negotiations.
Why does China have a clear advantage in this area? Simple: the U.S. relies on China, the dominant global supplier, for about 80% of its rare earths imports. 
The visit "sends a warning signal to the U.S. that China may use rare earths as a retaliation measure as the trade war heats up," said Pacific Securities analyst Yang Kunhe. That could include curbs on rare earth exports to the U.S., he said.
Xi's visit came just hours after the Trump administration on  Friday blacklisted Huawei and threatened to cut it off from the U.S. software and semiconductors it needs to make its products. A spokesman for China's foreign ministry told reporters Monday to "please wait and see" how the government and companies respond.
Of course, a Chinese export curb, or ban, would also cripple domestic producers, as domestic rare earth miners would be hurt, and likely need state subsidies, similar to US soybean farmers. But curbs could potentially help companies like JL MAG, which makes magnets containing rare earths that are used in products including electric vehicles and wind turbines.
Finally, to those looking to trade a potential rare-earth export ban, one place would be to go long the REMX rare earth ETF, which after hitting an all time high of $114 in 2011 during the first rare-earth "scare" during the China-Japan trade war, is trading some 90% lower as the market has all but discounted any possibility of a price spike.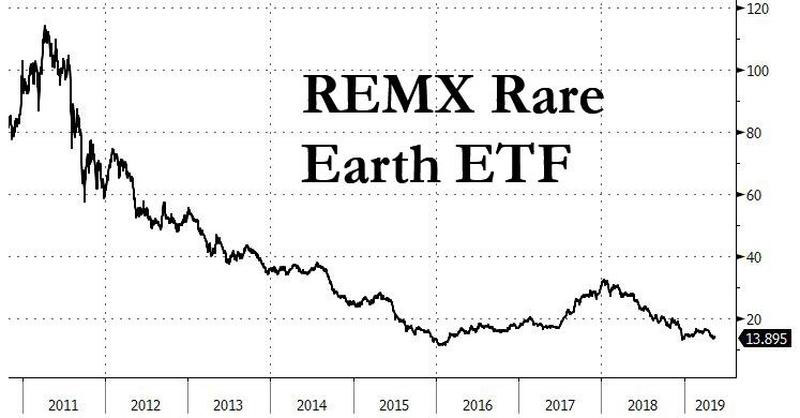 Needless to say, should China lock out the US, the price of rare earths could soar orders of magnitude higher.

our mission:

to widen the scope of financial, economic and political information available to the professional investing public.
to skeptically examine and, where necessary, attack the flaccid institution that financial journalism has become.
to liberate oppressed knowledge.
to provide analysis uninhibited by political constraint.
to facilitate information's unending quest for freedom.
our method: pseudonymous speech...
Anonymity is a shield from the tyranny of the majority. it thus exemplifies the purpose behind the bill of rights, and of the first amendment in particular: to protect unpopular individuals from retaliation-- and their ideas from suppression-- at the hand of an intolerant society.

...responsibly used.

The right to remain anonymous may be abused when it shields fraudulent conduct. but political speech by its nature will sometimes have unpalatable consequences, and, in general, our society accords greater weight to the value of free speech than to the dangers of its misuse.

Though often maligned (typically by those frustrated by an inability to engage in ad hominem attacks) anonymous speech has a long and storied history in the united states. used by the likes of mark twain (aka samuel langhorne clemens) to criticize common ignorance, and perhaps most famously by alexander hamilton, james madison and john jay (aka publius) to write the federalist papers, we think ourselves in good company in using one or another nom de plume. particularly in light of an emerging trend against vocalizing public dissent in the united states, we believe in the critical importance of anonymity and its role in dissident speech. like the economist magazine, we also believe that keeping authorship anonymous moves the focus of discussion to the content of speech and away from the speaker- as it should be. we believe not only that you should be comfortable with anonymous speech in such an environment, but that you should be suspicious of any speech that isn't.