Beyond Meat Soars Above $100 As KFC Said To Plan
Vegan Fried Chicken Alternative
Tyler Durden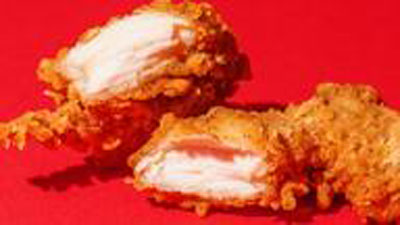 Call it Kentucky Fried Tofu.
According to Business Insider, America's iconic deep-fried meat company, KFC, is meeting with major plant-based "meat" makers to discuss what a vegan version of fried chicken could look like. The revolutionary shift in company strategy comes as vegan, plant-based "meats" join the menu at chains like Del Taco and Burger King. And now, in a future that Kevin Hochman, the president of KFC's US business, once thought unthinkable, chicken chains might be next to jump on the meat-substitute bandwagon.
"If you would have asked me six months ago, I would have said no, to be completely honest with you," Hochman told Business Insider. "Because, we're about fried chicken."
However, if the current buzz around companies like Impossible Foods and Beyond Meat translates into long-term customer demand, then KFC will certainly test a plant-based meat substitute in the US, Hochman said. The chain has already been testing vegetarian "fried chicken" in the UK.

"In the last two weeks I've made several appointments with some of the big guys, just to figure out — what does alternative protein look like in chicken?" Hochman said.
KFC may not be the first chicken company to use "chicken substitutes" - previously Amanda Norris, the executive director of Chick-fil-A's menu, told Business Insider that the chain is also in the early stages of exploring adding vegan options to the menu.
"We're certainly wanting to broaden our thinking and really start big in that funnel and come down," Norris said. "We think it is certainly beyond just no meat on salads or no meat in a wrap. It might be some kind of alternative protein on a sandwich."
To be sure, an anti-meat wave has been sweeping across the US fast-food establishment, and chains including TGI Fridays, Carl's Jr., and Red Robin now serve either the Impossible Burger or the Beyond Burger. Del Taco's vegan Beyond Taco is on track to become one of the chain's best-ever new-product launches. Burger King teamed up with Impossible Foods to roll out Impossible Whoppers nationally by the end of 2019
"We think this is a new category that we can build on for the long haul," Restaurant Brands International CEO José Cil told Business Insider."We think that plant-based burgers and other products will continue to be part of our business for the long term."
The biggest winners of this new wave are, of course, the producers of meat-substitutes: two weeks ago, Impossible Foods announced a $300 million series E funding round led by Temasek and Horizon Ventures. The news also followed Beyond Meat's explosive public debut earlier in May, when shares soared 163% on its first day of trading.
And, in the latest nightmare for Beyond Meat shorts who have been piling on the bearish side of BYND ever since its $25/share IPO, the KFC news sent BYND stock sharply higher this morning, pushing the stock price above $100 for the first time as margined-out shorts are forced to cover at any price.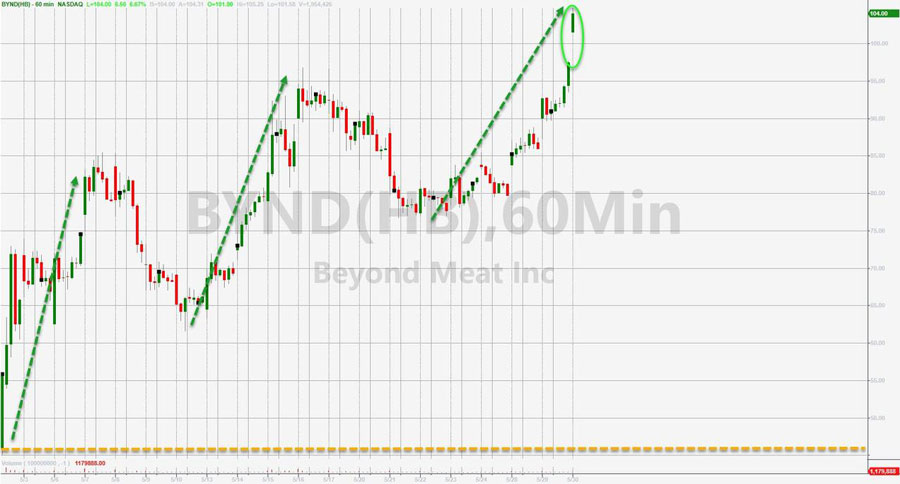 our mission:

to widen the scope of financial, economic and political information available to the professional investing public.
to skeptically examine and, where necessary, attack the flaccid institution that financial journalism has become.
to liberate oppressed knowledge.
to provide analysis uninhibited by political constraint.
to facilitate information's unending quest for freedom.
our method: pseudonymous speech...
Anonymity is a shield from the tyranny of the majority. it thus exemplifies the purpose behind the bill of rights, and of the first amendment in particular: to protect unpopular individuals from retaliation-- and their ideas from suppression-- at the hand of an intolerant society.

...responsibly used.

The right to remain anonymous may be abused when it shields fraudulent conduct. but political speech by its nature will sometimes have unpalatable consequences, and, in general, our society accords greater weight to the value of free speech than to the dangers of its misuse.

Though often maligned (typically by those frustrated by an inability to engage in ad hominem attacks) anonymous speech has a long and storied history in the united states. used by the likes of mark twain (aka samuel langhorne clemens) to criticize common ignorance, and perhaps most famously by alexander hamilton, james madison and john jay (aka publius) to write the federalist papers, we think ourselves in good company in using one or another nom de plume. particularly in light of an emerging trend against vocalizing public dissent in the united states, we believe in the critical importance of anonymity and its role in dissident speech. like the economist magazine, we also believe that keeping authorship anonymous moves the focus of discussion to the content of speech and away from the speaker- as it should be. we believe not only that you should be comfortable with anonymous speech in such an environment, but that you should be suspicious of any speech that isn't.