Silver Refuses To Follow Gold, So Far
Andrew Hecht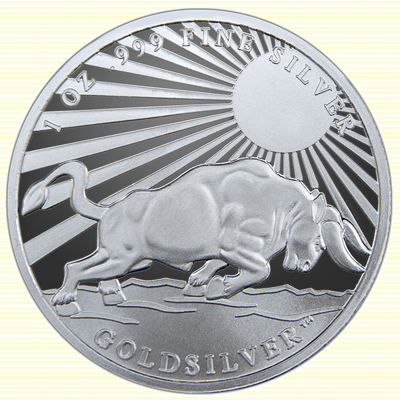 Summary
Gold falls to a new low in 2018; silver does not.

Silver's range has been narrowing.

A big move can follow a tightening range.

Silver loves to shock.

The ratio tells us that silver is still too cheap.
Gold and silver have been closely linked for over five thousand years. In around 3000 BC, the first Egyptian Pharaoh Menes stated that two and one-half parts silver equal one-part gold. The statement in ancient times was the first time the metals that are the longest standing means of exchange in the world would be linked. Gold and silver have a dual role. As metals, they are both commodities, but also have a history as financial assets. Both precious metals have industrial uses because of the physical characteristics. They are also adornments that symbolize wealth and beauty.
Central banks still hold gold as part of their foreign exchange reserves. Approximately 20% of all the gold ever mined in the history of the earth is the property of governments, central banks, and monetary authorities around the world. Both gold and silver were once held as backing for currencies. These days, fiat currencies only have the backing of the full faith and credit of the countries that print paper legal tender. While most still hold gold as part of their reserves, silver has taken a backseat to the yellow metal on the central bank scene. However, both are still precious metals, and they tend to move higher or lower together over time.
Gold falls to a new low in 2018; silver does not
Until May 15, the low in gold for 2018 stood at $1302.30 per ounce, and the $1300 level stood as a critical psychological support barrier for the yellow metal. However, the weight of a recovering dollar and higher interest rates proved too heavy for the yellow metal, and it declined through the $1300 level to a low of $1281.20 on May 21.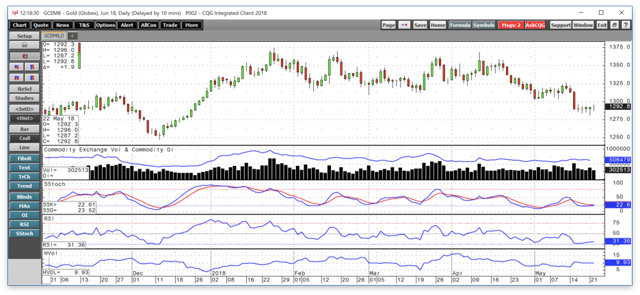 Follow me for weekly, in-depth coverage of commodities - from gold and silver to grains and livestock to oil & gas - from the #2 ranked author in both commodities and precious metals on Seeking Alpha. I'm a Wall Street veteran who's been actively watching the markets and trading in commodities for more than two decades. I know how to read these markets to find the most profitable opportunities.
And to find out how to profit from what I'm calling the coming "commodities super cycle," check out my Marketplace service, the Hecht Commodity Report. My weekly report, while comprehensive, has just been re-engineered to be more focused and easier to read, with more actionable calls so investors can focus their activities, and hopefully, seek profits each week. The report offers bullish, bearish and neutral recommendations on 20 different commodities, along with commentary on where they're headed, directional trading recommendations, and actionable ideas for traders. If you want to profit in the commodities market, and grow your wealth in the coming commodities super cycle, the Hecht Commodity Report should be on your must-read list, every week.  



Andy Hecht is a sought-after commodity and futures trader, an options expert and analyst. He is the #2 ranked author on Seeking Alpha in both the commodities and precious metals categories. He is also the author of the weekly Hecht Commodity Report on Marketplace - the most comprehensive, deep-dive commodities report available on Seeking Alpha.

Andy spent nearly 35 years on Wall Street, including two decades on the trading desk of Phillip Brothers, which became Salomon Brothers and ultimately part of Citigroup. 

Over the past two decades, he has researched, structured and executed some of the largest trades ever made, involving massive quantities of precious metals and bulk commodities.

Andy understands the market in a way many traders can't imagine. He's booked vessels, armored cars, and trains to transport and store a broad range of commodities. And he's worked directly with The United Nations and the legendary trading group Phibro.

Today, Andy remains in close contact with sources around the world and his network of traders. 

"I have a vast Rolodex of information in my head… so many bull and bear markets. When something happens, I don't have to think. I just react. History does tend to repeat itself over and over."

His friends and mentors include highly regarded energy and precious metals traders, supply line specialists and international shipping companies that give him vast insight into the market. 

Andy's writing and analysis are on many market-based websites including CQG. Andy lectures at colleges and Universities. He also contributes to Traders Magazine. He consults for companies involved in producing and consuming commodities. Andy's biweekly radio show, The Commodities Hour with Andy Hecht, can be heard on Tuesdays and Thursdays from 5-6 PM EST on www.tfnn.com. Andy's first book How to Make Money with Commodities, published by McGraw-Hill was released in 2013 and has received excellent reviews.  Andy held a Series 3 and Series 30 license from the National Futures Association and a collaborator and strategist with hedge funds. Andy is the commodity expert for the website about.com and blogs on his own site technomentals.com.