Our Economy Is Failing: If We Don't Change How Money Is Created And Distributed
We Change Nothing
Charles Hugh Smith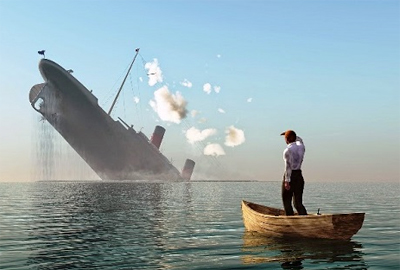 "profound structural changes have created a winner take most economy that favors the politically connected…" Here's why it matters…

If we want to extend the opportunities for positive social roles to everyone, we have to change the way money is created and distributed in our economy.
One of the most unrecognized dynamics of our era is the structural dependence of our society on our economy. One set of pundits, politicos and academics wring their hands over the fragmenting of civil society (the rise of disintegrative, divisive forces and the decay of integrative forces) and decry the rising inequality that is our economy's dominant feature, while another set of pundits and academics celebrate the economy's remarkable adaptability or focus solely on reading financial tea leaves (interest rates, Fed policy tweaks, unemployment rates, etc.)
Those few analysts who escape their respective silos/academic ghettos rarely get past generalities such as the erosion of social mobility, a dynamic that is clearly economic and social. But the precise mechanisms behind the secular erosion of social mobility are lost in platitudes about how A.I. and robots will free us all to be poets or consumers of a vast and endlessly enjoyable leisure.
The key understanding that's lacking is that economic structures organize and limit the social structures underpinning civil society. To understand why civil society is disintegrating on so many fronts (public health, civil discourse, etc.), we must understand how our economy has failed to support the social structures required for an integrative, inclusive civil society.
Our economy is transforming/adapting as a result of powerful secular trends:the 4th Industrial Revolution (a.k.a. the digital-networked-AI-Big-Data revolution), globalization, the commoditization of ordinary capital and labor, the financial and political dominance of quasi-monopolies and cartels, and perhaps the most unrecognized dynamic, the devaluation of ordinary capital and labor in favor of scarce and often rarefied forms of capital and labor in the fields of technology, entrepreneurship and finance.
Collectively, these profound structural changes have created a winner take most economy that favors the politically connected, the privileged (i.e. those who are already wealthy, powerful or holding privileged positions) and those few who have mastered scarce skills in financialization, technology and entrepreneurship.
Everyone below this class has seen their income stagnate or decline, and their household wealth erode unless they happened to own homes in skyrocketing markets or happened to have stock options or some other substantial (and relatively rare) ownership of income-producing assets such as a profitable family business.
My analysis of IRS income found that at most a few million households out of America's 130 million households have productive assets (i.e. assets that generate net income) that aren't tied to asset-bubbles in real estate and stocks. Once those bubbles pop (and all asset bubbles eventually pop), then the millions of households who reckoned their bubble-era wealth was a permanent feature of their lives will discover that bubble-era "wealth" is temporary, a phantom sort of wealth that vanishes as quickly as it arose.
The top tier of our economy lives in a different society than the bottom 90%.Some of the socio-political manifestations of this reality are discussed in a lengthyAtlantic essay: The 9.9% Is the New American Aristocracy.
If we read between the lines, we discern the differences in the economic classes are not just differences in higher education credentials or skills–the fantasy that all we need to solve these structural asymmetries is "more job training"–but differences in values, social networks, family structures and perhaps most invisibly to critics left and right alike, in the positive social roles available to their children.
The foundation of any economy is its money, and this is why I keep saying: if you don't change the way money is created and distributed, you change nothing. Yes, we can tweak various financial parameters and delude ourselves into believing that yet another raft of laws and regulations will actually reverse the erosion of civil society or reverse the rapidly widening gulf between the top 5% and the bottom 95%, but delusions aren't reality.
If we want to extend the opportunities for positive social roles to everyone, we have to change the way money is created and distributed in our economy.That will require a transformation not just in whiz-bang technology but in the foundations of our entire economy.
These two charts reveal the structure of economic and thus social asymmetry: the top owns capital/productive assets, the bottom own either a bet on an unstable asset bubble (housing or stocks) or no productive assets at all: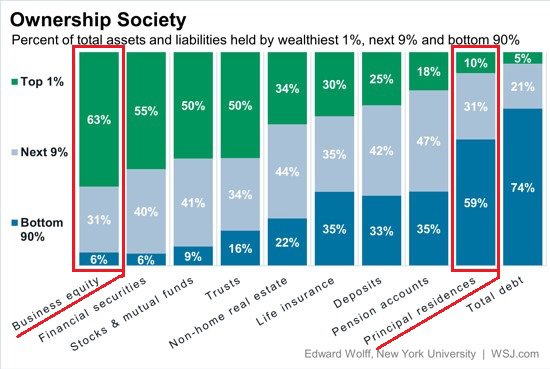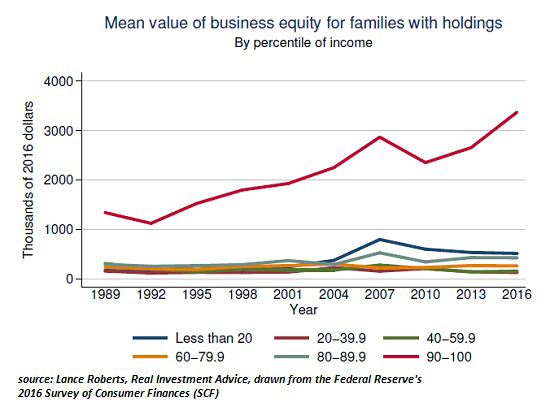 My new book Money and Work Unchained is $9.95 for the Kindle ebook and $20 for the print edition.
Read the first section for free in PDF format.
If you found value in this content, please join me in seeking solutions by becoming a $1/month patron of my work via patreon.com.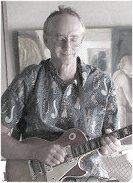 At readers' request, I've prepared a biography. I am not confident this is the right length or has the desired information; the whole project veers uncomfortably close to PR. On the other hand, who wants to read a boring bio? I am reminded of the "Peanuts" comic character Lucy, who once issued this terse biographical summary: "A man was born, he lived, he died." All undoubtedly true, but somewhat lacking in narrative.

I was raised in southern California as a rootless cosmopolitan: born in Santa Monica, and then towed by an upwardly mobile family to Van Nuys, Tarzana, Los Feliz and San Marino, where the penultimate conclusion of upward mobility, divorce and a shattered family, sent us to Big Bear Lake in the San Bernadino mountains.

The next iteration of family took us to the island of Lanai in Hawaii, where I was honored to join the outstanding basketball team (as benchwarmer), and where we rode the only Matchless 350 cc motorcycle on the island, and most likely in the state, through the red-dirt pineapple fields to the splendidly isolated rocky coastline. In 1969-70, this was the old planation Hawaii, where we picked pine in summer beneath a sweltering sun.

We next moved to Honolulu, where I graduated from Punahou School and earned a degree in Comparative Philosophy (i.e. East and West) at the University of Hawaii-Manoa. The family moved back to California and I stayed on, working my way through college apprenticing in the building/remodeling trades.

I was quite active in the American Friends Service Committee (Quakers) and the People's Party of Hawaii in this era (1970s).

I next moved to the Big Island of Hawaii, where my partner and I built over fifty custom homes and a 43-unit subdivision, as well as several commercial projects.

Nearly going broke was all well and good, but I was driven to pursue my dream-career as a writer, so we moved to the San Francisco Bay Area in 1987 where I worked in non-profit education while writing free-lance journalism articles on housing, design and urban planning.

Within a few years I returned to self-employment, a genteel poverty interrupted by an 18-month gig re-organizing the back office of a quantitative stock market analyst. I learned how to lose money in the market with efficiency and aplomb, lessons I continue to practice when the temptation to battle the Monster Id strikes.

Somewhere in here my first novel was published by The Permanent Press, but alas it fell still-born from the press--a now monotonous result of writing fiction. (Seven novels and I still can't stop myself.)

I started the Of Two Minds blog in May 2005 as a side project of self-expression, and in an unpredictable twist of evolutionary incaution, that project has ballooned into a website with about 3,500 pages that has drawn almost 20 million page views.

The site's primary asset may well be the extensive global network of friends and correspondents I draw upon for intelligence and analysis.

The blog is #7 in CNBC's top alternative financial sites, and is republished on numerous popular sites such as Zero Hedge, Financial Sense, and David Stockman's Contra Corner. I am frequently interviewed by alternative media personalities such as Max Keiser, and am a contributing writer on peakprosperity.com.