Trump Is A Disaster
Paul Craig Roberts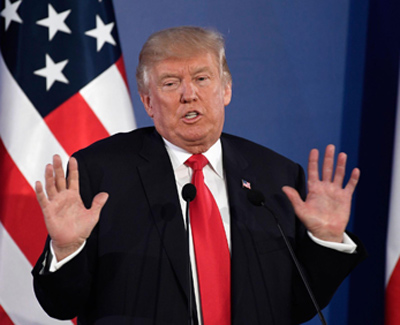 Trump is a disaster for the environment, for wildlife, and for human life. 
Trump has handed over to polluters oil and mineral rights in US National Monuments. Mining will now deface what was before Trump protected national monuments, and oil drilling will destroy the Arctic National Refuge. He has appointed polluters to run the Environmental Protection Agency (EPA), and he has waived rules in order to comply with the polluting industries' wish list. 
Trump wants to cut EPA funding by 23 percent and to cut funding for restoration programs for the Great Lakes and Chesapeake Bay by 90 percent. He wants to pay for the upkeep of national parks by expanding oil and gas exploration on public lands. But he doesn't hesitate to send the equivalent of the annual environmental budget in war criminal missile attacks on Syria and plans for attacking Iran.
To be quite clear, Trump is privatizing national property and allowing a small handful of polluting corporations to plunder public assets while he builds a case for war against Iran. 
The assault on the environment started with VP Dick Cheney, but Trump has unleashed private plunder of public assets to an extreme degree.
No one has ever explained how assets owned by the American people can be turned over to a few friends and supporters of the ruling elite in Washington. In what law does the power exist for a president or federal agency chairman to expropriate public assets for plunder by politically connected friends?
The way America works, thanks to the Republican Supreme Court that legalized it, polluters bid with their campaign donations to be given permission to loot and despoil national monuments and refuges. The Supreme Court called the corporate purchase of the US government a constitutionally permitted exercise of free speech.
Existing law prevents the environmental looting, but law means nothing to Washington. We have experienced the entirety of the 21st century so far with Washington being in total noncompliance with international law, instead behaving consistently as a war criminal as defined by existing international law.
Trump has now escalated Washington's war criminal behavior. He has unilaterally pulled out of a multi-nation agreement that ensures Iran's nuclear non-proliferation, and he has imposed more illegal unilateral economic sanctions on Iran that punish US companies such as Boeing and corporations in numerous European countries. Trump's foreign policy is under the control of Israel. Trump is unable to act in America's interest or in the interest of Washington's European, Canadian, and Australian vassals. 
Trump's stupid decision has caused rebellion among Washington's usual compliant and well paid vassals—UK, France, and Germany. Europeans are saying that it is long past time that Europe represented its own interests instead of Washington's.  https://www.msn.com/en-us/news/world/merkel-europe-can-no-longer-rely-on-us-protection/ar-AAx4AwV
The silver lining in Trump's stupid decision is that it might cause Europe to become independent and to cease being a chorus praising Washington's war crimes. Will we see a rebellion of European political figures, essentially Washington's whores, that will break up the Empire and lead to an independent Europe?
Such a development would justify all of Putin's hesitation to put his foot down.
As matters stand, "the coalition of the willing" is reduced to Washington and Israel. Not even a majority of Americans support Trump pulling out of the multi-nation Iran agreement, nor do they support his appointment of a war criminal, Haspal, as director of the CIA, nor do they support Trump's permission to Israel to continue the war against Syria and to attack Iran.
But the people everywhere in the western "democracies" are powerless. They are never allowed to elect anyone who would do the right things. Invariably their votes put in office those who exploit them and peoples of other countries. This is why the other part of the world views the West as a plague upon all mankind, including the western peoples themselves.
Trump was expected to be a disaster for the environment. The hope was that the liberal/progressive/left would rally to his intent to withdraw from Syria and to normalize relations with Russia. By supporting Trump against the neoconservatives and the military/security complex, the liberal/progressive/lt would have gained some chips that could be used to moderate Trump's assault on the environment.
Unfortunately, the liberal/progressive/left aligned with Brennan's CIA, Comey's FBI, and Hillary's DNC and committed to the orchestrated "Russiagate" allegations that were intended to discredit Trump and to force him out of office. I was very disappointed to see the environmental movement join in with the orchestrated "Russiagate" conspiracy against Trump.
As a result, Trump owes environmentalists and the liberal/progressive/left nothing. The consequence is that the environment, civil liberty and peace have been lost.



Hon. Paul Craig Roberts is the John M. Olin Fellow at the Institute for Political Economy, Senior Research Fellow at the Hoover Institution, Stanford University, and Research Fellow at the Independent Institute. A former editor and columnist for The Wall Street Journal and columnist for Business Week and the Scripps Howard News Service, he is a nationally syndicated columnist for Creators Syndicate in Los Angeles and a columnist for Investor's Business Daily. In 1992 he received the Warren Brookes Award for Excellence in Journalism. In 1993 the Forbes Media Guide ranked him as one of the top seven journalists.

He was Distinguished Fellow at the Cato Institute from 1993 to 1996. From 1982 through 1993, he held the William E. Simon Chair in Political Economy at the Center for Strategic and International Studies. During 1981-82 he served as Assistant Secretary of the Treasury for Economic Policy. President Reagan and Treasury Secretary Regan credited him with a major role in the Economic Recovery Tax Act of 1981, and he was awarded the Treasury Department's Meritorious Service Award for "his outstanding contributions to the formulation of United States economic policy." From 1975 to 1978, Dr. Roberts served on the congressional staff where he drafted the Kemp-Roth bill and played a leading role in developing bipartisan support for a supply-side economic policy.

In 1987 the French government recognized him as "the artisan of a renewal in economic science and policy after half a century of state interventionism" and inducted him into the Legion of Honor.

Dr. Roberts' latest books are The Tyranny of Good Intentions, co-authored with IPE Fellow Lawrence Stratton, and published by Prima Publishing in May 2000, and Chile: Two Visions - The Allende-Pinochet Era, co-authored with IPE Fellow Karen Araujo, and published in Spanish by Universidad Nacional Andres Bello in Santiago, Chile, in November 2000. The Capitalist Revolution in Latin America, co-authored with IPE Fellow Karen LaFollette Araujo, was published by Oxford University Press in 1997. A Spanish language edition was published by Oxford in 1999. The New Colorline: How Quotas and Privilege Destroy Democracy, co-authored with Lawrence Stratton, was published by Regnery in 1995. A paperback edition was published in 1997. Meltdown: Inside the Soviet Economy, co-authored with Karen LaFollette, was published by the Cato Institute in 1990. Harvard University Press published his book, The Supply-Side Revolution, in 1984. Widely reviewed and favorably received, the book was praised by Forbes as "a timely masterpiece that will have real impact on economic thinking in the years ahead." Dr. Roberts is the author of Alienation and the Soviet Economy, published in 1971 and republished in 1990. He is the author of Marx's Theory of Exchange, Alienation and Crisis, published in 1973 and republished in 1983. A Spanish language edition was published in 1974.

Dr. Roberts has held numerous academic appointments. He has contributed chapters to numerous books and has published many articles in journals of scholarship, including the Journal of Political Economy, Oxford Economic Papers, Journal of Law and Economics, Studies in Banking and Finance, Journal of Monetary Economics, Public Finance Quarterly, Public Choice, Classica et Mediaevalia, Ethics, Slavic Review, Soviet Studies, Rivista de Political Economica, and Zeitschrift fur Wirtschafspolitik. He has entries in the McGraw-Hill Encyclopedia of Economics and the New Palgrave Dictionary of Money and Finance. He has contributed to Commentary, The Public Interest, The National Interest, Harper's, the New York Times, The Washington Post, The Los Angeles Times, Fortune, London Times, The Financial Times, TLS, The Spectator, Il Sole 24 Ore, Le Figaro, Liberation, and the Nihon Keizai Shimbun. He has testified before committees of Congress on 30 occasions.

Dr. Roberts was educated at the Georgia Institute of Technology (B.S.), the University of Virginia (Ph.D.), the University of California at Berkeley and Oxford University where he was a member of Merton College.

He is listed in Who's Who in America, Who's Who in the World, The Dictionary of International Biography, Outstanding People of the Twentieth Century, and 1000 Leaders of World Influence. His latest book, HOW THE ECONOMY WAS LOST, has just been published by CounterPunch/AK Press. He can be reached at: [email protected]

Please Donate

I listen to my readers. In March 2010, I terminated my syndicated column. Thousands of you protested. So persuasive were your emails asking me to reconsider and to continue writing that, two months later, I began writing again.

In order to create a coherent uncensored and unedited archive of my writings, The Institute For Political Economy, a non-profit organization that supports research, writing and books, has established this site, thus gratifying readers' demands that I continue to provide analyses of events in our time.

In order to stay up, this site needs to pay for itself.