How Competitive Are U.S. Renewable Giants?
Felicity Bradstock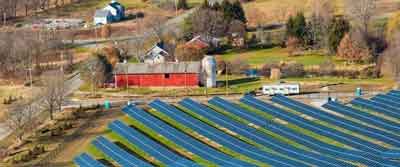 As the U.S. attempts to rapidly expand its renewable energy capacity, with several major green companies emerging, so too are other countries around the world. Renewable startups have quickly risen to become major energy companies, with the potential to contend with big oil and gas names over the coming decades, as the world undergoes a green transition. But what are some of the major players and how do they compare with their U.S. counterparts?
Jinko Solar vs First Solar 
JinkoSolar, founded as a silicon wafer manufacturer in 2006 in Shanghai, China in 2010, is now the world's leading solar panel manufacturer. It joined the New York Stock Exchange in 2010 starting at $9.70 a share and rising to $27.83 in 2017 and $47.73 today. It has a market cap of $2.4 billion and has operations in China, the United States, Mexico, Australia, Japan, United Arab Emirates, Turkey, Jordan, Vietnam, Egypt, Spain, and Germany. Its products reach over 3,000 customers in more than 160 countries and regions. 
Jinko had the highest number of global module shipments between 2016 and 2019, with cumulative shipments totalling 130 GW by the end of 2022. It runs a vertically integrated production capacity from silicon material processing to wafer, cell and module production for the solar power industry. Jinko has won various titles in recent years, including being ranked as the "Most Bankable" PV brand by Bloomberg New Energy for eight consecutive years. And its revenue is increasing rapidly as countries worldwide look to expand their wind power capacity, with an expected increase of 104.6 percent from 2022 to 2023, to $12.4 billion. 
The biggest U.S. solar company was founded long before JinkoSolar, in 1999, and is a major player in the U.S. market. First Solar is a solar technology company and an international provider of solar modules. It is the only of the ten largest solar manufacturers to have its headquarters in the U.S. and to not have manufacturing operations in China. It has the Western Hemisphere's largest solar manufacturing operations, based in Ohio, and expects to bring a third factory online this year, followed by a fourth in 2025. This will provide First Solar with a global annual manufacturing capacity of over 20 GW by 2025. It has operations in the U.S., India, Malaysia, and Vietnam and also uses a vertically integrated manufacturing process.  Related: Who Can Challenge China's EV Dominance?
First Solar's stock price has risen from $32.37 a share, when it joined the New York Stock Exchange in 2007, to $54.82 in 2017 and $200.83 today. It has a market cap of $21.45 billion and in the fourth quarter of 2022, it achieved net sales of $1 billion, up by $0.4 billion from the previous quarter.
Iberdrola vs NextEra Energy
Iberdrola is a major energy utility specialising in renewables. Its headquarters are in Bilbao, Spain, with operations in Europe, North America, South America, and other regions. The company constructs, operates and manages power generation plants, transmission and distribution facilities and other assets. Iberdrola produces electricity using both conventional and renewable energy sources. It is currently undergoing a transition to a sustainable energy model, pumping significant funds into smart grids, renewable energy, large-scale energy storage and digital transformation. 
It plans to spend €17 billion on renewables in the coming years, to add 7,675 MW of renewable energy over the next four years, on top of its current 40,374 MW capacity. Iberdrola has a market cap of almost $81.86 billion, with its stock price rising from $28.48 in 2018 to $52.38 today. 
Its U.S. counterpart, NextEra Energy, is the world's largest utility company with a market cap of almost $153.48 billion. NextEra generates more wind and solar power than any other company in the world and it is one of the U.S.'s largest capital investors in infrastructure, having plans to invest $50 and $55 billion in 2022. It is also a market leader in battery technology, with over 180 MW of battery energy storage systems in operation. This is the largest amount of operational storage of any company in the U.S., and NextEra plans to incorporate more battery power into its renewable energy operations over the coming years. 
Orsted Vs Terra-Gen Power
The Danish energy company Orsted has transformed from a coal-intensive utility to a green energy major over the last decade. The company now aims to produce 99 percent of its energy from green sources by 2025. It has a huge market cap of $255.33 billion and has seen its stock price increase from $381.50 in 2018 to $607.60 today. Orsted's main operations include the development, construction, and operation of offshore wind farms, as well as power and heat generation from power stations. 
In 2022, Orsted was awarded the contract for the world's single-biggest offshore wind farm, Hornsea 3, in the U.K. The farm will have a 2,852-MW capacity, enough to power 3.2 million homes with renewable energy. This contributes to the U.K. government's target of 50 GW of offshore wind by 2030. 
Comparatively, the U.S. energy major General Electric (GE), which is not typically known for its renewable energy sector, is quickly becoming a green leader. Founded around 150 years ago, GE has its headquarters in Boston, Massachusetts, as well as operations in Europe, China, Asia, the Americas, the Middle East, and Africa. 
The company has a market cap of $106.91 billion and its stock price has remained fairly stable in recent years, rising from $97.21 in 2018 to $98.06 today. GE Renewable Energy now has around 400 GW of installed renewable energy worldwide, with 49,000 wind turbines and 25 percent of the world's hydropower installations. 
Recap
Several renewable energy majors are emerging from all corners of the globe. But the U.S. is still a big player when it comes to energy, both fossil fuels and renewables. While China and Europe have significant offerings in green energy, the U.S. is highly competitive, with plans for major expansion as part of the country's green transition. And as several long-established energy companies transition into the world of renewables, and other green energy startups rise up to the major leagues, we can expect to see a broad array of renewable energy companies from the U.S. and the rest of the world. 
By Felicity Bradstock for Oilprice.com




 

 

Felicity Bradstock is a freelance writer specialising in Energy and Finance. She has a Master's in International Development from the University of Birmingham, UK.