Liberals "Terrified"... Musk's Big Stake In Twitter "Is Not At All Funny"
Tyler Durden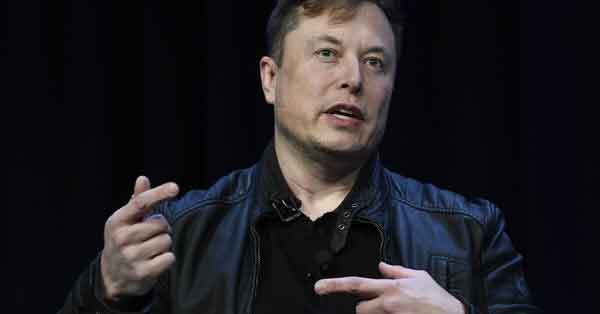 Elon Musk's 9.2% stake in Twitter and his newly announced board seat has sent the left into an anti-free-speech tailspin.
Musk has been an outspoken proponent of free speech - which he says that failing to adhere to "fundamentally undermines democracy."
On Monday, CNN host Brian Stelter said there's a 'fear' over Musk's move.
"There's interest in billionaires, there's celebration of the Musk. There's also fear, I think, sometimes or wariness of- okay, so here's the richest man on the planet who just bought a big chunk of one of our most important communications tools," said Stelter. ""He's also one of the biggest owners of satellites in the world. So he's incredibly powerful, incredibly, I don't know, am I allowed to use the word strange when talking about Elon Musk?"
Except, billionaires have been controlling information for decades and nobody had a problem.
Coping is not going well for the anti-free-speech crowd.
And it's no wonder why the left is rattled - according to Statista, their biggest problem with Twitter is 'inaccurate or misleading information,' while they're least concerned about 'Twitter banning users.'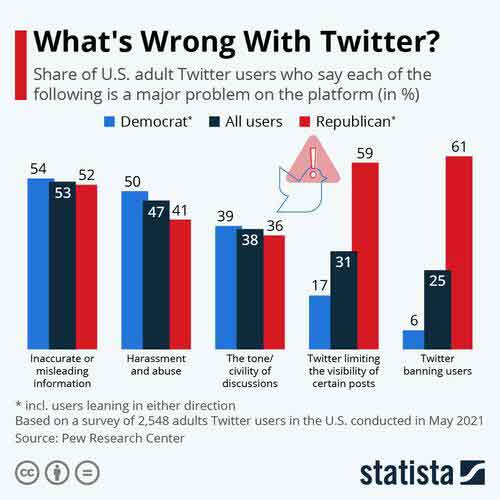 More:
It appears the wokerati are more than happy to allow 'free speech' when it's their speech but when 'free speech' is contemplated for all speech (even the evil 'others'), tolerance goes out the window and tantrums dominate (until they get their way). Perhaps the real driver of this 'fear' of Elon goes back to his comments (paraphrased) that "wokeness... basically gives mean people a shield to be mean and cruel, armored in false virtue."
Imagine the cognitive dissonance sweeping the nation as that reality soaks in (like there's no need to wear a mask in a car when you're alone).

our mission:

to widen the scope of financial, economic and political information available to the professional investing public.
to skeptically examine and, where necessary, attack the flaccid institution that financial journalism has become.
to liberate oppressed knowledge.
to provide analysis uninhibited by political constraint.
to facilitate information's unending quest for freedom.
our method: pseudonymous speech...
Anonymity is a shield from the tyranny of the majority. it thus exemplifies the purpose behind the bill of rights, and of the first amendment in particular: to protect unpopular individuals from retaliation-- and their ideas from suppression-- at the hand of an intolerant society.

...responsibly used.

The right to remain anonymous may be abused when it shields fraudulent conduct. but political speech by its nature will sometimes have unpalatable consequences, and, in general, our society accords greater weight to the value of free speech than to the dangers of its misuse.

Though often maligned (typically by those frustrated by an inability to engage in ad hominem attacks) anonymous speech has a long and storied history in the united states. used by the likes of mark twain (aka samuel langhorne clemens) to criticize common ignorance, and perhaps most famously by alexander hamilton, james madison and john jay (aka publius) to write the federalist papers, we think ourselves in good company in using one or another nom de plume. particularly in light of an emerging trend against vocalizing public dissent in the united states, we believe in the critical importance of anonymity and its role in dissident speech. like the economist magazine, we also believe that keeping authorship anonymous moves the focus of discussion to the content of speech and away from the speaker- as it should be. we believe not only that you should be comfortable with anonymous speech in such an environment, but that you should be suspicious of any speech that isn't.