Is Diversification Dead?
Matthew D. Palazzolo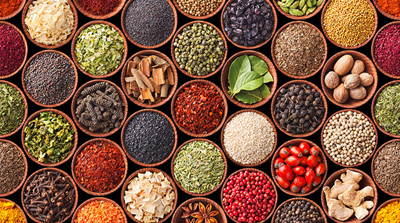 It's not surprising that many US-based investors are questioning the wisdom of portfolio diversification. A well-diversified, balanced portfolio of multiple asset classes and geographies has underperformed a simple, US-only, balanced portfolio of stocks and bonds for several years. But go back further, and diversification was very beneficial to performance or, at worst, neutral, as the chart below shows. 
Perhaps their question should be: Will the future be more like the recent past or the distant past?
The answer will depend on how the future differs from the last few years. A new president in the US, elections across Europe and countless other geopolitical events create uncertainty—but 2016 was full of uncertainty and surprises, too. That's not necessarily different.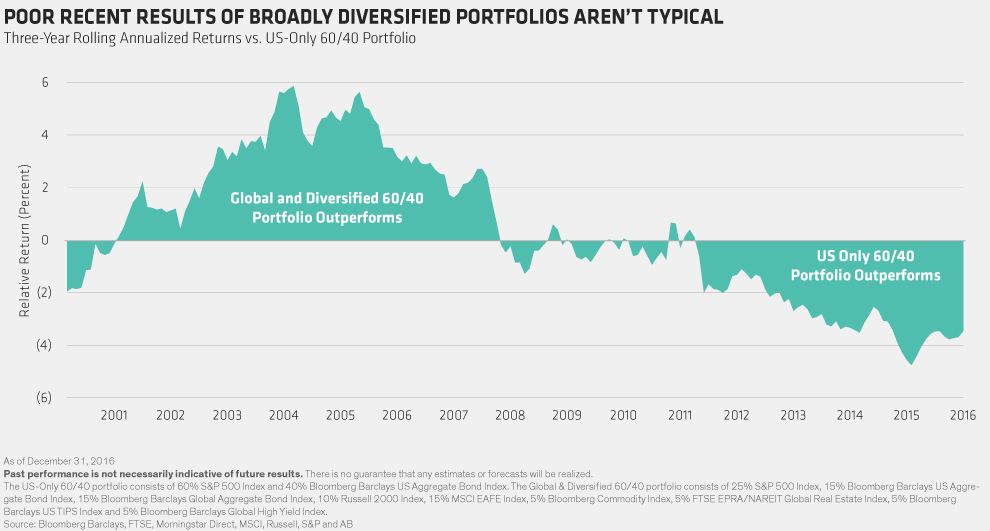 What is potentially different is the market backdrop. Over the last few years, low global growth and extraordinary global monetary policy have been the two main factors that have kept the status quo intact.
There's good reason to believe both of these issues have reached a tipping point: Global nominal growth may be headed higher, and interest rates are likely to follow. Add in elevated equity valuations in the US, and we think the prudent allocation decision over the next few years is to diversify portfolios by geography (owning securities from outside the US) and by asset class. We believe owning other asset classes will serve as a protective hedge, as well as provide uncorrelated sources of return in an increasingly disparate market environment.
Beyond diversification, there are two elements that are important to keep in mind. 
First, markets, environments, and risks change, so it's important to remain adaptive and flexible in your asset allocation. This means being willing to adjust allocations at the margin with the goal of providing a smoother, more predictable return experience, as well as adding to strategic allocations, when research indicates it would be beneficial. For example, in 2016, we increased our strategic exposure to small-cap stocks in both US and non-US portfolios, which we believe can augment absolute and relative return over time.
Second, markets ebb and flow over time. Despite recent modest returns, diversified balanced accounts achieved the returns we thought most likely five years ago, because most markets had strong returns early in the five-year period, which offset more modest returns in 2015 and 2016.
That's the point—a portfolio will never achieve the expected return every single year. But by averaging the good and less good, clients can stay on plan and achieve their goals.
Investors who remain diversified, flexible and patient will be well prepared to handle whatever surprises an uncertain future holds.
The views expressed herein do not constitute research, investment advice, or trade recommendations and do not necessarily represent the views of all AB portfolio-management teams.


Matthew D. Palazzolo is a Senior Investment Strategist based in Bernstein's New York office. He was named a National Managing Director in 2017. In addition to his role as Senior Investment Strategist, he is also responsible for Bernstein's market and investment-related communication and is a member of Bernstein's Private Client Investment Policy Group, which provides asset allocation, investment and risk-management advice for high-net-worth clients, endowments and foundations. Prior to joining the firm in 2010, Matt was with Inverness Counsel, where he served as director of research, portfolio manager and a member of the investment committee. His responsibilities included overseeing equity research and assisting in managing portfolios on behalf of the firm's high-net-worth clients and institutional investors. Previously, he was part of a team that conducted equity research at Prudential Equity Group, where he focused on the household and personal care sector across all market capitalizations. As part of the team, he interacted with corporate management of companies; helped develop recommendations on those companies' stocks; and communicated those recommendations to the firm's institutional long-only and hedge fund clients. Matt earned a BA in English and sociology/anthropology from Colgate University and an MBA in corporate finance from the Kenan-Flagler Business School at the University of North Carolina, Chapel Hill. He is a Chartered Financial Analyst charterholder. Matt is a member of the CFA Institute and the CFA Society New York.