Is the Stock Market Just One Gigantic Distraction
From Something More Sinister?
Graham Summers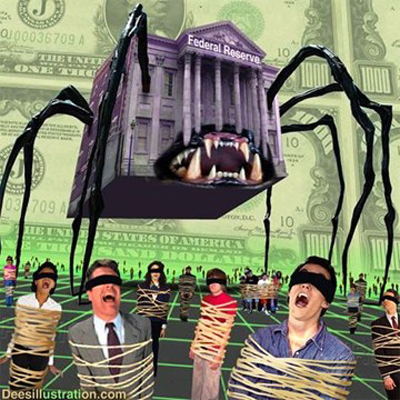 What if it's all one gigantic trap?
What if the Powers That Be are purposely ramping stocks as high as possible while they implement legislation/ policies that will make it all but impossible to get your money out when the panic hits.
Put another way…  what if the stock market bubble is just one gigantic trap so that when the next crisis hits… the Fed can implement policies through which it uses YOUR money, to prop up the system?
If you think I'm being dramatic here, consider that Bail-Ins are now legal in the US.
A Bail-In is when your savings deposits are used (read: taken) to prop up a failing bank. And thanks to Dodd Frank, it's not only perfectly legal, but now the policy of choice in the US for whenever a systemically important financial institution fails.
But did you know that as of 2016, many money market funds… funds that are supposed to be as safe as sitting in cash… are permitted to STOP you from getting your money out?
It's called "Redemption Gates" and thanks to new laws implement in June 2016, many money market funds have the ability to lock in your capital at their own discretion… meaning, your money is frozen until they allow you to have it back.
Oh, and those funds that DO let you get your money back will fine you a "liquidity fee"… meaning that a percentage of your capital is taken in the process.
All of this is perfectly legal. All of it is now standard policy.
And then of course, there are wealth taxes.
Consider the following: 
Polls suggest that the majority of Americans support a wealth tax.
And if you think this will stop with the super wealthy, you're mistaken. You could tax 100% of the wealth of the top 1% and it would finance the US deficit for less than six months.
Which means…
Cash grabs, wealth taxes, and more will soon be coming to Main Street America.
Indeed, we've uncovered a secret document outlining how the Fed plans to both seize and STEAL savings during the next crisis/ recession.
We detail this paper and outline three investment strategies you can implement right now to protect your capital from the Fed's sinister plan in our Special Report The Great Global Wealth Grab.
We are making just 100 copies available for FREE the general public.
You can pick up a FREE copy at:
http://phoenixcapitalmarketing.com/GWG.html
Best Regards
Graham Summers
Chief Market Strategist
Phoenix Capital Research



Graham Summers, MBA is Chief Market Strategist for Phoenix Capital Research, an investment research firm based in the Washington DC-metro area.

Graham's sterling track record and history of major predictions has made him one of the most sought after investment analysts in the world. He is one of only 20 experts in the world who are on record as predicting the 2008 Crash. Since then he has accurately predicted the EU Meltdown of 2011-2012 (locking in 73 consecutive winners during this period), Gold's rise to $2,000 per ounce (and subsequent collapse), China's market crash and more.

His views on business and investing has been featured in RollingStone magazine, The New York Post, CNN Money, Crain's New York Business, the National Review, Thomson Reuters, the Fox Business, and more. His commentary is regularly featured on ZeroHedge and other online investment outlets.