Come clean about gold, congressman tells Treasury and Fed
Chris Powell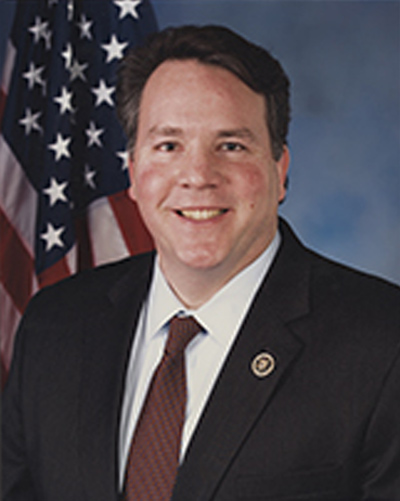 Dear Friend of GATA and Gold:
A member of Congress this week asked the U.S. Treasury Department and Federal Reserve to come clean about government policy toward gold.
The congressman, U.S. Rep. Alex X. Mooney, R-West Virginia, pictuered right, sent a letter to Treasury Secretary Steven Mnuchin and Federal Reserve Chairman Jerome Powell raising issues similar to those GATA long has been raising about the U.S. government's surreptitious involvement in the gold market.
Mooney wrote: "Records in the archives of the historian of the U.S. State Department describe U.S. government policy in recent decades as aiming to drive gold out of the world financial system in favor of the Federal Reserve Note or Special Drawing Rights issued by the International Monetary Fund. 
"Is this still U.S. government policy toward gold? If not, what is the U.S. government's current policy toward gold?
"I have heard complaints that the U.S. gold reserve has not been fully audited for many decades, particularly as there seems to have been no acknowledgement of -- or account for -- 'swaps' and leases of gold or arrangements for such to which the U.S. government has been a party.
"Does the U.S. government, through the Treasury Department, the Federal Reserve System, or any other agency or entity, transact in gold or gold derivatives either directly or through intermediaries? If so, what are those transactions and what are their objectives?
"Does the U.S. government undertake any transactions in gold or gold derivatives through the Bank for International Settlements, Bank of England, or other central banks or governments? If so, what are these transactions and their objectives?"
Mooney asked for responses in writing.
The West Virginian, a member of the House Financial Services Committee and its Subcommittee on Monetary Policy and Trade, lately has come to national notice for introducing legislation to return the United States to a gold standard for its monetary system -- 
-- and for criticizing the U.S. Mint's seeming indifference to the counterfeiting of gold coins:
The Federal Reserve's involvement in gold swaps with foreign banks was disclosed in the course of GATA's freedom-of-information litigation against the Fed in 2009, when a member of the Fed's Board of Governors, Kevin M. Warsh, wrote to GATA's lawyer that gold swap arrangements were among the documents the Fed was refusing to make public:
GATA often has called attention to the surreptitious activity of the Bank for International Settlements in the gold market on behalf of its member central banks, which include the Federal Reserve.
Stefan Gleason of bullion dealer Money Metals Exchange in Idaho, executive director of the Sound Money Defense League, which has been supporting Mooney's work on gold issues, said today that central bank efforts to demonetize gold have had "disastrous effects, particularly for the average American." 
"A return to sound money – that is, gold and silver -- would usher in a new era of investment, savings, stable prices, and fiscal discipline," Gleason said, adding: "We look forward to an explanation from Secretary Mnuchin and Chairman Powell regarding the government's activities using America's gold, including to what extent America's gold reserves have been put at risk or used for what might be viewed as dubious purposes."
Gleason's statement is posted here:
https://www.moneymetals.com/news/2018/04/25/house-member-questions-treas...
The willingness of a member of Congress to put to the Treasury Department and Federal Reserve specific questions like the ones GATA long has been pressing is especially encouraging. Not even Congress' last great gold advocate, former U.S. Rep. Ron Paul, R-Texas, could be persuaded to do that, the issue apparently being considered too sensitive to the international position of the United States and the U.S. dollar's status as the world reserve currency.
Mooney's letter to the Treasury Department and Federal Reserve is posted here:
http://gata.org/files/MooneyLetter-04-24-2018.pdf
CHRIS POWELL, Secretary/Treasurer
Gold Anti-Trust Action Committee Inc.
[email protected]

* * *
Help keep GATA going:
GATA is a civil rights and educational organization based in the United States and tax-exempt under the U.S. Internal Revenue Code. Its e-mail dispatches are free, and you can subscribe at:
To contribute to GATA, please visit:




 

Powell has been managing editor of the Journal Inquirer, a daily newspaper in Manchester, Connecticut, since 1974. He began working at the paper when he left high school in 1967. He writes a column about Connecticut issues that is published in a dozen other newspapers in the state and Rhode Island and often appears on radio and television public-affairs programs in Connecticut.

From 2004 through 2009 he was legislative chairman of the Connecticut Council on Freedom of Information. In 2006 he was inducted into the Academy of New England Journalists by the New England chapter of the Society of Professional Journalists and the New England Society of Newspaper Editors.

In addition to the Connecticut Council on Freedom of Information, he is a member of the Connecticut, Manchester, and Vernon historical societies and the Churchill Centre.