Oil Prices Set For A Weekly Gain As Traders Await New Inflation Data
Irina Slav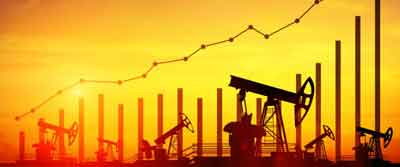 Crude oil may end the week with another gain on the back of disrupted supply from Iraq.
The disruption resulted from a dispute between Baghdad and the government of the semi-autonomous Kurdistan region, which exports some 400,000 bpd of crude via Turkey.
After a recent court ruling that stated Kurdistan has no right to export its crude without the approval of the central Iraqi authorities, the sole pipeline carrying Kurdish oil to Turkey was shut down and negotiations began.
Negotiations are still ongoing but the pipeline remains shut and production is being shut down, too, because of limited storage capacity.
Iraq has stated it is very much in favor of restarting oil exports from Kurdistan but it has suggested it would only agree to that on its own terms. These terms involve the state oil company of Iraq, SOMO, being in charge of the exports, rather than the Kurdish government.
This supply disruption pushed prices higher for most of the week but traders are awaiting U.S. spending and inflation data that may pressure oil prices if it suggests the U.S. economy is not doing as well as believed.
The personal consumption expenditures index, to be released later today, is an inflation gauge that could either add to increasingly optimistic sentiment if it's down or reinforce fears of recession if it moves higher.
"Receding banking risks certainly provide buoyancy, as could the narrative of cooling inflation," Vishnu Varathan, Asia head of economics and strategy at Mizuho Bank, told Bloomberg. "Add to that supply disruption risks, and we have oil that is less nervy and more likely to challenge barriers to ascend."
"The market may maintain its rebound if today's U.S. PCE offers positive signals to the markets that US inflation is expected to cool further," Tina Teng, an CMC Markets analyst, told Reuters.
"Disappointing data may cause concerns about Fed policy again and cap the recent gains," she added.
By Irina Slav for Oilprice.com




 

 

 

Irina is a writer for the U.S.-based Divergente LLC consulting firm with over a decade of experience writing on the oil and gas industry.